Black & Decker is one of the oldest names around for household products and tools. They produce everything from coffee makers to string trimmers. With all those years of experience, Black & Decker has established itself as one of the most reliable companies in the U.S. Here are the 10 best Black & Decker tools available on the market today.
Workmate Portable Project Center and Vice (WM425)
This project center is the definition of flexible, which easily puts it on the list of best Black & Decker tools. A steel frame allows this bench to hold up to 550 pounds to handle the largest of projects. Dual-height adjustable legs fold under the table to lower the work surface for larger projects. The one-handed clamp system allows clamps to be adjusted either separately or all at once for added flexibility. The project center comes with four adjustable-jaw swivel pegs that allow for vertical clamping for extended range while clamping odd-shaped objects.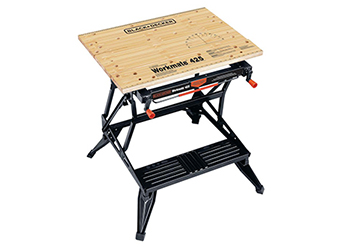 Powered Handsaw (PHS550B)
This handsaw is the perfect tool for both indoor or outdoor use. Its 3.4 amp, 4600 GPM motor makes it easy to handle wood, plastic, and metal cutting. The saw is also great for pruning bushes or trees around your home. A compact and lightweight design makes it easy to store and comfortable to control while making cuts. It features tool-free blade change for quick and easy blade changes to maintain efficiency.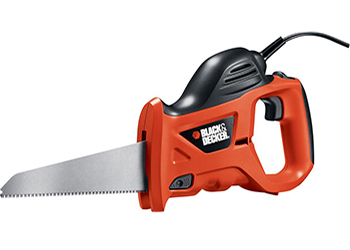 20-Volt Cordless Handheld Vacuum (BDH2000PL)
You can't have a list of the best Black & Decker tools without including the one they're most known for. Although, their 20-volt cordless vacuum has improved quite a bit on the original Dustbuster. Its innovative pivoting nozzle allows for the cleaning of any space up high, down low, or in a tight spot. The nozzle also changes the size of the vacuum making it more compact for storage. A 3-stage filtration system with a pleated filter design prevents clogs and provides better filtration for clean air exhaust. The wide-mouth design of the nozzle makes it easier to clean up bigger messes.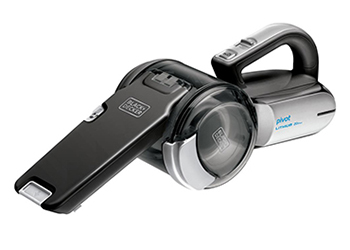 20V MAX Cordless Random Orbital Sander (BDCR020C)
This sander is an excellent solution for smaller projects and quick touchups of household items. A motor that offers 12,000 OPM provides the speed to remove material, paint, or stain quickly and efficiently. An onboard collection canister keeps your project free of dust for a clean finish that doesn't require multiple passes. This orbital sander is 30 percent more compact than its leading competitors.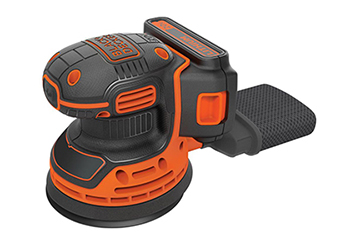 High-Performance Blower/Vac/Mulcher (BV6000)
If you're looking for power in your outdoor tools this is the one for you. The 12-amp motor provides 250-mph force that can handle matted down leaves from the previous season. A second speed-setting throttles down the power for flower beds so you won't be ripping fresh plants out of the grown. In addition to its power the BV6000 features a high-impact metal fan that prevents clogging while mulching, so you won't waste time cleaning out the machine. A built-in cord retainer keeps the extension cord organized.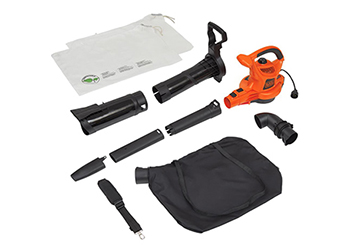 40V Max Cordless String Trimmer and Sweeper Combo Kit (LCC340C)
This kit includes two of Black & Decker's best tools in their class. The string trimmer/edger features a POWER DRIVE transmission that increases torque for more powerful cutting at the string. The AUTOMATIC FEED SPOOL-AFS automatically feeds trimmer line, so you aren't wasting time bumping to get more string. For added versatility, it converts from a trimmer to an edger quickly. The sweeper produces wind speed of up to 130 mph, allowing for quick cleaning of hard surfaces. At only 3.7 lbs. it's comfortable to hold for longer jobs and has a low noise design for quiet work.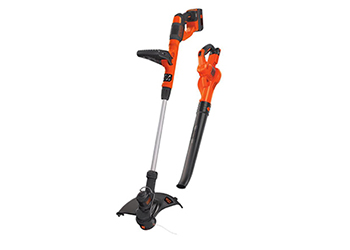 7 1/4 in Corded Circular Saw (BDECS300C)
The 13-amp motor of this circular saw is powerful enough to handle the toughest jobs. Equipped with a laser guide, you'll be able to make any cut as clean and accurate as possible. This saw features a spindle lock for easy blade changes for added convenience, and its lightweight design provides added control during cuts. It also features quick bevel adjustment for accurate 0-45 degree angled cuts and a depth adjustment to 2.5 inches at 90 degrees.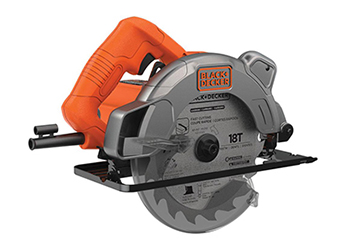 MarkIT Picture Hanging Tool (BDMKIT101C)
The MarkIT is the number one solution to make picture hanging simple, allowing for fast and easy hanging. Hang your frame on the MarkIT, position the frame where you want it on the wall, press gently on your picture to mark its position, secure a fastener in the marked spot and hang the picture. The tool also features onboard storage for up to 30 fasteners, so you have everything you need in one place.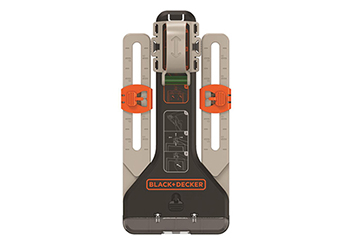 Electric 2-in-1 Landscape Edger (LE750)
Edging your lawn can be an arduous task, but this 2-in-1 landscape edger makes it easy and provides unmatched flexibility. The 12 amp high-torque motor can tackle tough overgrowth, and the 3-position blade depth adjustment offers complete control over your edging. Via an exclusive pull-up edge guide, the tool seamlessly switches from an edger to a landscape trencher in seconds. The edger features built-in cord retention to secure an extension cord and is left and right-handed for added flexibility.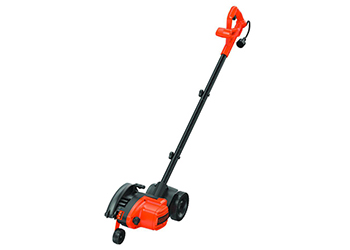 4-Tool Power Tool Combo Kit (BD4KITCDCRL)
Everyone needs to start somewhere, and this 4-piece combo kit gives you the essential tools anyone needs. The lightweight, versatile reciprocating saw features a 3,000 spm motor to handle any high-end cutting. For all your DIY project needs, the drill/driver can run up to 650 rpm and features an 11 position clutch to ensure screws won't get stripped. With a compact design, the circular saw can be run for hours without muscle fatigue. To ensure you can properly see your project, the work light features up to 11 hours of runtime. Along with the four tools the kit includes 2 20V MAX Li-ion batteries to double your runtime, a charger, and replacement blades for the circular and reciprocating saws.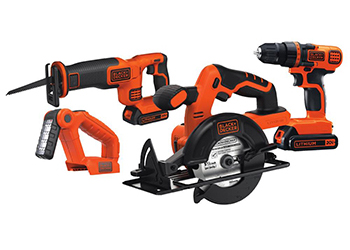 Find even more Black & Decker products at Acme Tools.