Extend Your Generator's Runtime
Whether it's for fun or for work if you need power you want to make sure it can last. Most generators can last between three to eight hours on a single tank, and those don't usually pass a gallon. Constantly refilling it at hour intervals can be a hassle. So what if you had a way to make your generator's fuel supply last not only hours but even days? How can you avoid refueling your generator so frequently? Easy as pie, buy a B.E.R.G. fuel extender.
What is a B.E.R.G.S. Fuel Extender?
The B.E.R.G.S. (Breeze Extended Run Generator System) are external gas tanks that feed into your gas powered generator that allow for more fuel for extended energy use when using your generator. B.E.R.G.S. are an easy and cheap way to get your generator to run longer without having to buy a bigger generator. B.E.R.G.S. are ideal for areas where electricity wouldn't be normally available to you. Job sites where power lines aren't set-up yet, camping in the wilderness, travel trailers, and even in times of emergencies.
Go Days Without Checking Your Generator's Fuel
Usually, most generators require constant refueling every couple of hours. With the B.E.R.G.S. you won't have to do that anymore. Depending on how long, and how many, generators are running you may have to check it once a day. The run times on these generators can vary depending on what model you get and how many generators you are fueling. The one thing they all have in common is that they all come in 6-gallon fuel extenders.
B.E.R.G.S. I, II, & III

B.E.R.G.S. I has up to a 72-hour run time
B.E.R.G.S. II has a run time of up to 36-hours
B.E.R.G.S. III has a run time of up to 150-hours.
Now the designs are similar but their uses are what give the drastic differences of (suggested) time. With I, you are only fueling one generator so you can get more time without checking and more electricity. II provides fuel for two generators, so twice the power but half the time. Finally, III provides the longest run time due to the generators it connects to already having a lengthy duration.
Why Buy a B.E.R.G.?
If you are an outdoorsy person this would be a great way to extend your time outside without losing the availability of your cell phone, tablet, or computer. More importantly, if you are camping most brands have gadgets and supplies that can run on AC electricity. Batteries are an option as well but are bulky, get lost, and lose charge without anyone knowing. If you get a generator and this expander you won't only have power but have power for days. Hopefully to exceed your camping stay.
Longer Generator Runtimes for Camping
R/V and mobile home owners would find this just as useful as any camper and double the use of your generators with half the checkup time. Especially on those hot summer months and need to blast the A/C, generators will go through a lot of gas. With B.E.R.G.S. II, you won't have to worry about it using so much fuel.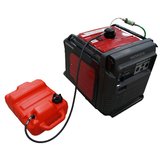 Fuel Your Generator on the Jobsite
With small and remote job-sites the B.E.R.G.S. III is a great way to extend work when electricity is not available yet. Sometimes working in a newly developing area means wires aren't up yet and your job doesn't require those monstrous trailer size generators. But you still need power and the extender will give your generator the fuel it needs to finish the job.
Quit Worrying About Refueling Your Generator
Now in cases of emergency and crisis having this extender around will be a huge necessity. Your generator can only hold so much gas before it goes out. That can be hard when you already have to run it on its lowest setting to get the most time out of it before the fuel is gone. With the B.E.R.G.S. you can make it last days if you needed to. You never know when power will come back but at least you'll have some to keep your house running.
Conclusion
When it comes to energy, it's never a bad idea to have a lot of it. The B.E.R.G.S. will make having a generator easier to power and longer lasting.  Making whatever you're using it for easier and stress-free.
DISCLAIMER: As of right now the B.E.R.G.S carried by Acme Tools are only compatible with either the Honda generators or Generac generators.
If you like this article and what we do here at Acme Tools, please leave a comment in the comment section below. Let us know how you would use this and if you have ever found yourself needing more power. Check out the B.E.R.G.S. and other generators at our online store at acmetools.com and Always Do Your Best Work!