DeWalt announced the growth of their 200+ 20V MAX System with the new 20V MAX Cordless Pole Saw (DCPS620). With compatible batteries across power tools and outdoor products, the 20V MAX Pole Saw is the tool to get any yard or landscaping job done.
Multiple Use
The Cordless Pole Saw is ideal for storm damage clean up, clearing brush, trimming shrubbery, or clearing lots for future construction. Made for durability and comfort, the lightweight saw only weighs 8.44 pounds (tool only) and has a 10-foot standard length with a reach up to 15-feet.

Special Features
The DeWalt 20V MAX Pole Saw comes with many user-friendly features. The metal bucking strip helps grip the wood or tree hooks that can grab and remove pruned branches. The efficient brushless motor can achieve up to 96 cuts per charge on 4×4-inch pressure-treated pine wood with the use of a 4.0 Ah battery. For fast completion, the saw's 8-inch bar offers a low kickback for cutting limbs up to 16 inches. The pole saw is compatible with a 10-inch bar and chain that aligns with the proper gauge and pitch. The saw's ease-of-use feature includes a side exhaust and an angled head with the blade mounted on the left side. Lastly, the pole saw offers auto-oiling and features a rubberized grip to accommodate a variety of gripping angles.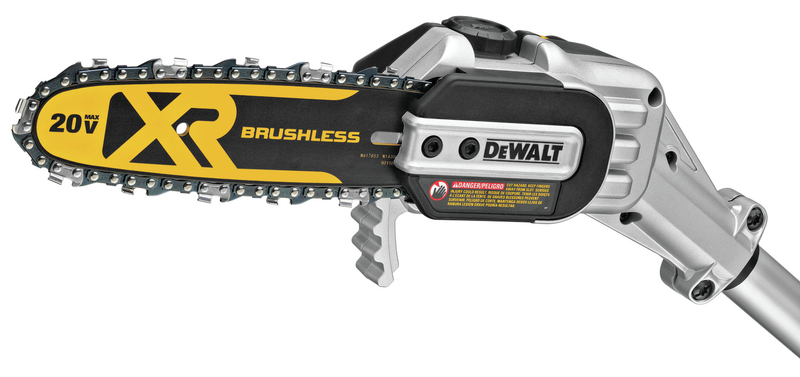 Release Date and Cost
The DeWalt 20V MAX Pole Saw will be available this summer. The bare pole saw (DCPS620B) is $149 MSRP, and the pole saw kitted with one 4.0 Ah battery (DCPS620M1) is $199 MSRP. Find an Acme Tools near you or head on over to our online shop to pick yours up today.
Final Thoughts
With features that create an ease-of-use and a reach that makes any project comfortable, you'll be Doing Your Best Work all summer.
What tool would you like to see added next to the 20V MAX system? Follow our blog for new releases and shop our online store for more DeWalt products.