Just in time to clear any downed trees during storm season DEWALT has released two new chainsaws. The first is the 60V MAX Brushless 18" Chainsaw bare tool or as a kit.
The second product is the 60V MAX Brushless 20" bare tool or its two kit options. Both saws are great for cutting, chopping, and sculpting applications and an excellent alternative to gas chainsaws. All kits come with an additional battery and charger.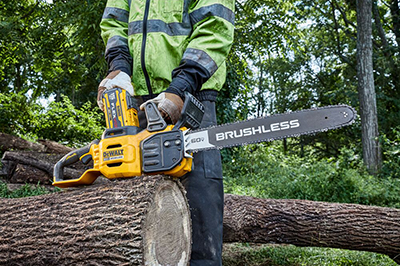 60V MAX Brushless 18" Chainsaw
The MAX 18-inch chainsaw has a powerful brushless motor with a 2.85 HP peak power to perform on heavy-duty applications. This chainsaw also has an extended runtime when used with the 9.0 Ah battery being able to cut through a white oak log in 24 seconds. Its metal bucking spikes allow for a premium grip while cutting as well. The saw's long-lasting performance is also due to its continuous auto oiling feature, which constantly lubricates the tool.
It has a quick chain adjustment with an onboard wrench and stronger studs to hold the bar and chain. Lastly, for added safety, the chainsaw has a chain brake system for kickback protection, push forward to lock the chain, and pull back to unlock the chain. This saw will also include a bar sheath and tensioning tool.
60V MAX 18″ Bare Tool (DCCS672B)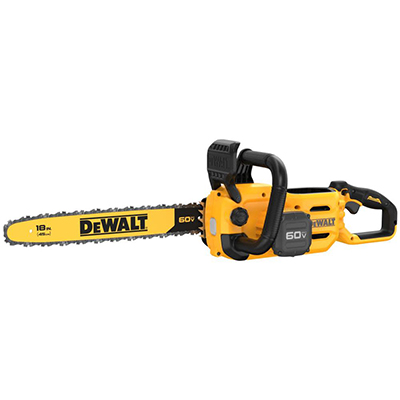 60V MAX 18″ Kit (DCCS672X1)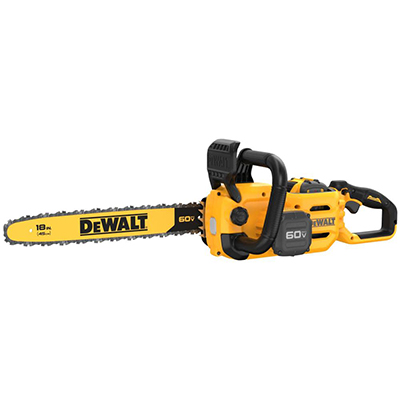 60V MAX Brushless 20" Chainsaw
The 60V MAX 20-inch is almost identical in the amazing features offered by the 18 inch except for a few details. The chainsaw's powerful brushless motor has a 4 HP peak power for heavy-duty applications, being able to cut through a white oak log in as little as 18 seconds.
The extended runtime can be used on both the 12.0 Ah battery and the 15.0 Ah battery. There are also 4.0Ah and 5.0Ah kit options for the 20 inch chainsaw. Each tool includes a chainsaw kit box, sharpening tool, tension tool, and bar sheath.
60V MAX 20″ Bare Tool (DCCS677B)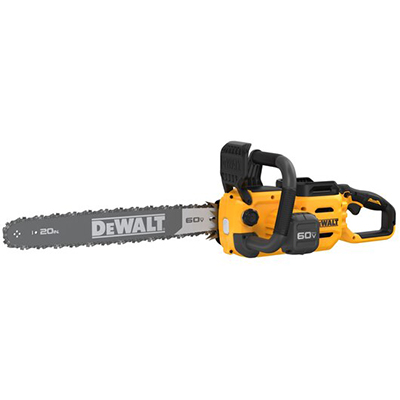 60V MAX 20″ 4.0Ah Kit (DCCS677Z1)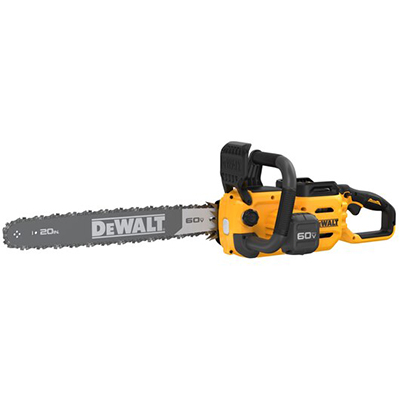 60V MAX 20″ 5.0Ah Kit (DCCS677Z1)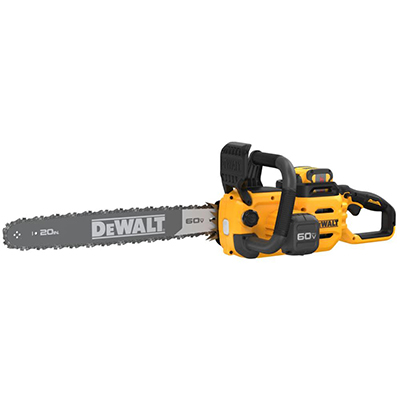 Shop the new 60V MAX 18" and 20" chainsaw now and other DEWALT products at Acme Tools.