Your clients expect the job to get done, despite various weather conditions. It's critical to keep you and your crew warm enough in the cold season. More than just comfort, proper heating keeps muscles loose so workers can complete their tasks quickly and with better results. It also helps to prevent hypothermia and other health hazards. Use this guide to determine some of the most convenient and effective ways of keeping warm while you work.
Heated Jackets and Heated Sweatshirts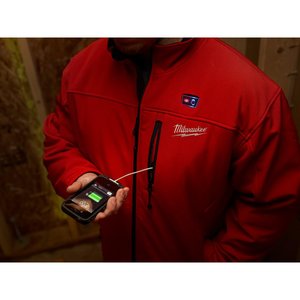 Heated jackets and heated sweatshirts help to keep trap your body heat and prevent it from venting away. Beyond this, they also have heated inner panels that generate greater warmth and let you work in very cold conditions.
A jacket's warmth follows you wherever you go, whether you're working indoors or outside. It also offers outstanding protection from the wind and rain. The best heated jackets have waterproof fabric and many pockets for holding your tools or accessories.They're relatively lightweight and easy to carry, plus you can store them in a closet or on a coat rack when you're not working, which also helps to free up valuable space in your workshop.
Heated Jacket Comparison
Before you select the jackets you plan to use, consider your needs and answer the following questions: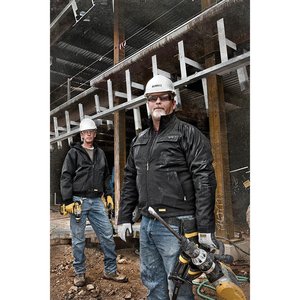 Does the manufacturer that I trust with my tools also make heated jackets? These jackets tend to run on the same batteries that you use for your tools. For instance, DEWALT heated jackets accept the same batteries that you use for DEWALT 12V/20V Lithium-Ion drills or saws, while Milwaukee heated jackets, vests or hoodies accept the same batteries as your Milwaukee M18 and M12 tools. If you're a fan of a specific brand, try to find a heated jacket from that manufacturer so you can get even more use out of the batteries you already own.
Do I want to use this for more than just work? If so, consider a camouflage heated jacket. You can use them for your job during the work week, then take them hunting on the weekend. You get the same comfort and performance that you do on the jobsite while you play. Look for the highest denier rating you can find, which indicates how strongly woven the fabric is, and thus how well it holds up to frequent heavy-duty use.
Will I be working in low-light conditions? Some jackets come in high-visibility colors with reflectors, which may be an OSHA requirement, depending on your job. These patterns can prevent accidents by making you easy to see in the dark.
Will it get warmer outside as the day goes on? Selectable heat controls let you adjust the warmth to a custom level. In the coldest environments, where the temperature seldom varies, this isn't a critical feature. If conditions become significantly warmer during the course of the day you might want to get an adjustable model to keep the heat level tolerable. Some jackets even allow for you to turn down the heat to specific panels so you only get the warmth you want, where you want it.
What sort of battery does this jacket take? The higher a battery's voltage, the more power you can expect from it. Do some research on the expected battery life. The longer its rating, the longer you can work without having to swap out batteries.
Does it come with any special features? USB connections let you hook up your phone or media player to the battery for charging while you work. Listening to your favorite music on the job can help you to focus better and make the day seem to go by faster.
How does it perform as a non-powered jacket? For those times when you aren't using the battery, a tightly-woven exterior helps to keep your body heat trapped inside. It also waterproofs against rain and other liquids. Stronger fabric lasts a longer time to give you greater value.
Other features to look for include removable exteriors, which make it easier to regulate the heat. Some models even allow you to remove the powered portion of the jacket and wear it as a belt to power various tools or gadgets on hot days. Secured pockets, such as those with hook and loop closures, help to protect your important items from damage. This is critical because cold months tend to bring wind and precipitation that can ruin documents and rust metal tools.
Heaters
Heaters provide temperature control over a wide area. Just set them up where you plan to work, turn them on and you're good to go. These ways of keeping warm are simple to use and unlike heated jackets they free up the batteries to be used solely to power your tools.
Heaters come in a variety of options. Electrical space heaters plug into a generator or a regular outlet and radiate heat wherever you need. They tend to have better controls for selecting the precise temperature, including thermostats. If you're working on a powered site these heaters may be the ideal method for keeping warm on the jobsite, since you don't have to go and fill up fuel.
Propane heaters give you outstanding heat, fast. They install directly onto a propane tank and are fuel-efficient. Since there's no cable, you can carry them wherever you need to go, regardless of whether your jobsite is set up for electricity or if you don't have a generator. Because of their direct flame, propane heaters can warm up a large area. Beyond making it easy to work, these heaters are suitable for drying out rooms for painting and coating application.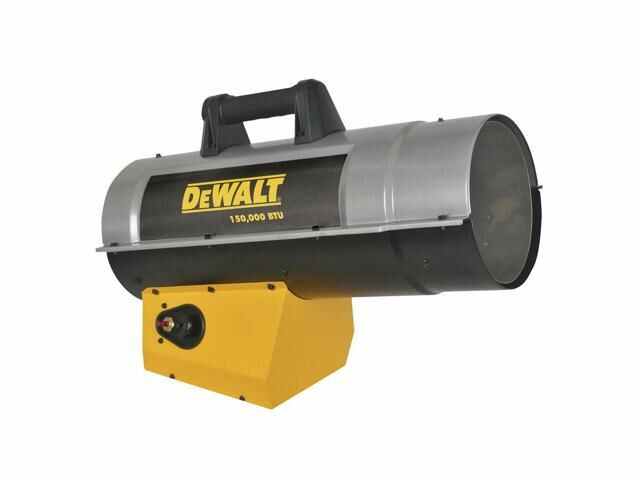 You can also power heaters with other fuels. Natural gas heaters run off your existing utility hookup for convenient operation. Diesel easy to obtain and you can use them for other applications besides your heater, such as powering generators or vehicles. Kerosene burns efficiently and is easy to transport.
Heaters generally require that you be indoors to get the most out of them, otherwise the wind simply carries away much of the heat. If you're working at an outdoor site, setting up tents or putting drapes around scaffolding can give you a barrier to keep your heat inside, as well as preventing rain from falling on you.
When you need to heat a larger area, use a larger heater. Wheeled models are easy for one person to transport by themselves for greater productivity. The larger the wheel, the easier it is to get over various obstacles.
Added Accessories
Sometimes you don't need a full jacket or large heaters. Gloves can protect your hands from the wind. Select the thinnest gloves that still keep you comfortable so you can enjoy the dexterity you need to operate your tools. Heavy-duty work boots keep the rain from getting to your feet, plus they serve to give you traction for walking on slick or icy surfaces. Full-body suits or coveralls provide near-total coverage against all of the elements.
Warmth and comfort keeps you and your employees happy and healthy. We carry a host of various options designed to give you the performance you need to get the job done right and on time, despite the winter chill. Armed with these tips for keeping warm in winter, check out our inventory and outfit your team with the best and most effective for an easy season of work, no matter what winter sends your way.