For over 40 years, MEC Aerial Work Platforms has elevated the tradition of innovation and quality. The award-winning manufacturer's line of aerial work platforms ranges from DC direct electric drive slab scissors to rough terrain booms. Continuing with unmatched innovation, MEC announced the Leak Containment System.
MEC Aerial Work Platforms
MEC Aerial Work Platforms announced the patent-pending Leak Containment System. As MEC investigated hydraulic oil leaks, they found that the majority of leaks come from the hydraulic motors on the front wheels. The wheels continually stress the hoses with the steering functions. As a result, MEC's entire line of slab scissors is a direct electric drive, which reduces oil leaks with the elimination of drive wheels. With the innovation of LSC, operating machines receive a better solution.
Leak Containment System
The Leak Containment System improves productivity and efficiency on the worksite with easy installation and leak detection. The system consists of trays with strategically placed inspection holes that integrate into the lifts for quick detection. When a leak is detected on the absorbent pad, it can be easily located, removed, and replaced. These trays are protected from damage from job site debris, forklift handling, and weather elements.
"MEC thrives on learning our customer's pain points and creating a better solution to eliminate them. LCS is the perfect result of that."

-Gary Cook, Vice President of Engineering
Leak Containment System Functions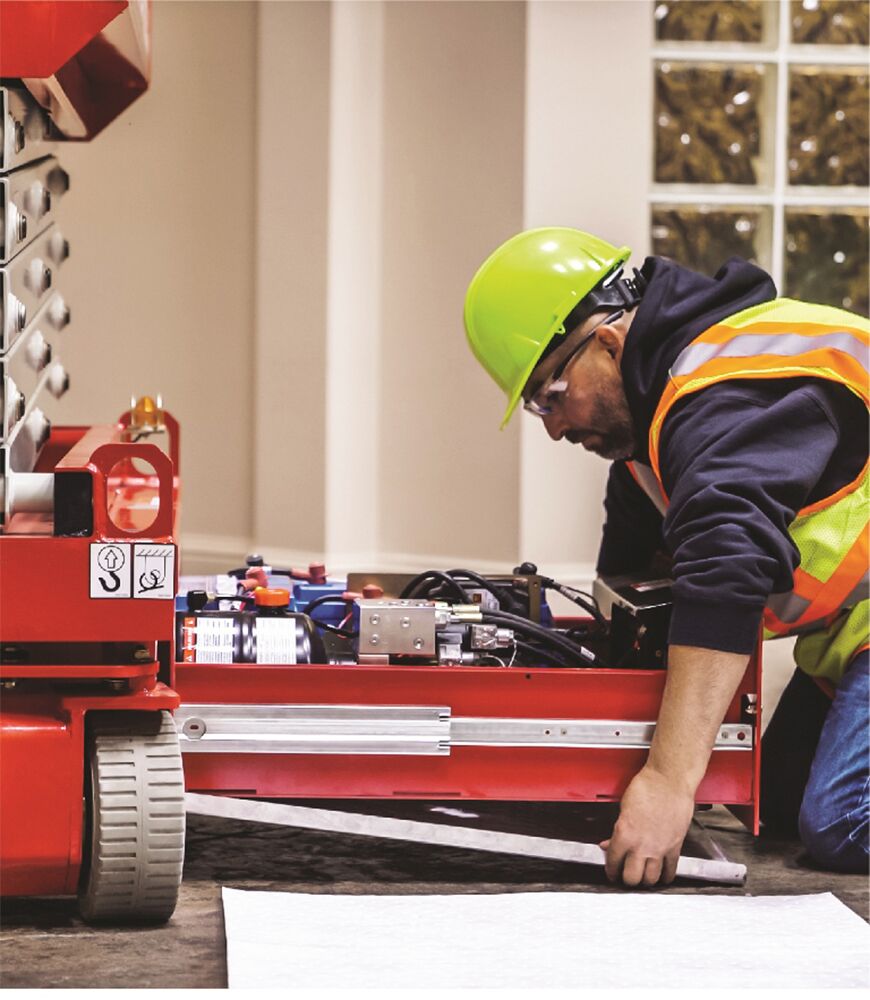 Integrated within the unit, The Leak Containment System avoids interference with critical machine functions. Users can easily access the deployment of the pothole protection system, static strap utility, and front-wheel operation. The Leak Containment System placed inside of the machine instead of around the chassis allows for unrestricted access. Users can quickly locate the emergency stop button, emergency lowering functions, and base controls.
LCS Models
Final Thoughts
MEC's Leak Containment System provides a revolutionary solution for operating MEC slab scissor lifts safely and effectively on surfaces that require protection. Shop at Acme Tools and experience the LCS advantage for yourself.