Coordinate Your Work with Milwaukee's new M18™RADIUS™ Site Light/Charger. This equipment illuminates your job site so you can work safely in the dark. The Milwaukee M18 cordless site light also has a charging feature to keep tools running.
A Portable Lighting Solution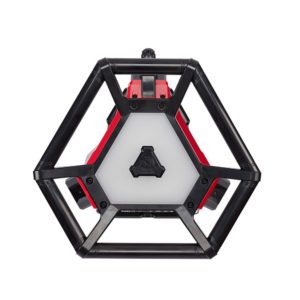 You can use this unit as a portable lighting solution; it puts out 9,000 lumens of light. Its AC/DC function also allows you to plug the Milwaukee M18 RADIUS site light/charger into an electrical outlet or generator to work without drawing power from the batteries. While it's connected to another power source, this product charges any M18 batteries connected to it. The sequential design ensures that the first battery charges fully before it switches over to the second battery so you can operate at full power. Rotate three power cells between this Milwaukee M18 cordless site light and the tools that you're using for uninterrupted work.
Stackable Lighting Option
If your crew is working on multiple levels of a building at once, make sure to bring several of these lights. They're stackable for space-efficient storage. This Milwaukee 18 RADIUS site light/charger is tough enough to withstand drops from as high as 3 feet. It's also IP54 rated, which means that it's water-resistant enough for use in the rain. You can adjust the illumination level for lighting up a large area or focusing on one task and conserving power.
One-Key Compatible
The Milwaukee M18 One-Key™ site light is compatible with the manufacturer's job site control app, which you can use to customize performance settings on your tools. It can run for up to 10 hours at a time, which is more than enough for a standard shift. This light is useful for both nighttime work and for sites without an electrical hookup or generator available. The 3-foot base is reliably stable for consistent illumination.