What is the history of SawStop?
In 1999, Dr. Steve Gass posed a question: What if you could stop a saw blade and prevent a serious injury? 60 days later, Dr. Gass had built his first prototype. Five years later, in 2004, the first SawStop Table Saw was sold. Today, SawStop table saws are protecting nearly 100,000 woodworkers in North America and around the world. Over more than a decade, SawStop saws have saved thousands of fingers. The combination of safety, unparalleled design and dedicated craftsmanship has made SawStop the #1 cabinet saw in North America.
Explanation of what SawStop known for?
SawStop is well known for each saw's ability to stop the blade on contact with skin, helping to prevent serious injury. In addition to this 5 millisecond safety response, nearly 100,000 operators over the past decade have helped build SawStop's unmatched reputation for quality and performance.
Why are SawStop table saws the best table saws?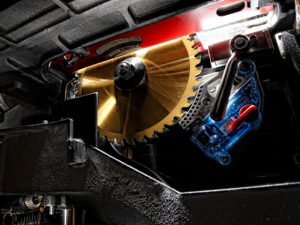 SawStop saws have many differentiators that make them the #1 cabinet saws in North America. Our safety feature monitors and detects contact with skin. The blade carries a small electrical signal. When skin contacts the blade, the signal changes because the human body is conductive, and it's that change to the signal that activates the safety system. The aluminum brake springs into the spinning blade, stopping it in less than 5 milliseconds. The blade's angular momentum drives it beneath the table, removing the risk of subsequent contact and power to the motor is shut off. Reset is simple. Replace the $69 brake cartridge and in less than two minutes you are back up and running. SawStop Cabinet Saws also offer industry leading 99% dust collection capabilities, achieved through shaping the turbulent air from the spinning blade with advanced under-table blade shrouding. Other features in our Cabinet Saws that set us apart are:
• A heavy-weight trunnion unlike any on the market, with the thickest arbors of any 10" saws.
• True vertical trunnion travel, with gas-piston assist for ease of operation.
• Durable, open gearing for minimal dust compaction and easy operation.
• Quiet and true poly V-ribbed belts for sure power transfer with minimal vibration.
• T-Glide fence system that is durable, slides smooth and rated at zero deflection for quick, easy and accurate cuts every time.
The SawStop Contractor Saw features cast-iron durability coupled with the most configuration options of any SawStop saw. From field-work portability to cast-iron stability with large rip capacity, the Contractor Saw can be customized to fit an operator's needs. The Sawstop Jobsite Saw features a strong list of innovations that make it the industry standard for portable table saws. The groundbreaking One Turn elevation system raises or lowers the blade in just a single turn of the handwheel (other saws require over 25 turns). The innovative QuickTilt allows you to tilt the blade easily to your ideal angle in 1 degree increments. Fine tune the angle with the infinitely-adjustable TiltAdjust dial. The Jobsite Saw's T-Glide Fence with ErgoLock slides smoothly and locks firm. The t-style design squares on lockdown to increase accuracy. Extend the OnDemand Shelf for support when needed. Advanced under-table blade shrouding maximizes dust collection. Attach your vacuum and keep your workplace cleaner and safer.




What is SawStop's customer segment?
Depending on who you are and what your cutting needs require SawStop has the right saw for the job. The Industrial Cabinet Saw is the heaviest, highest quality and most powerful 10" cabinet saw on the market. This saw is the definition of Industrial Grade, and is a perfect fit for cabinet and furniture shops, education classrooms and manufacturing facilities. That's why thousands of companies across North America are replacing their saws with SawStop. SawStop's Professional Cabinet Saw has been engineered for serious home hobbyists and small-shop professionals. From the true vertical elevation, to the smooth repeatable cutting, and industry-leading T-Glide Fence, everything is designed to deliver repeatable excellence in a small shop. The SawStop Jobsite Saw is the ideal fit for the construction professional at the work place or the DIYer trying to save space in their garage. This saw unites SawStop safety and pioneering innovation with compact portability. For the first time, the promise of SawStop safety, quality and peace of mind can travel with you wherever you go.
Where is a SawStop table saw made?
SawStop is a US-owned company, and each table saw is engineered at our headquarters just south of Portland, Oregon. Every table saw is built in Taiwan to an unmatched set of tolerances. Throughout the build process, our experts are continuously verifying that each component is constructed to SawStop's stringent specifications. Prior to shipment, batch inspections are conducted to help avoid unacceptable variations in each saw. Finally, expert SawStop personnel in our Oregon warehouse conduct randomized lot inspections before shipping to our dealers.
What is SawStop's warranty?
The Industrial Cabinet Saw includes a two year parts and five year motor warranty. The Professional Cabinet Saw includes a two year parts and motor warranty. The Contractor and Jobsite Saws each include a one year parts and motor warranty. All saws must be registered with SawStop to receive any new parts under warranty.
Where and how can a user get SawStop warranty or out of warranty service needs?
All service questions for warranty or out of warranty needs begins at SawStop headquarters. There, a team of SawStop experts answer phones, emails and website live-chats. The Tech Service Department works out of an open office, where the team pools their knowledge to deliver customers the best answer. Wireless headsets are a must, as technicians frequently walk through a door to their shop, where each model saw is waiting for quick visual reference.