Thanksgiving is a perfect time for a smoked turkey. It's a wonderful day filled with memories, games, and our favorite – food. If you are hosting this year, we know you're already stressed and scheduling your time in the kitchen like a drill sergeant. Kitchen space is hard to come by with all the food that needs to be prepared, sautéed, cooked, baked, and more. That's why having a Bradley Smoker on hand will help you through the day. Not only will smoking some of your food with the Bradley Smoker add a unique flavor to your meal this year, but it can also save you some space! With a Bradley Smoker, not only can you smoke without heat, and heat without smoke (works as a conventional oven), but you can also use your smoker to hold and keep warm any dishes that you've prepared ahead of time.
Planning Your Menu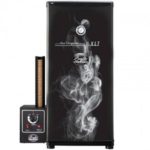 Now that your space problem has been taken care of, it's time for the hard part, the menu. If you're tired of having the same Thanksgiving meal each year, then it's time to switch it up. Little things like smoking a turkey or a key ingredient can add a smoky flavor to your classic recipes. Try adding smoked sea salt, smoked garlic, or even smoked onions to ease your way into it. If you feel like adding a whole smoked side dish or Smoked Turkey with Smoked Butter Injection into your Thanksgiving lineup, then we have the recipe for you.
Getting Ready
Supplies Needed:
Bradley Smoker
Large Bucket (big enough to hold a 12-15 lb Turkey)
Thermometer Probe
Metal Bowl
Injection Syringe
Basting Brush
Amarillo Chili Cinnamon Rub Ingredients:
1 TBSP Freshly Ground Black Pepper
1 TSP Ground Cinnamon
2 TSP Amarillo Chili Powder
2 TBSP Kosher Salt
Ingredients for Smoked Turkey:
2 Gallons Cold Water
1 Quart Boiling Water
1 Cup Salt
2-1/2 Cups Jim Beam Bourbon
1 TBSP Whole Black Peppercorns
1 Cup Maple Syrup
1 Quart Apple Cider
3-4 Sprigs Fresh Sage
1 12-15 lb Fresh Turkey (Note: If using a frozen turkey make sure it has fully thawed prior to brining)
1 lb Butter, frozen
Preparing the Brine
Pour cold water into a large bucket. Pour the salt into the boiling water and stir to dissolve. Once the salt has dissolved, pour the boiling saltwater into the bucket of cold water. Add the 2 cups of Jim Beam Bourbon, black peppercorns, maple syrup, apple cider, and fresh sage. Stir and set aside.
Then, remove the neck and giblets from the inside of the turkey (if necessary). Rinse the turkey, neck, and giblets under cold running water and pat dry with paper towels. Place the turkey, neck, and giblets into the bucket of water, making sure that the turkey is completely submerged. Also, you may need to weigh the turkey down to keep it submerged.
Cover and refrigerate for 24 hours, 36 hours for a much larger turkey. Remove the turkey, neck, and giblets from the brine, discarding leftover brine. Rinse under cold water and pat dry with paper towels 2 to 3 times to rinse away the added salt of the brine. Return to refrigerator and allow to air dry, unwrapped, for 2-3 hours. Preheat your Bradley Smoker according to manufacturer's instructions setting the smoker's temperature to 230ºF. Finally, Rub the turkey, inside and out, with the Amarillo Chili Cinnamon Rub.
Smoking The Turkey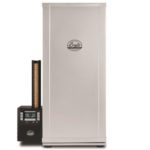 Place turkey, neck, and giblets onto a smoker rack and place it in the smoker. Then, insert the thermometer probe into the thickest part of the turkey thigh, making sure not to touch the bone, and set for an internal temperature of 180ºF.
Smoke the turkey for approximately 5-6 hours using eitherApple or Maple Bisquette. Once the turkey is in the smoker, take the frozen butter and place it into a metal bowl or container. Place it in the smoker, allowing it to smoke and melt completely. Yes, we're smoking butter!
Tip: Use frozen butter so that it does not melt so rapidly, and it allows the smoke to infuse into the butter, a layer at a time, giving you a sweet, smoky butter.
Remove the turkey and melted smoked butter from the smoker. Add a 1/2 cup of Jim Beam Bourbon to the butter and return the butter mixture to the smoker, smoking for another 5-10 minutes.
Remove the butter mixture from the smoker again and using an injection syringe, suck up any of the juices that have accumulated in the turkey's cavity and add it to the butter mixture. Stir well. Then using the injection syringe, inject the turkey with the butter mixture in a variety of spots, returning the turkey back to smoker once it has been injected.
Note: We suggest 3-4 injections per breast and thigh.
Smoke the turkey until it reaches an internal temperature of 180ºF.
Once the internal temperature of the thigh reaches 180ºF, remove the turkey from the smoker and using a basting brush, brush it with any juices that have accumulated in the cavity along with the remaining butter mixture. Lastly, Allow the turkey to rest for approximately 10-20 minutes, covered loosely with a piece of aluminum foil.
Don't Forget About Dessert
Put a twist on your dessert table by adding a few smoked sweet treats. Smoky Vanilla Rice Pudding is a simple, light dessert that'll be a guaranteed crowd pleaser. And what's a Thanksgiving dinner without a pie, or five? So why not surprise your guests by switching out your standard apple pie with a Smoked Apple Kringle. That is, if your guests have any space left for dessert! But we all know that if you don't have space for dessert, you make space.
Now you didn't think it was possible with how much everyone had on their plates, but you've got leftover turkey! So slice up what you've got left to make what we think is the best use of leftover Thanksgiving turkey, and put it between two slices of bread. You'll be putting your name on a Smoked Turkey & Swiss Panini in the lunchroom fridge.
Just like that, you made it through Thanksgiving. We hope you created memories, had some fun, and ate way more than you thought was humanly possible. Before you know it, it'll be time to do it again for Christmas!
Find the original Holiday Smoked Turkey with Smoked Butter Injection recipe by Chef Ted Reader, and many others at Bradley Smoker Recipes.