Ladder golf is a popular and friendly backyard game that's a hoot to play. You just toss two balls held together by a rope and try to get them to stay on the ladder. (More detailed rules are at the end.) Once you have the materials, you can make your own game in less than an hour!
---
Materials:



1.) 26 sections of ¾" PVC pipe: 14 pieces 24" long and 12 pieces 12" long.
2.) 4 PVC elbow connectors and  12 PVC "T" connectors, all for ¾" pipe.
3.) One dozen golf balls and 12' of 3/8" nylon cord. You can use all white golf balls, or have half another color to differentiate teams when playing.
---
Assembling the Ladders and Bolas: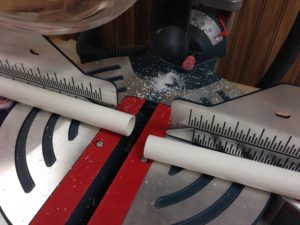 To cut the PCV pipe to length you can use a hack saw. Or, as shown above, you can quickly and accurately cut it with a miter saw outfitted with a blade designed to cut plastics.
After cutting the PVC pipe to length, you will have material for 2 ladders. Layout the sections along with the connectors, as shown below. If you want to paint your ladders, it's easier to paint them now, before gluing. Using PVC cement, glue the pieces together. Note: You may not want to glue the upright structure to the bases so that they can be separated for transportation and storage.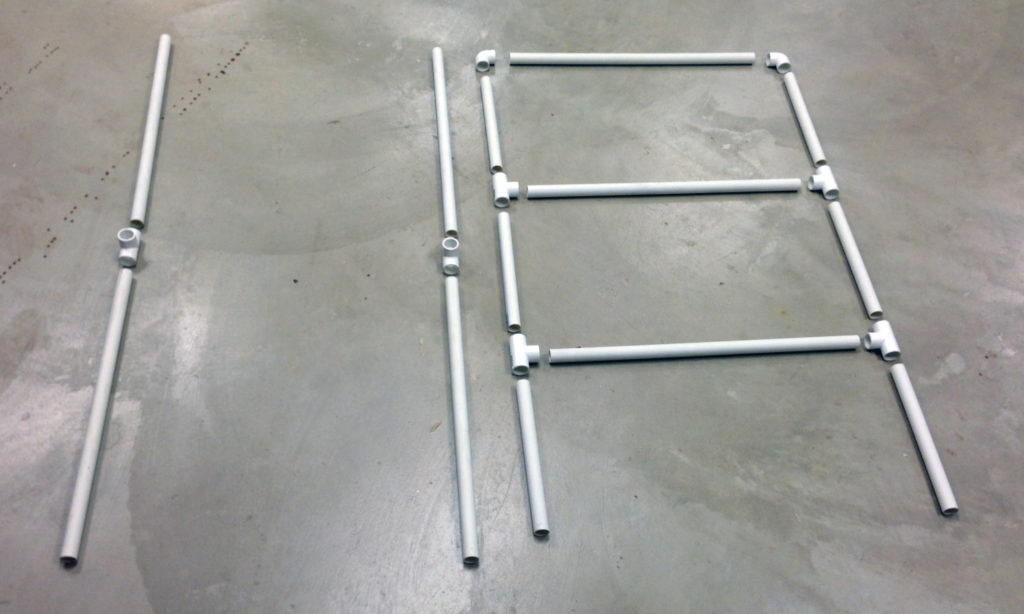 To make ball/rope projectiles, called bolas, drill a 3/8" hole in the golf balls. A clamp can firmly hold your ball while being drilled. Cut the nylon rope into six 20" sections. Tie a knot on one end of the rope sections and melt the end with a lighter to keep the rope from fraying. String two golf balls on each section of the rope and tie a knot on the other end. Adjust the knot so that there is 13" between the golf balls. Once you have the correct distance, melt the second end to keep the bolas secure.



---
Friendly Rules and Playing the Game: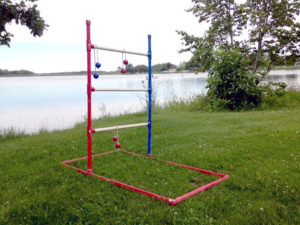 The object of ladder golf is to toss your bolas and have them wrap around the rungs of the ladder. Place ladders 15 feet apart from each other. The game is played in rounds, each round consisting of both players or teams tossing three bolas. To play with teams have a member from each team stand by a ladder and toss to the opposing side. You get 3 points for wrapping the bola on the top rung, 2 points for the middle rung and 1 point for the bottom. First one to 21 points wins!