Make organizing drawer contents simple with the right tools and a sound DIY drawer inserts plan. Drawer inserts help you maximize space and keep items neatly separated. This is an easy-to-follow guide for a drawer organizer woodworking project.
What You'll Need
If you're looking to add inserts to your drawers, you'll need basic woodworking tools. While you can use cardboard for the inserts, you'll be using thin plywood sheets in this custom drawer divider tutorial. This will help ensure that the sections are sturdy enough to secure your items.
Measuring Tools
Have a reliable tape measure, ruler, or a combination square for measuring the dimensions of your drawer. Precise measurements help ensure a snug fit for your inserts and allow you to use space efficiently.
Cutting Tools
Cutting tools, such as a table saw or a circular saw, will make this project easier and faster. If your inserts require intricate cuts, have a jigsaw or a miter saw on hand.
Clamps
Clamps are handy to keep materials in place while cutting, during assembly or while the glue dries. There are a range of clamp types, including bar, quick release, or spring clamps. Go over the steps below and choose the clamp type that will be most useful to you for this project.
Sanding Tools
Sanding the surface of your insert prevents damage to your items and keeps them from snagging. Electric sanders like the random orbital sander or the detail sander smooth out edges and surfaces effectively. Use sanding blocks with sandpaper in different grits for extra fine sanding.
Drill and Screws
Using a cordless drill and screws is a sturdy alternative to securing the inserts if you're not gluing them. If your drawer inserts have a flush finish design, use a countersink bit to recess the screw heads.
Router
Although not essential to this list of drawer insert materials and tools, a router can add grooves or recesses to make the dividers more functional. The router can also add decorative details and smooth edges to your drawer inserts.
Safety Gear
As with all other DIY projects, safety should also come first. Make sure to use safety gear, such as safety glasses or goggles, earplugs and gloves.
Now you have gathered all the tools you might need, it's time to make the drawer inserts.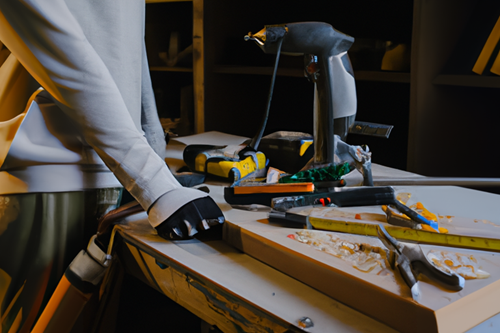 Making Drawer Inserts
Make a Plan
Start by measuring the dimensions of your drawer, noting the length, width, and depth. This information will help you determine the layout of the insert, as well as the sizes of the dividers.
Design and Cut the Dividers
Next, make a sketch of the layout, keeping in mind the items that you'll store in the drawer. This will help you visualize and determine how many compartments you need. Mark and cut the plywood pieces of the inserts.
Assemble the Dividers
Apply wood glue to the joints and assemble the inserts. Use clamps or tape to secure the dividers in place until the glue dries. If desired, reinforce the joints further with screws or nails.
Finishing Touches
For a clean finish, sand all the surfaces of the dividers, making sure to get rid of any rough spots. Vacuum and wipe away wood dust and apply a finish if desired.
Additional Tips and Hacks
Here are some extra tips and drawer organization DIY ideas to make the most of your storage space.
Use drawer liner material to prevent items from sliding around.
Utilize clear storage containers or small bins to group related items together.
Take advantage of vertical space with stackable storage solutions.
Invest in adjustable dividers to accommodate changing needs over time.
Label compartments for easy identification of contents.
With this guide, you'll have a neat and organized drawer with the extra compartments. Having the drawer inserts in place will help you locate items easier, better protect them and enjoy the satisfaction of having a clutter-free storage space.