Lawn Care Tips To Help You Prepare For Winter
When the leaves start to change and the air has a bit of a chill to it, homeowners everywhere start to spring into action to get their lawns ready for the chilly, icy winter. Taking a few days out of the month throughout the season all but guarantees your lawn will grow in beautifully this spring. Check out some of the tips below for some simple winter lawn care advice.
One crucial fall lawn care tip: rake those leaves regularly. If you wait too long, leaves mix with water from rain or dew to form a stiff, sticky layer that blocks oxygen and sunlight from the grass. Air circulation is crucial for winter lawn care since it stops the spread of mold and fungus. Also, it's just easier to rake up the leaves before they get heavy and damp. Your lawn mower may have a collection bag and vacuum setting to make this process go faster.
As long as the weather allows, continue your seasonal lawn care maintenance routine of mowing and watering. When the months tick closer to winter, switch the mower to its lowest blade setting to allow as much sunlight as possible to hit the crown. While it's still warm (so the soil is still nice and soft), aerate the lawn. If you don't have a gas-powered aerator, rent one or hire your lawn guy to do it for you. Punching those holes in the dirt ensures that oxygen, water and fertilizer have a clean path to the roots, keeping the grass healthy, so you get that verdant, dense lawn you want when spring returns.
Fertilize Your Lawn This Fall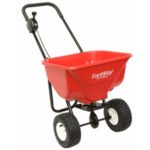 When you're making your winter lawn care checklist, add a note that fall is an excellent time to do your annual fertilizing. Roots and rhizomes grow quickly even when the blade starts to brown, so an application of dry fertilizer keeps the roots healthy and robust all winter long. You can use a manual spreader like the Earthway 2030P-Plus to get an even, thorough layer all over the grass.
Do this step slowly and thoughtfully, so you don't miss any spots. If you've got any hilly terrain or the ground is a bit damp for a heavy spreader, try a bag spreader, like the Earthway 2750, which features a comfy shoulder strap that helps you hit every nook and cranny.
Best Time for Planting New Grass Seed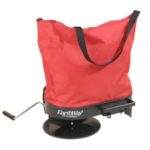 If you're asking yourself ""when can I plant grass seed?"" and you're reading this in early fall, the simple answer is: now. Set a reminder on your calendar to seed two weeks before or after Labor Day. The seasonal temps of 60 to 80 degrees help the roots mature. Also, the damp, dewy mornings, cooler evenings and earlier sunsets provide an ideal environment for seeds to root. Keep an eye out for bald spots, and consider using a lawn repair blend (which typically includes seeds) to fill them in.
Get Ahead of Those Pesky Weeds
Weeds are just as robust and stubborn in fall as they are any other time of year. In fact, because weeds are so absorbent, they are going to benefit just as much from your seasonal lawn care routine as your grass. So, at least once during the season, apply a layer of herbicide to keep crabgrass, dandelions and other lawn chokers at bay. Most brands recommend using an herbicide when the average day temperatures rise above 60 degrees, ideal for early and mid fall, but read the label carefully before applying.
Winter lawn care isn't a big chore if you take small steps to get ahead of it now. Check out all the equipment and tools you need for all your lawn care and landscaping tasks today.