Milwaukee has just introduced the M12 FUEL HATCHET 6" Pruning Saw and it delivers unmatched control and access. It has the power to cut 3" hardwoods, delivers up to 120 cuts per charge, and weighs 4.85 lbs with the battery. It is available at Acme Tools in two forms, the 2527-21 and 2527-20. The 2527-21 is a single battery kit that includes the M12 Cordless Chainsaw, M12 XC4.0 Battery, Charger, Bar, Chain, and Scrench. While the 2527-20 Bare Tool includes the M12 Cordless Chainsaw, Bar, Chain, and Scrench.
"While chainsaws are typically the 'go-to' solution for cutting hardwoods, they don't deliver accessibility and maneuverability in tight access areas to make controlled cuts. Weighing less than 5 lbs and featuring a compact design, the M12 FUEL HATCHET 6" Pruning Saw provides landscape professionals with much-needed control while delivering less fatigue. In addition, this tool completes cuts in demanding applications up to 5x faster than hand saws."

Tony Buxton, Product Manager for Milwaukee Tool
Convenience and Safety can go hand in hand
The M12 FUEL HATCHET features a 6" Oregon bar & chain, which has a full-house design with a cutter on every drive link. Similar competitors use a cutter on every other drive link. This full-house design delivers faster and cleaner cuts with less vibration. The tool also features an automatic oiler so you won't become distracted while using it. An easy access chain tensioner to keep your chain at the optimum tension. Metal bucking spikes to assist in cutting performance and safety. Finally there is an onboard storage for the scrench so it is always where you need it.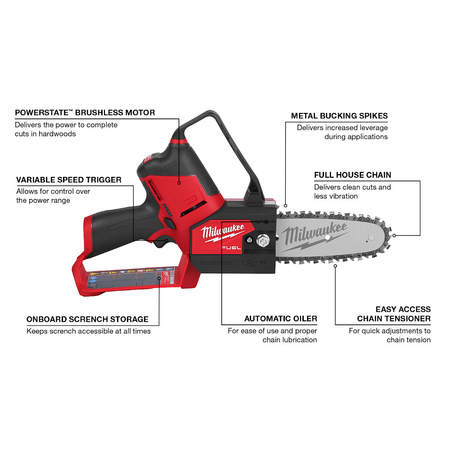 POWERSTATE Brushless Motor, REDLITHIUM Batteries, and REDLINK Innovations
As with all M12 FUEL products, the HATCHET features three Milwaukee-exclusive innovations — the POWERSTATE Brushless Motor, REDLITHIUM Battery Pack and REDLINK PLUS Intelligence Hardware and Software.
The POWERSTATE Brushless Motor delivers the power to complete cuts in demanding hardwoods, while the REDLINK PLUS Intelligence enables full-circle communication between the tool and battery. As a result, the technology allows for unmatched levels of performance, protection and productivity. This advanced electronic package also delivers instant throttle response and a variable speed trigger providing ultimate control over the power range. When equipped with the M12 REDLITHIUM XC4.0Ah battery, the HATCHET delivers enough run-time to complete full applications, with the ability to make up to 120 cuts per charge in 2" oak.
2527-21 and 2527-20 Specifications:
6" Oregon Bar & Chain
Full House Chain
Speed: 5 m/s
Chain Gauge: .043"
Chain Pitch: 3/8" Low Profile
Oiler: Automatic
Easy Access Chain Tensioner
Metal Bucking Spikes
Variable Speed Trigger
Onboard Scrench Storage
Length: 18.49"
Height: 9.12"
Width: 3.76"
Weight: 4.85 lbs w/battery
3-year warranty
2527-21 1 Battery Kit
2527-20 Bare Tool
The new M12 FUEL HATCHET 6" Pruning Saw joins the M12 Cordless System, the largest sub-compact system on the market, focused on delivering industry-leading durability and power in the tightest spaces. Currently the M12 System is made up of more than 100 solutions