Get the job done right, and quickly with the Milwaukee® M18™ compact heat gun. This product delivers the same maximum setting, 1,000 degrees Fahrenheit, as corded models. You can use the Milwaukee M18 heat gun on many different construction and remodel materials.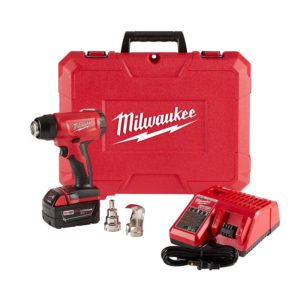 Overview
The Milwaukee M18 compact heat gun model 2688-21 (Single Battery Kit) and 2688-20 (Bare Tool) fuses electrical butt splice connectors without the need to use a butane torch. It heats up to its optimal operational temperature in under six seconds so you can get to work without waiting. This Milwaukee M18 cordless heat gun can connect up to 40 butt splices on a single charge. It's also useful for quick curing of materials, causing top coats to bubble for faster removal, and it has many other uses.
Other Features We Love
Since it's part of the M18 system, you can use the same battery in this unit as in any other tool in the line. This allows you to perform a variety of tasks with one basic set of equipment. The bundle comes with everything you need to get started, including power cells and a charger. You can get the bare Milwaukee M18 heat gun if you already have batteries. Grabbing a second or third battery lets you keep one on the charger to have ready when needed.
Great Safety Features
Safety is the first priority in any job, especially when working with tools as hot as the Milwaukee M18 cordless heat gun. A ladder hook lets you hang it out of the way of flammable surfaces, and the guarded nozzle helps prevent contact damage. This Milwaukee M18 compact heat gun is only 6.35 inches long, so you can work with it in cramped spaces. The REDLINK Intelligence™ design controls power output for preventing overloads and overheating.