Milwaukee is continuing to make it easier for tool enthusiasts to cut the cord with the introduction of their new nailer. The M12 23 Gauge Pin Nailer (2540-21) is the industry's most compact cordless nailer. It combines precision and power to deliver the level of performance that professionals expect, without the hassle of hoses or a gas cartridge.
For years, pros have demanded a cordless 23-gauge pin nailer solution with the power to sink nails into hardwoods and finally replace their pneumatic pin nailers on the job site. With the introduction of the M12 23 Gauge Pin Nailer, users now have a compact, powerful pin nailing solution that delivers the precision and power that they need through the convenience and portable power of the M12 cordless platform.
— Sean Kelley, Senior Product Manager for Milwaukee Tool
Pin Nailer Features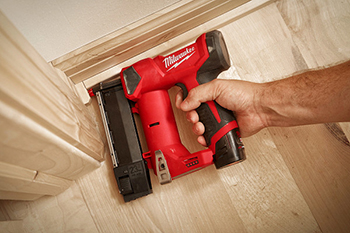 With a lightweight, ergonomic design, the M12 pin nailer is the perfect solution for work in tight spaces and confined corners. Many have a worry that they won't get as much power or many of the features they love with their corded tools, but the 2540-21 performs at a high level. A nitrogen air spring mechanism provides the power to sink nails consistently. The nailer can handle hard or soft woods while leaving small, clean nail holes every time. The double-action trigger and non-marring precision point tip allow sequential driving and accurate pin placement. Therefore, protecting delicate trim pieces. A dry-fire lockout provides added protection to your workpiece by preventing misfires.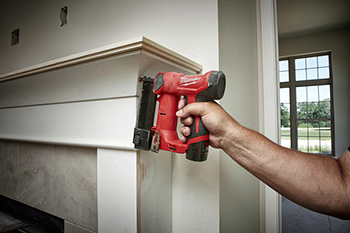 The nailer is capable of driving 23-gauge headless pin nails ranging in length from 1/2-inch to 1-3/8-inch and can fire up to 750 pin nails per charge. So, it's both versatile and efficient. The pin nailer comes both as a bare tool (2540-20) and as a kit that includes (1) M12 23GA Pin Nailer, (1) M12 Charger, (1) M12 REDLITHIUM CP1.5Ah Battery Pack, and a Contractor Bag.

Shop more M12 series tools, along with many more Milwaukee products at Acme Tools.