Forney Industries is one of the oldest welding and metal-working product companies in the United States. They produce over 5,000 products in the do-it-yourself, hardware, industrial, automotive, HVAC, and farming markets. Forney welding products are some of the best in the industry and feature machines and accessories for professionals to beginners. So, we're here to help you decide which is the best fit for you.
Easy Weld 180 ST Welder (291F)
Don't let this welder's small footprint fool you. The Easy Weld 180 ST is lightweight at 14 lbs, but it allows welding of up to 1/2-inch of mild steel at 180 AMPs. Featuring dual voltage, the 180 ST can run off of 120 volts or 230 volts. This machine features an amperage range of 10-90 AMPs for 120 volts and 10-180 AMPs for 230 volts. The light weight and being generator friendly makes this an easy choice for projects on the go.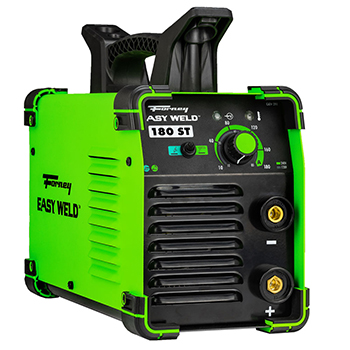 Easy Weld 261 140 FC-i MIG Welder (261F)
The is the perfect welder for both beginners and experienced users. Infinite voltage, .030-inch flux core wire, and wire feed speed control make the FC-I MIG easy to use and allows for the perfect weld each time. This welder features a 140 AMP output that allows welding of up to 1/4-inch of mild steel. At 19 pounds this machine is easy to transport from the shop to any job. The 261F is large enough to handle 2 and 10-pound rolls of wire.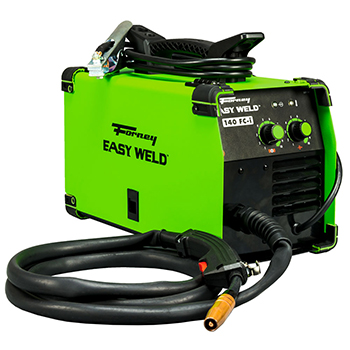 Easy Weld 20 P Plasma Cutter (251)
Making the list for its ease of use, the 20 P Plasma Cutter packs a punch while remaining portable. With a weight of only 21.5 pounds can be transported around the farm or to the auto shop. This machine features Drag Torch Technology, which allows you to drag the tip directly on the material you're cutting. The technology makes for smoother and more precise cuts. The cutter can run off a standard 120-volt outlet making it generator friendly.
Easy Weld 140 Multi-Process Welder (271F)
The 140 Multi-Process Welder's main attraction is its ability to handle Stick, MIG, and TIG welding. A three-position switch allows quick changes between each process. The welder features infinite voltage and wire feed speed control that ranges from 79-197 inches per minute. This machine can handle gas or gasless wire up to .035 inches and up to 1/8-inch stick electrodes. The 271F runs off a standard 20 AMP breaker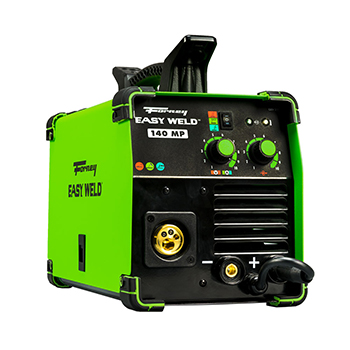 Forney E71T-GS Self, .030″ x 2 lbs., Steel MIG Welding Wire (42300F)
Forney E71T-GS Self flux-core wire is perfect for all-position welding, making it ideal for work on rusty, dirty, and patined material. This wire produces moderate to low spatter and runs hotter than solid wire, making it a perfect fit for single-pass applications with high travel speed. E71T-GS Self wire doesn't require shielding gas, so it's better for outdoor welding compared to wires that do require gas.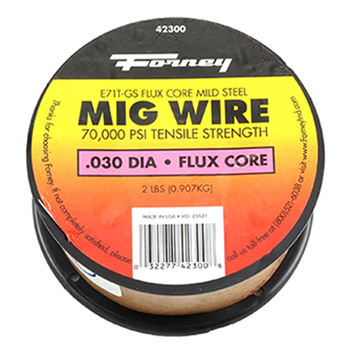 Forney ER4043, .035″ x 1 lb., Aluminum MIG Welding Wire (42296)
ER404s aluminum MIG welding wire is a good solution for heat-treatable alloys and offers a lower melting point with better fluidity. This product is great for working on truck bodies and structural members, such as automotive frames and drive shafts or bicycle frames. This wire is recommended for use with spool guns and requires argon, argon mix, or argon helium mix shielding gas.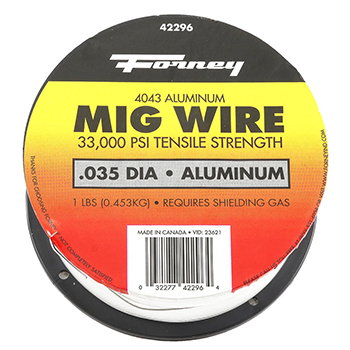 Shop Flame Medium Duty Torch Kit (42301F)
Almost everything you would need to begin welding is included in this medium-duty torch kit. A welding tip #0 and cutting tip #0 allow for welds up to 3/8 inch and cuts up to 6 inches. The kit includes check valves for safety and oxygen and acetylene regulators that go alongside a 1/4-inch by 15-foot T-Grade hose. This Forney welding kit is ideal for maintenance, fabrication, plumbing, and do-it-yourselfers.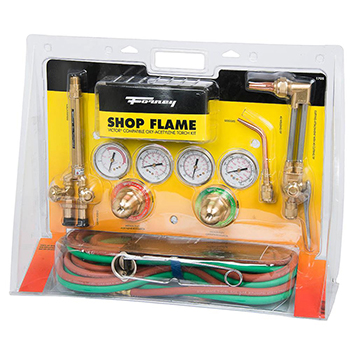 Signature Forney Welding Gloves (53411F)
When searching for gloves, you want longevity, and that's where the Forney welding gloves come in. These gloves feature premium full-grain palm and back along with heat- and abrasion-resistant reinforced patches in vital areas for additional protection. Heat-resistant Kevlar stitching and self-welted seams add extra strength and durability to the gloves, so they'll be a part of the shop for many years.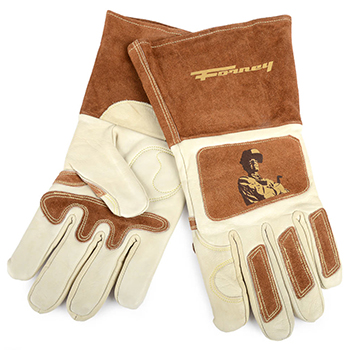 Easy Weld Series Black Matte ADF Welding Helmet (55731)
The Easy Weld Series Black Matte helmet is a good fit for do-it-yourselfers, hobbyists, or beginning welders. Simple controls and an auto-darkening feature make the helmet easy to use and get to welding immediately. It features a lightweight, impact-resistant, fireproof shell, and a quick-fit, 5-point adjustable geared headband mechanism for comfort and reduced fatigue. The helmet also features a 5.97 square inch viewing area and two optical arc sensors that protect against arc flash.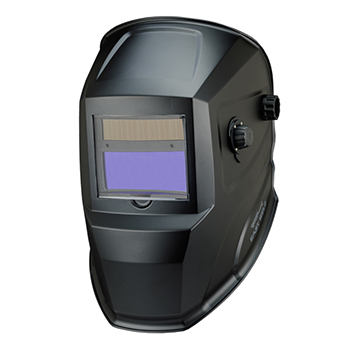 PRO Series Amped ADF Welding Helmet (55937)
The PRO Series helmet amps up many of the features of the Easy Weld Series helmet. Geared toward experienced professionals, the 55937 includes four optical arc sensors for added protection against arc flash. The viewing area is larger at 10.44 square inches and has Arc Optics technology, so it has a more crisp and clear view of welds. Dual-crown strap headgear with multi-directional adjustment provides a more comfortable fit for prolonged periods of time.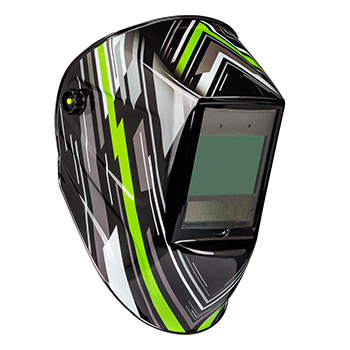 Shop more Forney products for all your welding needs at Acme Tools.