With the slew of new models that are brimming with features, the time is right to look at the best power washers for 2022. Consumers and independent testing outfits have taken the machines for a spray. The results here reflect what they had to say based on their experience and expert opinion.
After watching satisfying videos of these machines stripping away dirt and stains from surfaces, you've finally decided that it's time for you to give pressure washing a try. If you already own one but are considering an upgrade or switching to another brand, buying a washer in 2022 may serve you well. These machines usually work as advertised and as seen in viral videos.
Tips for Buying a Pressure Washer
Buying a pressure washer has important considerations. Taking heed of these caveats helps spare you from buying an underpowered or overpowered pressure washer for your cleaning needs.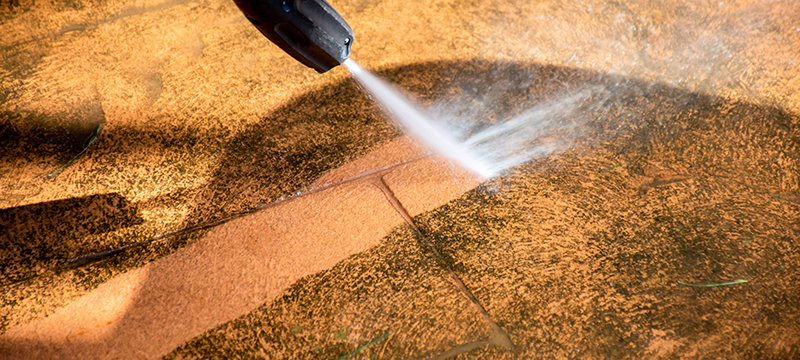 How Much Power Do You Need?
Most brands use a similar rating system for their power washers to give consumers an idea of the machine's ability to clean. The easy-to-understand rating system classifies pressure washers into three different categories from light-duty, medium-duty, to heavy-duty (or commercial and industrial):
Light-duty: The machines that fall into this category produce up to 2,000 pounds per square inch (PSI) water pressure with a water flow rate of 2 gallons per minute (GPM). Power washers in this category are good for light cleaning tasks, such as washing cars, patios, decks, fences and garden furniture. Light-duty washers are lightweight and easy to move around. Don't mistake the phrase "light duty" for weak. In comparison, your garden hose produces around 60 PSI, so a light-duty power washer has more than sufficient power for many tasks.
Medium-duty: Medium-duty pressure washers are those that can produce up to 2,800 PSI and 3 GMP that washes away stubborn stains such as oil, grease and mildew from hard surfaces. You can use these washers for stripping paint, gum or tree gunk from wood, metal or masonry. Depending on the features and settings of the medium-duty power washer, you can usually dial down its power for light-duty cleaning work.
Heavy-duty (commercial and industrial): Heavy-duty pressure washers are models with output pressures over 3,000 PSI and with at least 4 GPM water flow. These machines are for intense and large-scale cleaning applications, such as removing rust from equipment, washing off graffiti and cleaning heavy buildup of dirt, grime and oil on commercial driveways.
Pricing
PSI and GPM are major factors that determine the price points of pressure washers. Electric power washers are the most affordable type and provide good value for money for most households. They are a good entry-level washer that can perform most outdoor cleaning tasks easily. Gas powered washers are best for mobile cleaning and often have more power.
Midrange power washers are a practical choice for those who want a machine that can perform regular cleaning tasks but have enough power for intensive cleaning applications. When buying a powerful washer, it's best to use it with extreme caution, as the high pressure of the machine can cause injury and damage to vulnerable equipment. Read the manual carefully, particularly its safety reminders.
To help narrow down your search, here's what available data reveals as the best pressure washers for 2022.
DEWALT Electric Pressure Washer DWPW2400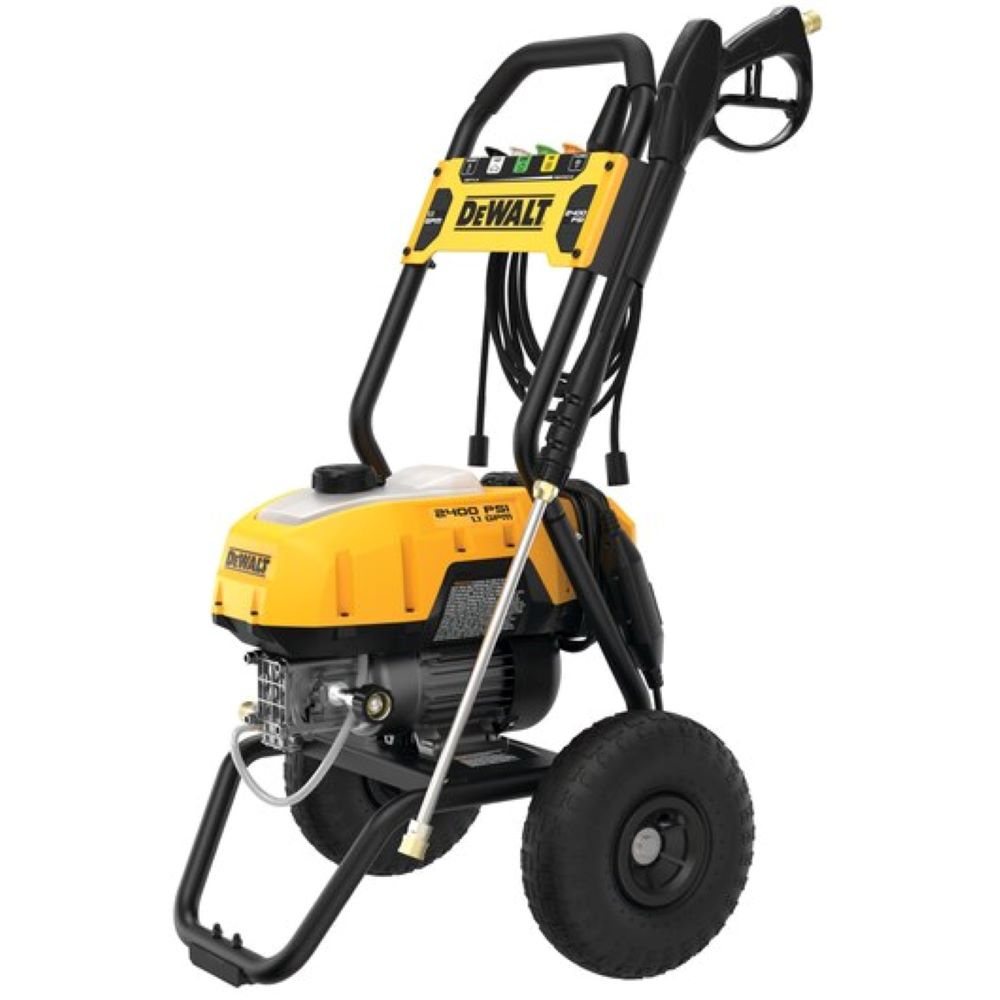 This cold-water 13-Amp electric pressure washer has five nozzles, including a turbo nozzle for heavier work. The heavy-duty kink-resistant 25-foot hose with wand provides plenty of scope for cleaning large areas. Ideal for moving around rough garden landscapes, the washer has hardy 10-inch premium pneumatic tires. Rated at 2,400 PSI and 1.1 GMP, this residential washer has an integrated detergent tank and onboard storage for the nozzles, wand, hose and 35-foot electric cord. If this isn't quite what you need, DeWalt has plenty of other models to choose from.
Karcher K1700 Cube Electric Pressure Washer 1.106-113.0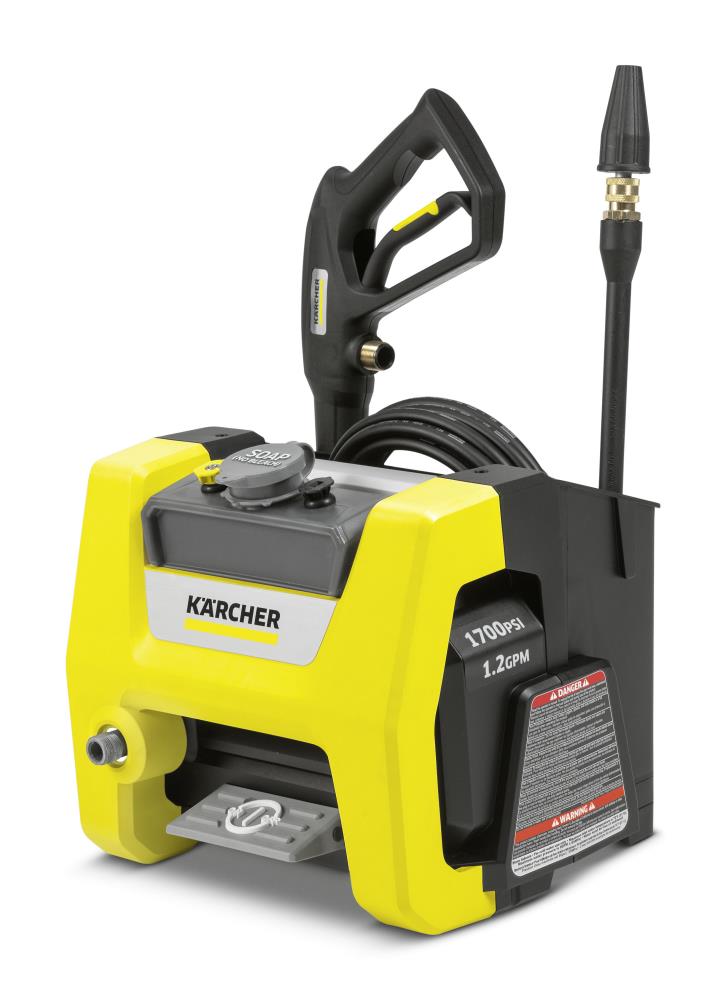 For light-duty work, the Karcher K1700 Cube is a good choice. Patio tables and furniture, garden walls, outdoor steps and power equipment such as ride-on lawnmowers, are some of the objects that get a smart look after a clean from this Karcher power washer. The Cube is compact (12 inches high), portable and fairly lightweight (18 pounds), so it's simple to move around, carrying it by the aluminum handle, as you clean various items in your yard. Performance is good, with 1,700 PSI and 1.2 GMP. The convenient foot on/off switch, removable detergent tank and built-in storage tank are all advantages of this handy machine. Looking for something with a bit more power? Karcher has plenty of other pressure washers available.
Simpson MegaShot Gas Pressure Washer 60809/60805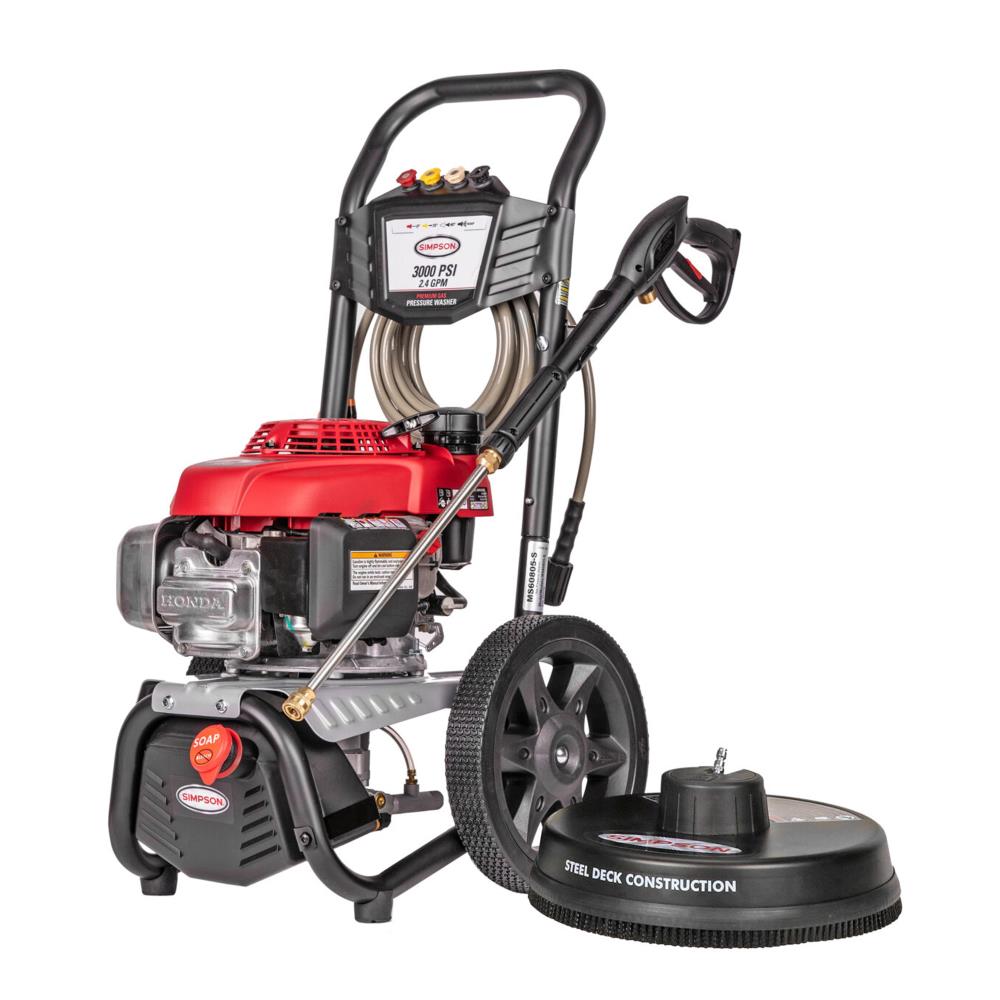 With a powerful Honda engine that delivers 3,000 PSI of cleaning power, the Simpson MegaShot is a popular gas pressure washer in 2022. With this much power, this model produces water pressure that is almost similar to that of commercial-grade washers. The durable steel-frame Simpson MegaShot comes with several functional features, including 12-inch pneumatic never-flat tires that make moving it easier, a 25-foot kink-resistant hose and an ergonomic spray gun. It's relatively easy to put together right out of the box, and the four quick-connect nozzle attachments that come with it match different cleaning applications.
Westinghouse Gas Powered Pressure Washer WPX2700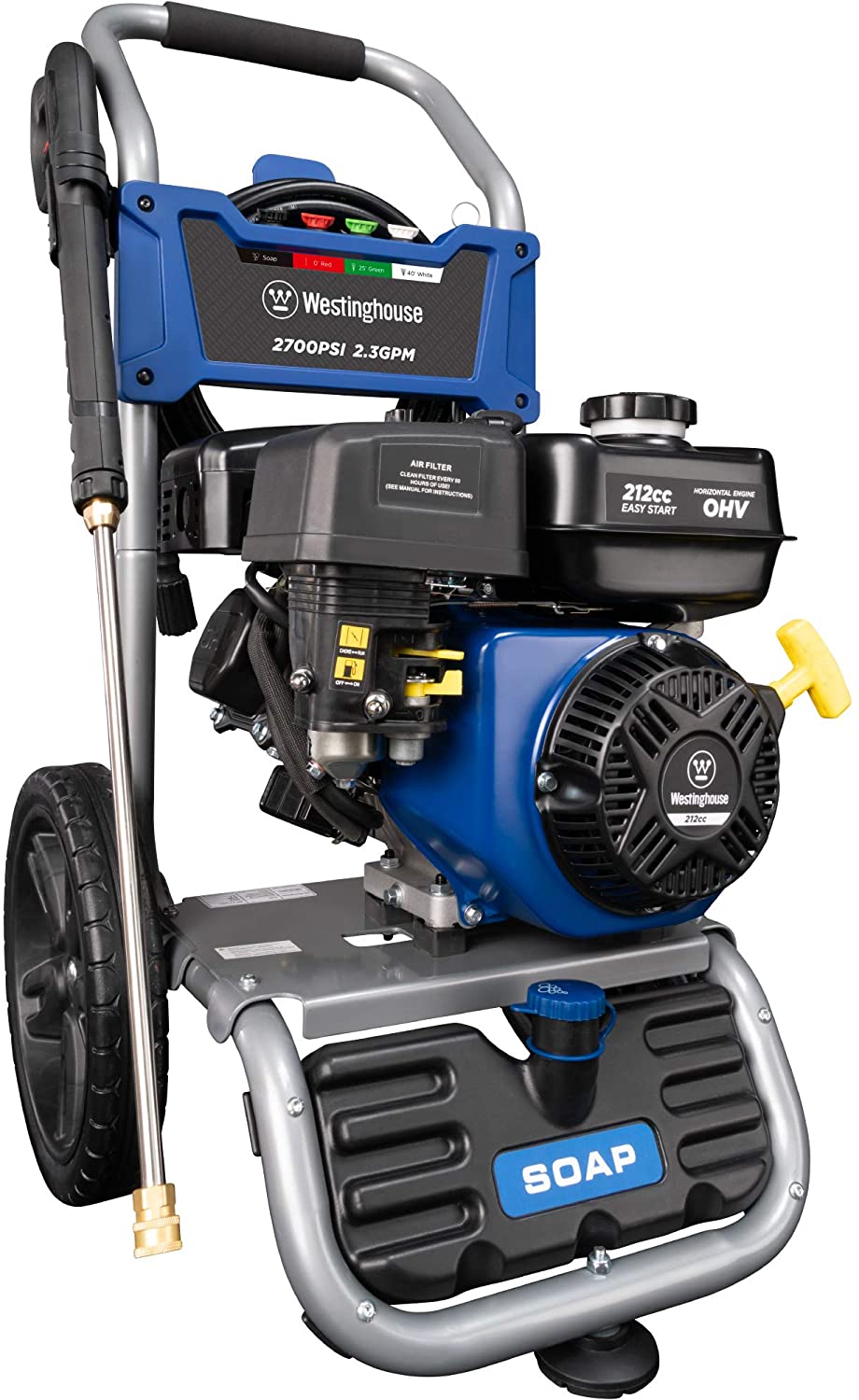 The vertical design and sturdy 12-inch never-flat tires of the 63-pound Westinghouse WPX2700 make it easier to maneuver and store than other models. With an impressive PSI of 2,700 and GPM of 2.30, this washer is ideal for removing grime from sidings and concrete, wood, brick and metal surfaces. The heavy-duty 212cc 4-cycle engine has a 1-gallon fuel tank for lengthy cleaning sessions. A 25-foot abrasion-resistant hose with spray gun and four quick-connect nozzles add to the convenience of this washer.
Champion Pro Commercial-Duty Gas Pressure Washer 100790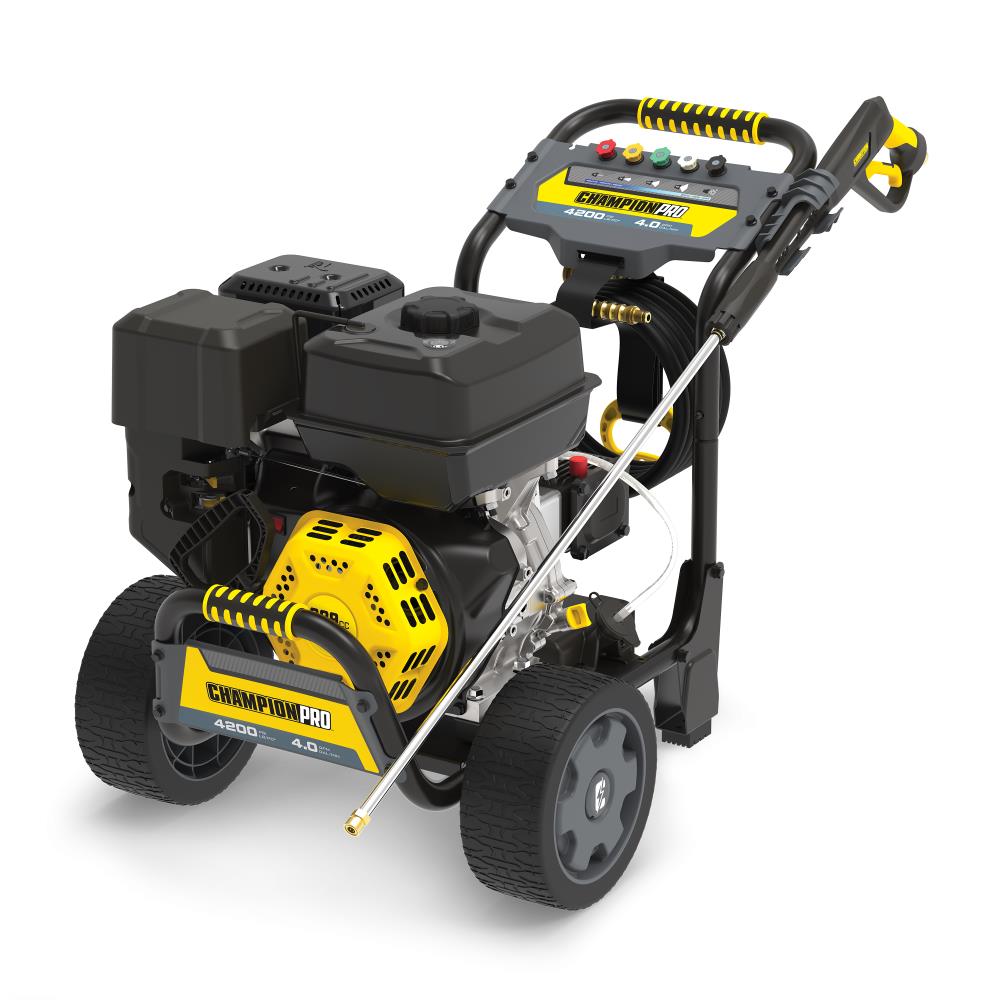 When you need serious power, the Champion Pro 4200-PSI, 4.0-GPM fits the bill. The Champion 389cc engine provides premium performance, and the AR Triplex brass head pump enhances operation. Five quick-connect nozzles positively affect water flow and pressure, and the 50-foot steel braid reinforced hose lets you extend your reach as far as possible. A hose strap and onboard storage keep accessories organized. The low profile 10-inch tires make this washer simple to move around, and the steel frame ensures long-lasting robust use.
Browse these and other pressure washer models when you're looking for a good cleaner, and deepen your knowledge as you decide how to choose the best pressure washer.