Challenge the limits with the new Bosch 18V Flexiclick "Chameleon" Drill/Driver System. The new Drill/Driver delivers the power, runtime, and speed that can tackle the toughest jobs. The 5-in-1 "Chameleon" system assists many types of professionals with high torque and ready to connect capabilities.
Bosch 18V Flexiclick Features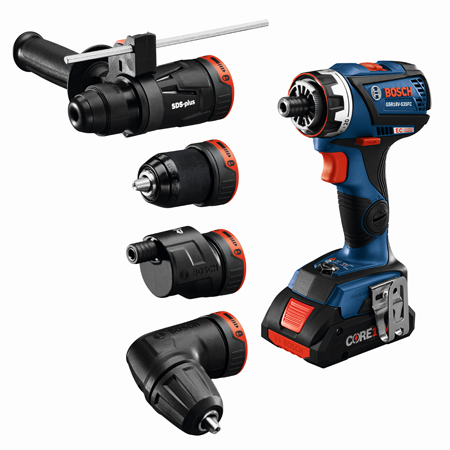 The Drill/Driver has a 1/4″ hex bit holder with quick-release; however, with attachments, the tool becomes impressively versatile. The pro-grade attachments include a 1/2″ Keyless Right Angle attachment, an Offset Angle attachment, and a 1/2″ Keyless All-Metal Chuck attachment. Also, the 3 different attachments rotate the tool in 16 different positions. Users gain the ability to operate with one hand, and productivity increases with less attachments removals.
At a later date, Bosch will add a fourth attachment to the line up. The new attachment will transform the drill into an SDS-rotary hammer for concrete and tough material applications. This Right Angle Chuck attachment provides users with access to almost every angle needed for drilling, screw driving, and offset driving close to edges.
Additionally, the Bosch 18V Flexiclick Drill/Driver features a brushless motor that delivers up to 535 in-lbs of torque, a precision clutch, and Kickback Control. In order to decrease the risk of injury, the Bosch Chameleon features an integrated acceleration sensor. The sensor detects sudden movements and shuts down the motor and also limits tool rotation. Also, the connectivity module connects with Bluetooth, allowing users to customize settings that provide the most optimized control.
Specs
Bosch 18V Flexiclick 5-in-1 Drill/Driver System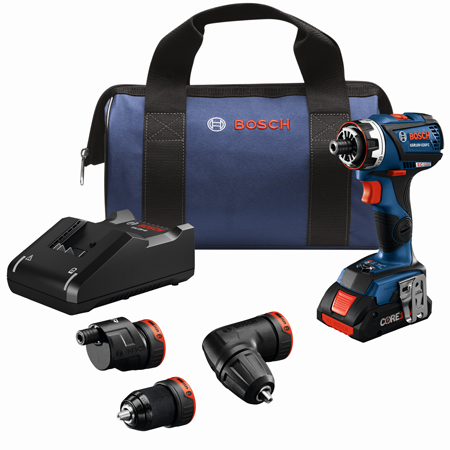 | | |
| --- | --- |
| Part Number: | GSR18V-535FCB15 |
| Voltage: | 18V |
| Battery: | 4.0 Ah |
| Battery Composition: | Lithium-Ion |
| Max. RPM: | 1900 |
| Max. Torque: | 535 in-lbs |
| Recharge Time: | 1.1 hrs |
Final Thoughts
The new system undoubtedly redefines the limits on your jobsite, allowing you to complete even the trickiest of jobs. Find the new Chameleon Drill/Driver at an Acme Tools near you or visit our online store.