Preventing and protecting your workers from silica dust is getting easier. Prevention from respirable silica dust exposure is gaining momentum and OSHA has laid out direct actions for employers in their Table 1 directory. At the heart of protection is the combination of dust extractor, dust attachment, power tool, and personal protection equipment. Bosch Power Tools has developed a relationship with 3M to provide their users a comprehensive solution. We have outlined some of the most valuable aspects of this relationship below.

Bosch Provides Power, Protection, and Prevention



The heart of the silica dust prevention system is the dust extractor.  The Bosch VAC140 12 Gallon HEPA Ready Auto Start, Auto Clean Dust Extractor and VAC090 9 Gallon HEPA Ready Auto Start, Auto Clean Dust Extractor will give you the foundation needed to keep your workers safe during their work day and actually improve efficiency in the process.
Bosch Dustless Solutions
99.97% of Particles 0.3 Microns
In addition to the Dust Extractor is the HEPA Filter that will bring the extractors efficiency to capture 99.97% of particles 0.3 microns or larger. In addition to the increased efficiency the Bosch Dust Extractors offer a Self Cleaning feature to prevent suction air flow loss at the filter.  Every 15 seconds the unit will reverse air flow to 1/2 of the filter for cleaning while still using the other 1/2 of the filter to provide the needed filtration.  This allows the worker to be protected throughout the operation and keep downtime to a minimum.
New Drilling Accessories Assist In Collection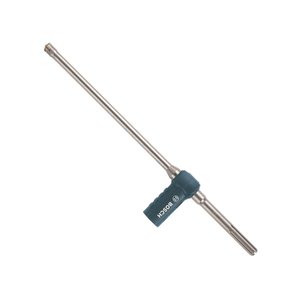 Bosch Dust Extractors are not the only component to solving this issue. Bosch also offers many accessories that assist in the collection process.  The Speed-Clean bits are designed to collect the silica dust and debris at the source, when they are created.  By using an internal fluted bit, dust extraction port, and solid carbide drilling tip these bits are among the cleanest and fastest drilling bits on the market.
New Attachments Allow You To Keep Your Old Tools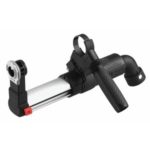 An accessory specifically designed to collect dust and debris cannot be used at all times so Bosch has you covered with a series of Attachments when these situations arise.  The HDC100 SDS Plus Dust Collection Attachment is designed to retrofit to your Bosch Bulldog Hammer Drill and with the use of a Bosch Dust Extractor may provide the needed protection.  If the hammer drills in your fleet are larger units then you will want to look into the HDC200 and HDC250 SDS Max Dust Collection Attachments.  These unique items fit directly onto the extractor hose and the suction adheres them to the surface being drilled.  Their design allows you to use your current core bits and solid bits helping lower the cost of compliance.
Grinding, Cutting, and Tuckpointing Solutions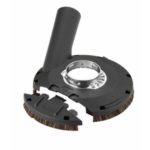 If prevention and protection during concrete grinding and tuck pointing is your concern, Bosch still has you covered.  The 18SG-5E small angle grinder guard allows for connecting a dust extractor for your surface grinding needs. If you are into cutting concrete you will be happy to know that Bosch has multiple solutions.  The 18DC-5E 4-1/2″ to 5″ Extraction Guard and 18DC-6E 6″ Extraction Guard allows you to use your small grinders to cut concrete while the 19DC-7 and 19DC-9 extraction guards allow you to use your larger 7″ or 9″ grinder for cutting applications.

The dedicated Bosch 1775E 5″ Tuckpoint Grinder provides a great solution for those who perform tuckpointing tasks.  The 8.5Amp 11,000 RPM motor are specifically designed to be matched up with a wider tuckpoint diamond wheel and the specially designed guard provides the needed dust collection.
3M Personal Protection From Dust
OSHA Table 1 refers to many tasks that employees are asked to perform on a regular basis.  They have outlined what kind of personal protection equipment (PPE) is needed for those tasks, along with the manufacturer's requirements.  There are several levels of protection needed but the 2 most common levels for the construction industry are APF10 and APF25.

APF10 for your basic tasks



OSHA has designated level APF10 to tasks that can be completed with little exposure to employees but they do require a minimal amount of respiratory protection.  Disposable respirators (particulate dust mask, half face respirator or full face respirator with disposable filters) with a N95/P95 rating are sufficient to protect employees from silica exposure but unfortunately it's not that simple.  To work properly these respirators need a clean seal between the user's face and the respirator.  This requires the user to be clean shaven and to have completed a certified fit test by the companies designated competent person.  The fit kits are available from 3M and are designed to properly fit their disposable respirators.  If the employee is required to wear a disposable respirator 30 days out of a year OSHA is mandating that the company provides them with a Baseline Lung Function Exam including x-rays for a starting point and a follow up exam every three years after that for prevention.
APF25 For High Exposure Tasks
Tasks that give off more than normal amounts of concrete silica dust will have a designated level of APF25 in OSHA Table 1.  Although this requires a higher level of protection it does not become more difficult to offer protection.  3M has a full line of Powered Air-Purifying Respirators (PAPR) that are available for this level.  The PAPR has a contained filter and a fan that moves outside air through the filter and then pumps it through a hose attached to a helmet that is worn by the user.  The movement of air will create a positive air flow thus eliminating the need for a seal against the user's face.  When using a PAPR properly a fit test is not needed.  If a PAPR is required to be worn 30 days out of a year the employee will have to participate in the Baseline Lung Function Exam and will need to be checked again every three years.
When Manufacturers Work Together Everybody Wins.
Bosch and 3M have shown the industry that cooperation and collaboration can be beneficial to the safety of the workers in their industry. Both manufacturers bring their individual levels of expertise to this newly publicised issue to assist companies in protecting their workers for years to come.