Makita Silica dust solutions are a blend of new and existing products to keep you protected. Learn how to keep workers protected from respirable silica dust while staying compliant with the new regulations. Makita has developed a full line approach to protecting workers from respirable silica dust and it all revolves around their dust extractors, universal attachments, and specialized tools. All items are Table 1 compliant when used properly and as directed by Makita Power Tools.
Containment At The Source



The heart of Makita's silica dust solution is the dust extractor.  The Makita VC4710 12 Gallon Wet/Dry Auto Start Auto Clean Dust Extractor produces 135 Cubic Feet per Minute (CFM) of suction power at 59 dB(a) and when paired with an optional HEPA filter it is the base of your containment solution.  While this vacuum can do most of the heavy cleaning, Makita has also provided 2 portable solutions.  For true portability the Makita XCV05Z operates on 2 Makita LXT 18V batteries and with backpack frame it allows the user to carry it where-ever they need a HEPA vacuum.   If you are not sure if you should go with a corded or cordless vacuum for your situation, Makita has you covered as well.  The XCV07ZX AC/DC Vacuum can be operated off of AC power when available or DC battery power when extreme portability is required.
Surfacing Concrete = Dusty No More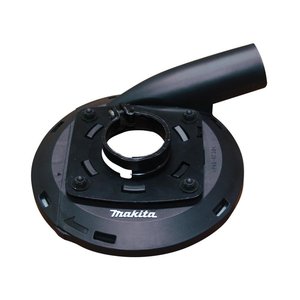 Typically surfacing concrete was an extremely dusty and laborious task.  Makita has introduced dust containment shrouds that work with your existing 4-1/2″ to 7″ grinders and dust extractor to remove all the  harmful silica dust.  The Makita 195236-5 4-1/2″ to 5″ Shroud works with all current model Makita grinders of the same size and the 195386-6 7″ Shroud works with all current model Makita 7″ grinders.  In addition to collecting all of the dust while surfacing the shrouds have removable sections that allow you to work on the floor next to a wall and still keep the suction needed to provide a safe environment.
Silica Dust Solutions For Drilling



Following the ideal that silica dust protection can be simple, Makita has introduced SDS-Max and SDS-Plus rotary hammer and demolition breaker solutions that will fit every budget and company's needs.  There is no need to redesign new tools or to engineer expensive processes for specialized tools when a simple containment boot working with a dust extractor will collect all of the silica dust produced by drilling and chipping jobs. Makita has kept it simple by introducing an attachment boot that will fit all of their SDS-Max rotary hammers, one that will fit all of their SDS-Plus rotary hammers, and a final attachment boot that will fit their demolition breakers.  Proving that sometimes a simple solution is the best policy.
Tuckpointing provides a unique dust solution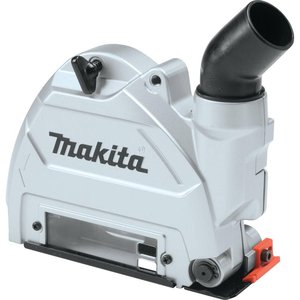 Collecting the extreme amounts of silica dust while tuckpointing is not an easy task but Makita has introduced a unique and effective solution for Makita 5In SJS Angle Grinder users.  The 196846-1 5″ Dust Extracting Tuckpoint Guard was developed in cooperation with users to give them the versatility and features needed to comply with the new regulations.  A 360° dust  port keeps hoses clear from the work space and a viewing window gives the user a clean sight line for efficient operation.