No project is as simple as it seems on the drawing board. So you need a battery system that's versatile enough to handle whatever comes up. The CORE18V battery platform from Bosch features an ingenious design that allows it to completely discharge for a longer running time than some comparable batteries.
Batteries With More Power Per Cell
These Bosch lithium-ion batteries deliver up to 43 percent more power per cell than competitive models, allowing them to pack the same amount of power and run-time into a more compact package. The units weigh just 1.8 pounds and are compact. Getting energy without the bulk and can work longer with less strain. This Bosch CORE18V battery platform's main unit lasts up to 20 percent longer than a 6.3 Amp-hour model and up to 50 percent longer than a 5.0 Ah battery. Meaning that you can work more with less downtime.
Smaller and Lighter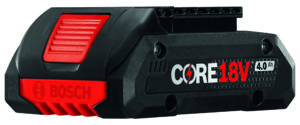 Exactly like the 6.3 Ah battery, the  GBA18V40 CORE 18V 4.0 Ah battery will not underperform. With the design to make day-to-day work easier, you can get carry this battery around longer with ease. Making overhead tasks a breeze and putting less strain on a user's arms. The new design of the battery allows the power cells to placed in a single-layer, giving its smaller appearance and lightweight.
Dependable and Consistent Performance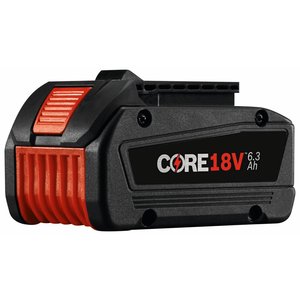 Work is the transfer of energy, which always generates heat, so this system features CoolPack 2.0 to prevent overheating, even when it's under stress. You're also covered on the opposite extreme, as the Bosch CORE18V battery platform functions in temperatures as low as -4 degrees Fahrenheit. The rugged design holds up after extended use, giving this system a maximum number of power cycles. That's 135 percent greater than other batteries so you can keep using it for longer without getting a replacement. The extreme power output allows your tools to function more like corded equipment while maintaining portability.
Work Cooler and Longer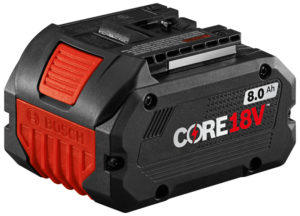 Increase your productivity by double with the new Bosch GBA18V80V CORE18V. The 8.0 Ah CORE 18V Performance Battery provides high-capacity power with a lighter weight thanks to the reduced number of cells. Also included in this battery is the CoolPack 2.0 technology that manages the heat. Providing better cooling than the previous generation CoolPack system extending your batteries life by 35 percent.
Done Quickly, Done Right
The chargers for these Bosch lithium-ion batteries charge one Amp-hour every eight minutes so you can top off in just over an hour. Get two batteries, and swap them between the tool and the charger to get continuous power. This Bosch CORE18V battery platform is compatible with all Bosch 18V tools, which means you can swap it out from one stage to the next. From cutting to drilling, for instance, without bringing along multiple battery packs. The heat dissipation feature allows the battery to run at full capacity without the fade associated with some similar models, preventing a slowdown in your work pace.
Our Final Thoughts
Whether you're a professional or a master of DIY craftsmanship, the Bosch CORE18V battery platform gives you the power to get it all done. You can run hard for the entire life of the charge to power through your toughest tasks. Get this system today to upgrade the power of your existing Bosch toolsets.