Every person probably will face that moment in their life when it's time to purchase a new vacuum cleaner. Whether you're purchasing one for the first time or replacing an older model choosing the best vacuum for your home can be a tall order. 
Before beginning your search, you'll want to think about your home and how it's designed. Is your home large or small, are there multiple floors, and what kind of floor surfaces do you have throughout your house? Once you've answered those three questions, you can start the process of vacuum hunting. This guide covers the different types of vacuums, personal needs to consider, and vacuum features and technologies.
Things to Consider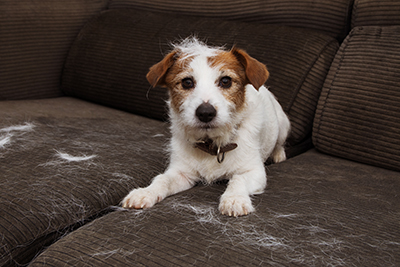 Everyone has different needs in their life that can determine the best vacuum cleaner for them. Some people have pets, some have allergy sensitivities, and others just don't have a lot of time to spend vacuuming every day. Your situation is something you need to consider because every vacuum comes with specific capabilities that can help address those needs.
Schedule
There is a vacuum to suit almost any schedule out there. If you prefer to vacuum less often, go with an upright or canister vacuum that has more powerful motors so your floors will get cleaner. If you have the time to clean more often, a stick vacuum cleaner is a good option. It won't clean as deep, but that's fine if you're running the vacuum every day. Now some might prefer to vacuum each day but just don't have the time. A robotic vacuum can be programmed to run every day at a designated time.
Allergies
If you're prone to seasonal allergies or don't do well with dust, there are several vacuum features to assist you. Many vacuums are HEPA certified, which is the highest level of filtration available. Filters can usually be removed and cleaned or replaced entirely, which should be done every six months. Some filters are even washable, so they can be used for longer periods before needing to be replaced.
Pets
Some vacuums are specifically designed to tackle pet hair, while some other vacuums have upholstery attachments that are great for cleaning up pet hair off couches and high-traffic furniture. If purchasing an attachment for your vacuum, look for those with wider openings or removable beater brushes, so you don't have to worry about clogged pet hair.
Vacuum Cleaner Types
There are many vacuum cleaners that can be used inside your home to keep it tidy. They each have areas they excel in based on how they're designed, so try to choose the one that best fits the needs of your house.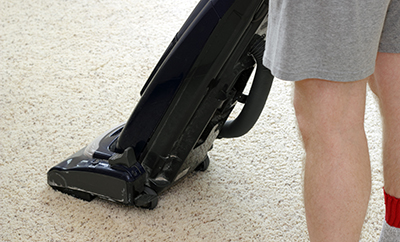 This is one of the oldest and most recognizable vacuum types. The power-head design makes them one of the best options for cleaning large areas of carpet or area rugs. Some even have the option to turn the brush roll off so they can be used on hardwood floors.
Another feature many upright vacuums have is the ability to adjust the height of the cleaner head to handle different types of carpets. For example, plush carpets can make it more difficult to maneuver the vacuum, so raising the cleaner head height will help.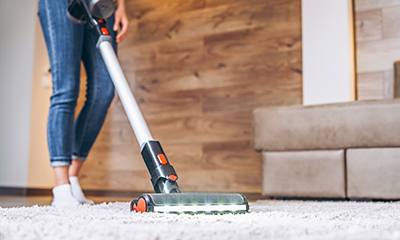 These types of vacuums are built for convenience and portability. They're both usually cordless, so you don't have to worry about constantly finding an outlet and a cord coming unplugged.
Handheld vacuums are excellent for smaller areas, such as closets, blinds, or cars. They're quiet and very light, so you don't have to worry about fatigue while cleaning up small messes left behind by children or getting after pet hair.
Stick vacuums are the in-between of handheld and upright vacuums, giving you the best of both worlds. Being lightweight and battery-powered makes them easy to haul between multiple floors of a home. The smaller size makes them more suitable for smaller messes.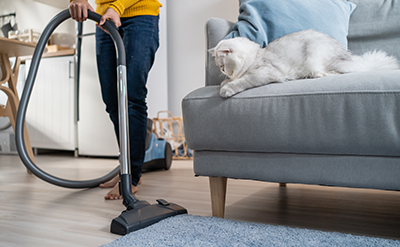 A canister vacuum has a slightly different look than most vacuums as the motor and dust receptacle are housed in their own unit that is attached to a power head by a flexible hose. This design makes them highly maneuverable and versatile. Canister vacuum cleaners work best on hard surfaces or smaller carpeted areas, such as a car or stairs. The maneuverable power head can easily reach tough spaces such as under beds or couches. The long flexible hose makes them perfect for cleaning drapes.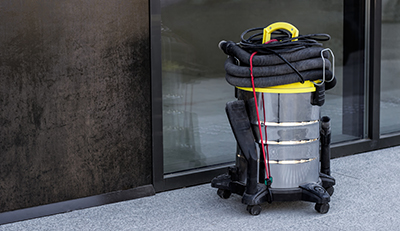 Your garage is just as important a part of your home as the living room, so you need a vacuum that can handle the heavier stuff. Commercial and garage vacuums are capable of cleaning up much larger messes and are one of the only vacuums that can handle both wet and dry materials. They are ideal for cleaning up sawdust in your garage or water in your basement. These vacuums can get quite large so take into account the amount of space they'll occupy in your home. Smaller models obviously have a smaller footprint and are more portable, but you sacrifice the size of cleanups the vacuum can handle.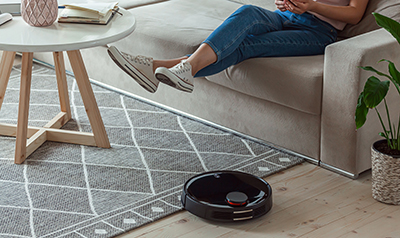 If you're the type of person who isn't a fan of vacuuming, a robotic vacuum is the answer to all your problems. As their name implies, they're self-propelled and programmable, so you can just let it do its thing and finish other housework. Onboard sensors allow it to avoid furniture legs and stairs, and most robotic vacuums can easily fit under furniture.
This is the perfect solution for busier people. A robotic vacuum can be programmed with a set schedule to run while you're at work, and you'll come home to clean floors. Being able to run every day, they're an ideal option for allergy sufferers who may prefer as little dust as possible in their homes.
Additional Vacuum Features and Technology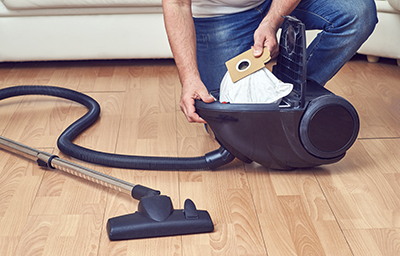 These are extra features that may be the thing that pushes in one direction or the other when purchasing the best vacuum for you. They aren't all included with every vacuum, so you may have to sacrifice one feature for another.
Bagged or Bagless
This is one of the biggest debates when it comes to vacuum cleaners. Each option has its pros and cons that may dictate your personal choice. Bagged vacuums offer less mess and keep dust better contained, so these are usually a good choice for those more susceptible to allergens. Bagless vacuums are more convenient, but the dust can get back in the air when you empty the container. There is also the cost involved in purchasing replacement bags for one option versus the other.
Filtration
The last thing you want is the dust you remove from your floors returning to the air. For one, it's counterproductive, and secondly, it can be breathed in, which isn't ideal for asthma and allergy sufferers. As mentioned above, a vacuum with a HEPA filter is the way to go. The HEPA filter removes 99.97% of particles 0.3 micrometers in size.
Some vacuums feature several layers of filtration systems, so you may have to replace the filters more often, while some foam filters can be washed and reused. The one drawback to quality filtration is the better it is, the more it decreases air pressure inside the vacuum. So you may lose some suction performance.
To review:
Consider the size of your home, number of floors, and floor surfaces.
Main things to consider: your schedule, any allergy issues, and if you own pets.
Upright vacuums are good for large carpeted areas. Some work on hardwood floors.
Handheld and stick vacuums are good for small areas and messes. They're usually cordless.
Canister vacuums are best for hard surfaces and smaller carpeted areas, such as cars or stairs.
Commercial and garage vacuums are great for large messes, both wet and dry.
Robotic vacuums are good for easy, programmable vacuuming. There is very little effort involved with them.
Decide if you like bagged or bagless vacuums. Bagged vacuums are cleaner but more expensive. Bagless vacuums are messier but less expensive.
The more filtration, the better for your health. HEPA filters are the highest graded option.
Shop several vacuum types from some of the top brands, including Dirt Devil, Hoover, Makita, Oreck, and more, at Acme Tools.