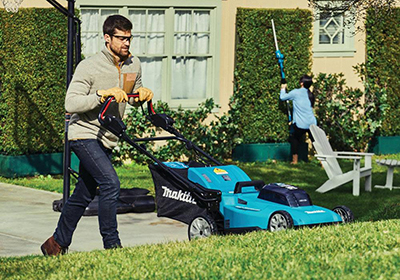 Makita recently unveiled the latest additions to their cordless outdoor power equipment lineup with the release of two cordless lawn mowers. The new mowers, the 36V LXT 21-Inch Lawn Mower Kit (XML10CT1) and 36V LXT 21-Inch Self-Propelled Lawn Mower Kit (XML11CT1), are a part of Makita's cutting-edge LXT system. 
As the demand grows for battery-powered tools that feature lower noise, less maintenance, and zero emissions, Makita is aiming to provide more options. These new mowers are part of that drive combining cutting performance with convenience, such as lighter weight tools that are more compact.
New Makita Cordless Lawn Mower Features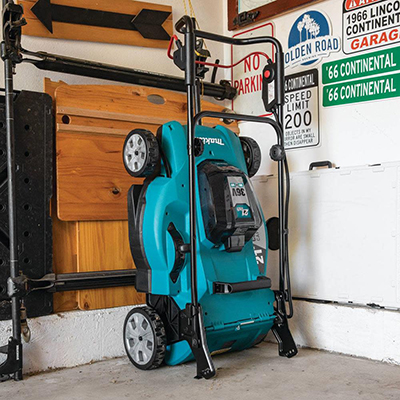 Each mower is powered by two fast-charging Makita 18V LXT 5.0Ah batteries. Using all four batteries provided in each kit provides up to 50 minutes of runtime in the XML10CT1 and 40 minutes for the XML11CT1. The runtime combined with a powerful 36V motor that delivers 3,000 RPM offers more efficient cutting. To increase efficiency, the grass catcher bag is capable of holing up to 2 bushels of grass before needing to be emptied. For added versatility, the mowers feature a 3-in-1 design that allows for mulching, bagging, or rear discharge mowing.
Both mowers are designed with a lightweight plastic deck to cut down on fatigue during operation and make them easier to transport. Ball bearings in the wheels and maximum grip tires improve performance and provide a smoother drive with better maneuverability. For added convenience, both mowers feature folding handles to allow for upright storage, saving space in your garage or shed.
Other Mower Features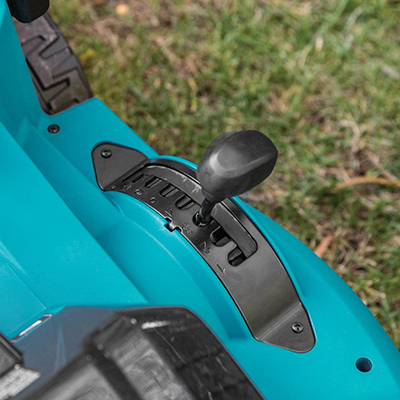 Other features include a variable cutting height that can be easily adjusted between 1-1/4 inches to 4-inches with a single lever, rubberized soft-grip handlebars for added comfort, and soft start for smooth start-ups and longer gear life. The self-propelled mower offers variable speeds of 1.5 to 3 mph for more control. Each mower is equipped with Extreme Protection Technology, a series of integrated seals engineered to channel away dust and water for increased durability and longer tool life.
Shop all of Makita's outdoor power equipment lineup, including chainsaws, string trimmers, hedge trimmers, and more at Acme Tools.
36V LXT 21-Inch Lawn
Mower Kit (XML10CT1)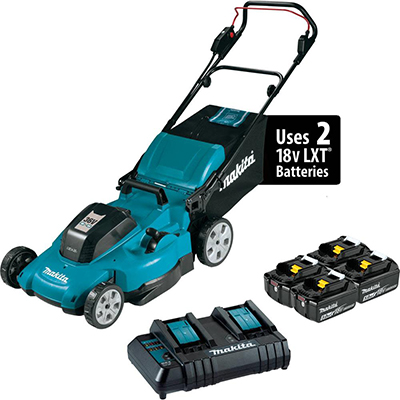 36V LXT 21-Inch Lawn
Mower Kit (XML11CT1)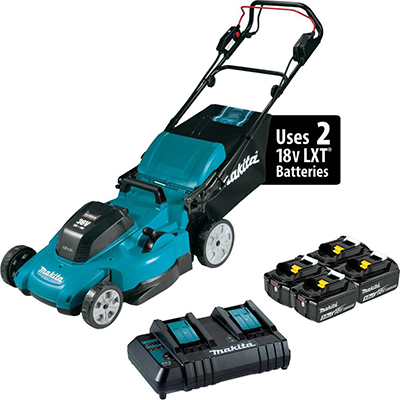 Makita Lawn Mower Comparison
Product Image
Product Name
Cutting Width
Weight (W/Battery)
Bag Capacity
Max Speed (RPM)
Price
Makita 18V X2 LXT 17-Inch Cordless Lawn Mower
17 Inches
38 Lbs.
1.4 Bushels
3,,600
$
Makita 18V X2 LXT 18-Inch Cordless Lawn Mower
18 Inches
63 Lbs.
1.7 Bushels
3,300
$$
Makita 36V LXT 21-Inch Cordless Lawn Mower
21 Inches
57 Lbs.
2 Bushels
3,000
$$
Makita 36V LXT 21-Inch Self-Propelled Cordless Lawn Mower
21 Inches
63 Lbs.
2 Bushels
3,000
$$
Makita 18V X2 LXT 18-Inch Self-Propelled Cordless Lawn Mower
18 Inches
86 Lbs.
1.7 Bushels
3,300
$$$
Makita 18V X2 LXT 21-Inch Cordless Lawn Mower
21 Inches
87 Lbs.
2 Bushels
2,800
$$$
Makita 18V X2 LXT 21-Inch Self-Propelled Cordless Lawn Mower
21 Inches
94 Lbs.
2 Bushels
2,800
$$$
Makita 36V ConnectX Commercial Self-Propelled Lawn Mower

21 Inches
109 Lbs.
2 Bushels
2,800
$$$$
Makita 18V X2 LXT 21-Inch Self-Propelled Commercial Cordless Lawn Mower
21 Inches
104 Lbs.
2 Bushels
2,800
$$$$