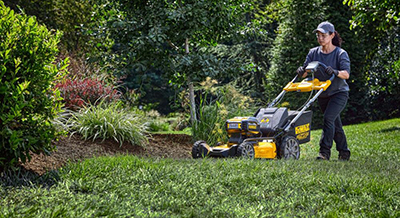 DEWALT has updated its cordless lawn mower lineup with the release of the 2X20V MAX XR Brushless Cordless 21-1/2-Inch Rear-Wheel Drive Self-Propelled Mower. The new lawn mower is specifically designed to lessen your workload while providing an even longer run time, so you aren't left waiting in the middle of a lawn cutting. Added features provide a more powerful machine with added versatility and flexibility both in your yard and garage.
DEWALT 2X20V MAX XR Cordless 21-1/2-Inch Lawn Mower Kit (DCMWSP255)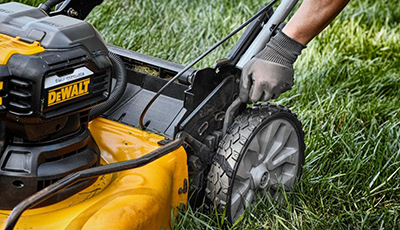 The brushless, direct-drive motor provides a higher-performance mower that can produce a runtime of up to 70 minutes on a single charge. Auto-sensing technology maintains a high RPM while cutting grass, mulching, bagging, or using the side discharge, so you don't have to worry about the mower getting bogged down. The self-propelled mower is built to lessen physical exertion with a rear-wheel-drive transmission that can handle rough, hilly terrain like a breeze.
A single-point height adjustment makes it a sinch to change between 6 different height settings ranging between 1.5 to 4 inches so you can get more control over the height of your lawn. An integrated handle on the front of the mower provides a spot to easily lift the mower while it's being stored or if you need to load it into a truck for transport. The rear handle can be folded over, creating a smaller footprint in your shed or garage, and it makes it easier to transport the mower.
DEWALT 2X20V MAX XR Cordless Lawn Mower Runtime and Recharge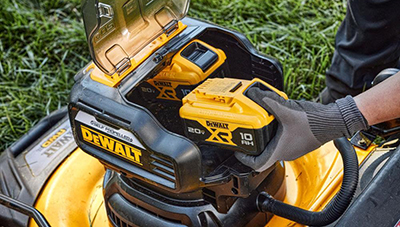 The DCMWSP255 lawn mower comes in two different kit options. Each kit includes two chargers, a side discharge attachment, a grass collection bag, and two batteries. The DCMWSP255Y2 kit includes two 20-volt 12.0 Ah batteries, and the DCMWSP255U2 includes two 20-volt 10.0 Ah batteries. Both the 12.0 Ah and 10.0 Ah batteries can be recharged in 8 hours. The DCMWSP255Y2 kit provides a runtime of up to 70 minutes, while the DCMWSP255U2 kit offers a 60-minute runtime.
Check out how DEWALT's new lawn mower stacks up against some of the other Best Lawn Mowers of 2022. Shop more outdoor power equipment from DEWALT, such as blowers, string trimmers, chainsaws, hedge trimmers, and more at Acme Tools.
DEWALT 2X20V MAX XR Cordless
Lawn Mower Brushless Kit
w/ 12.0 Ah Batteries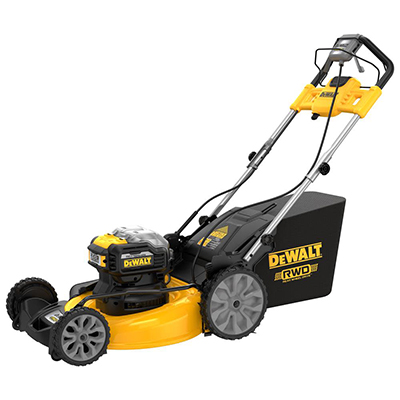 DEWALT 2X20V MAX XR Cordless
Lawn Mower Brushless Kit
w/ 10.0 Ah Batteries