Milwaukee is finally entering the lawn mower market, and with a cordless model, no less. Consumers have been asking for a mower from Milwaukee, and they answered their cries with the new M18 FUEL 21-Inch Self-Propelled Dual Battery Mower. This mower comes with all the features to contend with the other top cordless mowers already on the market and many other innovations you would expect from one of the top tool manufacturers.
The new Milwaukee cordless mower takes a lot of the misconceptions about cordless options and throws them out the window. Their mower offers the best cut quality, higher maximum torque than a 200cc gas mower, up to 60 minutes of run time, and no gas headaches. On top of the benefits of a cordless mower, Milwaukee has brought many of the best features of other gas and electric models along with their own innovations.
Features of the M18 FUEL Cordless Mower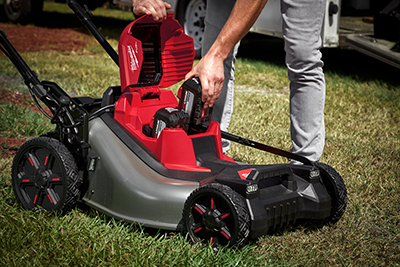 The Milwaukee mower delivers superior airflow under the deck to provide the best cut quality. Via an optimized deck design, which features a smooth, open tunnel, offers minimal disruption to airflow. The deck design combined with a higher maximum blade speed and a smaller gap between the blade and the deck, which minimizes uncontrolled gas discharge in the form of clumps, provides that promise of a superior quality cut.
The dual battery mower runs off 2 included M18 REDLITHIUM HIGH OUTPUT HD12.0 Ah batteries. With the two batteries, the mower can cut 1 inch of grass in a 1/2 acre area in 60 minutes at a speed of 3 MPH. The batteries combined with a POWERSTATE brushless motor contribute to the highest max torque among electric competitors and even tops 200cc gas competitors. With that max torque, the mower is able to maintain blade speed under heavy load, making it easier to handle taller grass.
A push-button start cuts out all the priming, and pull starts for an easier start-up and reaches full throttle in less than one second. A self-propelled throttle response provides improved system responsiveness, no motor ramp up, and increases user control and productivity.
Additional Flexibility & Convenience
Milwaukee has included adjustable handle heights for increased flexibility of the machine to fit any sized person for maximum comfortability. The mower includes three options for grass clipping management to meet any preference or need. The three modes are mulching, bagging, and rear-side discharge. Bagging creates the best lawn appearance and is the only mode that is preferred for wet grass. Mulching is best for lawn health and doesn't require clipping disposal. Rear-side discharge works similar to mulching but offers faster application speed.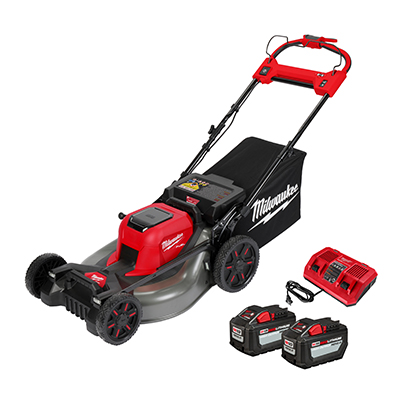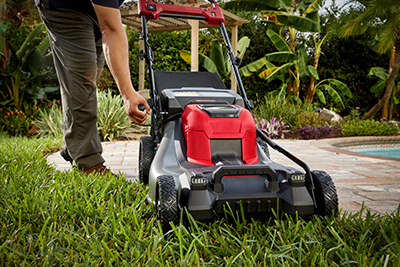 A handful of other features make the mower easier to use and store. Single point height adjustment moves the entire deck in one motion instead of having to lower each tire of the mower. The 1- to 4-inch deck height range is the largest on the market for cordless mowers and offers seven different positions in 1/2-inch increments. The handle design allows for pass-through bag removal, making it easier to remove and install the bag. The design allows the handle to be folded for upright storage during the off-season, taking up less space in your garage or shed. An operator-facing fuel gauge makes it easy to monitor current battery levels. The red LEDs of the gauge make it easy to see the levels in sunlight.
The Milwaukee mower offers a bevy of other components that create additional convenience. Lights on the front and sides of the mower improve visibility so you can work into later hours. The LEDs offer 180-degree visibility for increased awareness and precision.
Frequently Asked Questions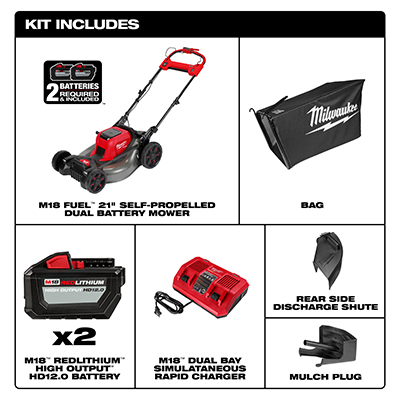 What is the warranty for the M18 FUEL Mower?
•The M18 FUEL Mower has a 3-year warranty.
•The Mower Blade is a wear component and is not covered under warranty.
What does the M18 FUEL Mower Kit (2823-22HD) include?
(1) M18 FUEL Mower (2823-20), (2) M18 REDLITHIUM HIGH OUTPUT HD12.0 Battery Packs (48-11-1812), (1) M18 Dual Bay Simultaneous Rapid Charger (48-59-1802), (1) 21″ Mower Blade, (1) Mulch Plug, (1) Grass Bag, and (1) Rear Side Discharge Chute.
Is the M18 FUEL Mower compatible with blade accessories from other manufacturers?
No, the M18 FUEL Mower is only compatible with the Milwaukee 21″ Mower Blade and the Milwaukee 21″ High Lift Mower Blade.
Why does the M18 FUEL Mower leverage rear side discharge vs. a true side discharge?
Leveraging the rear side discharge chute does not grow the width of the mower (allows for mowing closer to property and easier loading into transportation), and evacuating grass clippings out of the larger rear cavity allows for a more even distribution of grass clippings on a lawn.
Can the M18 FUEL Mower be used with any M18 Battery Packs?
Yes, the M18 FUEL Mower can be used with all M18 Battery Packs and requires two batteries for operation. We recommend M18 REDLITHIUM HIGH OUTPUT HD and XC Battery Packs to deliver the best performance and run-time.
How accurate is the M18 FUEL Mower onboard fuel gauge?
The M18 FUEL Mower onboard fuel gauge is a conservative approximation of battery levels. There will be scenarios where the mower fuel gauge does not exactly match the battery fuel gauge. The battery fuel gauge will be the most accurate reference to remaining run-time.
Why does this product require two batteries?
Milwaukee is committed to system compatibility for our end users and protecting their investment in our M18 platform. To meet performance expectations in high-demand applications and deliver more max torque than 200cc gas engines, the M18 FUEL 21″ Self-Propelled Dual Battery Mower requires the simultaneous use of two M18 REDLITHIUM batteries.
Is this a 36V product?
Yes, this product requires the use of (2) M18 REDLITHIUM batteries running simultaneously at 36 volts. However, voltage and amp-hours do not tell the full story about how we are achieving such high performance.
Will we be coming out with more two battery products in the future?
Milwaukee is committed to improving productivity by providing performance-driven and trade-focused solutions so users can perform an entire day's work on one battery system. Our strategy is not to recreate a Dual Battery product for all existing solutions but to develop solutions that meet the performance needs of the application. Whether a product requires one or two batteries will be determined on a case-by-case basis in order to provide our users with the best experience.
Have we reached the limit of M18?
No. Milwaukee is committed to developing new and innovative Battery, Motor, and Electronic technologies that will drive M18 system performance in the future. M18 will continue to be the leading battery platform for the professional trades.
Shop many more Milwaukee tool products, such as heated apparel, cordless tools, hand tools, and more at Acme Tools.