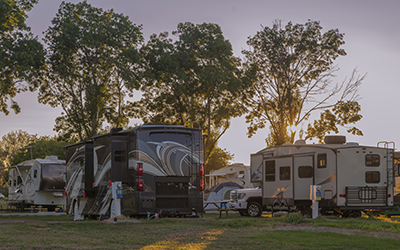 It's summertime, and you may want to set out on an adventure. What better way to do that than in a brand new RV! There is something about being able to bring a mini-version with you while venturing out onto the open roads. But before you do that, you need to outfit your fresh off-the-lot purchase with all the essential items you'll need while "roughing" it around the country.
Giving yourself a checklist of all the items you'll need to keep yourself comfortable while traveling will take a large amount of the stress out of your trip and help you enjoy your vacation. Our guide will walk you through cooking items, tools, recreational items, and generators you'll need to make every trip one to remember.
RV Essentials Checklist
This list of essential items is long, but they're all items you'll want to have to prevent any headaches while out and about. Preplanning your loadout will prevent multiple trips to local stores to pick up anything you forgot. We've split the larger list into specific areas:
General RV items for upkeeping your ride
Living items for your time relaxing inside
Kitchen items for cooking
Recreation items for when you're soaking up the sun
General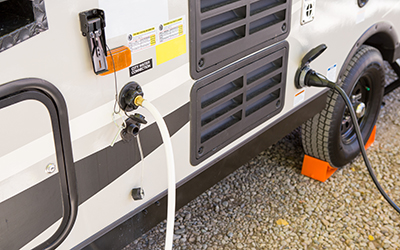 This group is the most essential on the list. They're all items that ensure the RV runs properly and you stay on the road. Many of them are even designed to be RV specific, so don't skip anything in this portion.
RV Water Hose – a must for filling your fresh water tank or connecting to city water. Be sure to get one designed for RVs as they won't contain harmful materials sometimes found in regular garden hoses.
RV Transfer Pump – this tool will make emptying water from your RV easier and faster.
RV Water Filter – a filter has multiple benefits, including removing treatment chemicals for better-tasting water and keeping your pipes free of sediment.
Roadside Emergency Kit – emergencies happen. This kit usually includes jumper cables, towing rope, triangle warning signs, and more that can help when you're changing a tire or broken down on the side of the road.
Fire Extinguisher – one is required in an RV but always have spares inside and outside your RV to put out any potential danger quickly.
Auto Accessories – be sure you have backup oil, coolant, washer fluid, spark plugs, an extra gas can, etc., on board so you can make quick fixes.
RV Water Pressure Regulator – a regulator will protect water lines and fittings on your RV if the pressure is too high at the campsite.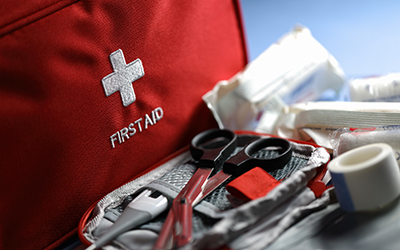 RV Sewer Kit – the kit comes with hoses and attachments for when you have to do the dirty job of dumping your septic tank.
Electrical Adapters – not all electrical connections are created the same at different campsites, so have multiple adapters on hand.
Surge Protector – an RV features many sensitive electronics that can stay safe during a power surge with a surge protector.
First Aid Kit – keep a first aid kit for smaller emergencies with pain relievers, bandages, gauze, and antiseptic creams.
Tire Pressure Guage – always keep an eye on tire pressure to ensure tires are all properly inflated for safe travels out on the road.
Portable Air Compressor – can keep your tires topped off or need help in a pinch until you can get the RV to a service station.
Lighting – have several options on hand, including flashlights for emergencies or lanterns for nighttime relaxation.
Tool Box – anyone who owns an RV knows something will inevitably break. Stock your tool box with a hammer, wrench, screwdrivers, and a knife. Don't forget your best friend, duct tape.
Extension Cord – sometimes your electrical hookup isn't long enough at the campsite, so you'll need an extension cord. Be sure to get one with a larger gauge wire to handle the electrical load being put on it.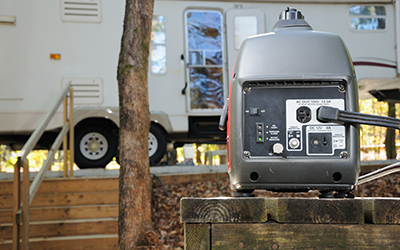 Electrical Outlet Checker – this will ensure any campground power is wired correctly and won't damage your electronics.
Generator – even in the wilderness, people want their electronics. A generator will keep you running if the power goes out or isn't available.
Wheel Chocks – the last thing you want is your RV rolling away on you while you're outside.
Leveling Blocks – these can be purchased, or you can use wood blocks. They'll help keep the RV as level as possible so it's safe and comfortable.
Living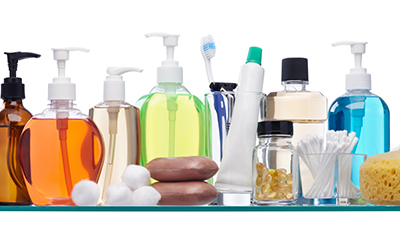 These are more personal items to keep you comfortable during your time spent in the RV. Most of them are hygiene items, but some are items to make you feel more at home.
Clothing – pack comfortable, breathable apparel that is outdoor-friendly. The amount you pack is based on space and how often you want to do laundry.
Toiletries – bring deodorant, toothpaste, shampoo, body wash, sunscreen, and RV-friendly toilet paper for proper hygiene.
Rain Gear – you can't control the weather, and occasionally, you'll need rain gear, whether you get trapped in the rain during a hike or need to fix something outside the RV.
Multipurpose Shoes – pick shoes that can handle different situations, whether you're hiking, going on the boat, or just relaxing around the fire.
Bedding – an RV is a mix of camping and your actual home so bring along a little bit of the comfort of your own bed with quality bedding.
Entertainment – you might end up stuck inside the RV for prolonged periods of time, so be sure you have books, board games, video games, etc.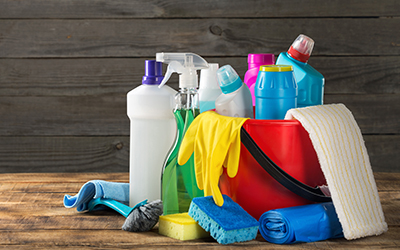 Cleaning Supplies – have a carry-all with anti-bacterial wipes, all-purpose spray, glass cleaner, paper towels, broom, garbage bags, and moth balls to keep any pests out of your space.
Space Heater – depending on where you go and the time of year, it may get cold. A space heater will help keep a comfortable temperature inside the RV.
Fan – the opposite of a space heater, a fan can help beat the heat during rising temperatures in the summer months.
Insect Repellants – insects are part of being outdoors. Bug spray, fly swatters, bug zappers, etc., are all items you'll need in the RV to keep pests away.
Kitchen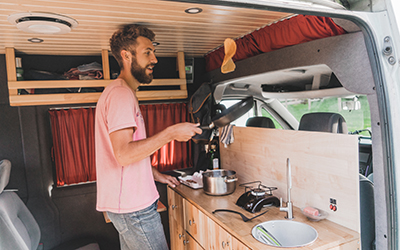 The kitchen is where you'll make all the food that makes you comfortable. Many of these items are simple, but you'll definitely miss them if you don't have them.
Portable Grill – grilling is a part of camping and a great way to grill any protein you've brought along.
Grill Utensils – you can't grill without proper utensils. Bring tongs and a spatula so you can handle burgers and brats.
Cooler – a cooler is a must for keeping your drinks cold while you sit around the campfire or out on a lake.
Dish Soap – you'll want to keep any dishes clean to keep any pests at bay.
Cups, Tumblers, Etc. – these seem obvious, but they're one of those things that are so basic they sometimes become an afterthought.
Insta Pot – space is limited, so an Insta Pot is a do-it-all machine that can be a crockpot/rice cooker/pressure cooker in one.
Dishes, Utensils, & Silverware – they don't need to be fine dining level, but you need dishes and silverware to put your food on.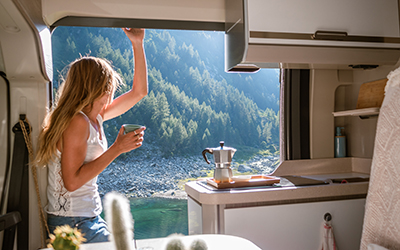 Coffee Maker – any day hasn't started properly until you've had your coffee. Be sure also to bring coffee mugs.
Can Opener – canned goods are a great way to keep food for longer periods of time, so you'll need a can opener to access the food.
Towels & Rags – you'll spend a lot of time cleaning up spills, drying dishes, etc., so have plenty of rags and towels on hand.
Food & Extra Water – depending on how long you plan to be traveling, you'll need plenty of food. Also, bring extra water in case there are issues with the water supply at the campsite.
Floor Mats – while on a campsite, there is a lot of in and out foot traffic, and mats will help keep the interior of your RV clean.
Recreation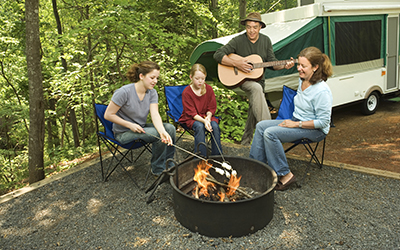 These are outside-based items that usually revolve around fun. They don't seem essential, but while you're out on the road, you should be having a good time, whether relaxing by a fire or venturing out into the wilderness.
Fire Pit – this is the easy version of a campfire. Depending on space in your loadout, you may not have enough room for one.
Camping Table – another item that is dependent on space. Having a table to eat at or gather outdoors is a nice addition.
Chairs – while spending time around the campfire, you'll need chairs to sit comfortably.
Hatchet/Axe – a hatchet or ax can serve many functions, but its main function is cutting firewood. You can also purchase firewood, but where's the fun in that?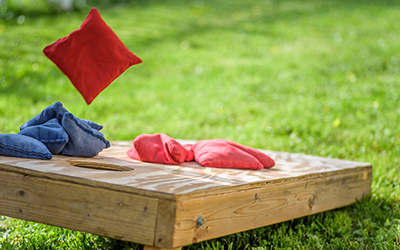 Games – lawn games, such as ladder ball or bags, are a great way to pass the time while stopped anywhere.
Umbrella – if you're RV doesn't have an awning and you're in an area without trees, you'll need to create some shade; what better way than a large beach umbrella.
Compass – hiking is an excellent way to appreciate the scenery you're visiting but bring a compass to ensure you can find your way back to the RV.
Hammock – a hammock is an excellent way to get a quick nap while being able to maximize shade.
Bike Rack – if you're the type that likes to go biking cross-country, a bike rack is a must to provide additional space to haul them.
Shop all of your RV needs and essentials from generators to fire pits at Acme Tools.