Milwaukee revealed its slate of product releases for the rest of the year at its annual PIPELINE event. The PIPELINE event is part of Milwaukee's philosophy of transparency of what's coming from them and providing a constant flow of innovative solutions to make you more productive and safer on the jobsite.
Among the new products are the next generation of M12 and M18 FUEL drill drivers and impact drivers, M12 Transfer Pump, and many more. One of the biggest products coming out of the event is the M18 FUEL Plunge Track Saw (2831-20), which is tentatively slated for launch in late 2022.
M18 FUEL Plunge Track Saw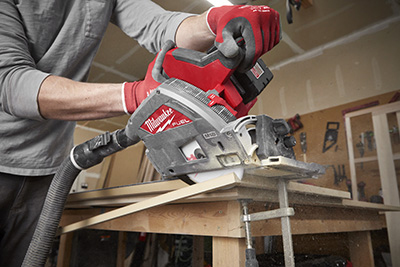 Track saws are all the rage in the tool world, and Milwaukee is throwing their hat in the ring. They're bringing cutting-edge technology to provide a more efficient, clean, and precise tool. The Plunge Track Saw has the power of a 12 amp corded saw in a single M18 REDLITHIUM 18V battery. With that level of power, the saw is capable of cutting through solid hardwood with ease.
All that power doesn't sacrifice any of the precision expected from a quality track saw. Combining the accuracy of a table saw with the portability of a circular saw allows for less tear-out during cuts and provides a clean, precise cut. Making cuts across larger pieces of material typically creates a lot of debris, but Milwaukee's Track Saw offers a best-in-class performance of over 90% dust collection. So, you're spending less time cleaning up messes laying around the shop and making you more efficient.
There will be several accessories available alongside the 2831-20, including guide rails in 31-, 55-, and 106-inch lengths, track clamps, track rail connectors, a 55-inch track storage bag, and replacement anti-splinter strips and frictions strips. The Track Saw will also be available as a kit.
Check out the rest of Milwaukee's reveals from the PIPELINE event to stay connected to all their upcoming releases and shop for even more of their tools at Acme Tools.