A Powerful Cut-Off Saw with NO GAS!
The DeWalt DCS690 9" 60V MAX Cut-Off Saw was recently revealed at the World of Concrete 2018, showing that an electric saw is the industry's future. Not only eliminating the need for gas, which saves money, time, and emits zero fumes, it also offers versatility and agility. This new saw ensures that you can get the most work out of it while meeting up to OSHA standards.
What's New About It?
DeWalt designed a rotatable 5-position guard that the user can select the angle of approach that optimizes visibility. So if you have to go straight down from a high point of concrete, you do not have to place the tool and yourself into weird positions to keep going.
The tool also includes a new and handy heavy load indicator light, providing the user real-time power and runtime feedback. Giving you the proper insight into how much power you will need for stronger and challenging material.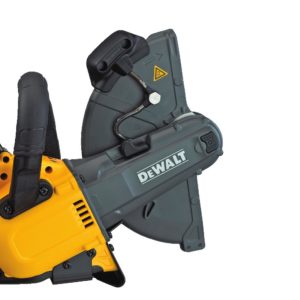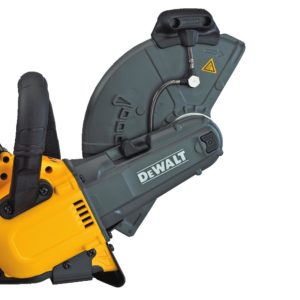 What Dust Problem?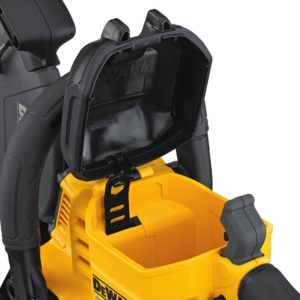 On a job site you suffer from dust, dirt, sand, and sometimes snow. These problems could potentially ruin a gas powered tool. DeWalt not only thought of that issue but made sure it wouldn't be a concern. With its latched battery box and sealed on/off switch, it can handle any harsh job site. No more debris will get into your gas tank causing costly repairs. No worries about your battery getting gunk between its connectors. Most importantly, not accidentally turning on the saw when transporting it around your site.
It also accommodates to OSHA Table 1 standards with its dual-sided water delivery system. So instead of dust flying around in the air while cutting, it gets caught by the water and sticks onto the blade, reducing those fine particles from concrete and metal that can be dangerous to your health.
Other Innovations Making Work Easier.
Delivering up to 6,600 RPM, thanks to its brushless motor, it makes work fast and efficient. Which makes cutting through materials like pavestone, rebar, concrete, and steel easier. With that power, the 60V MAX is capable of 3-1/4" depth of cut in both horizontal and vertical positions, thanks to its handle design.
Another innovation that DeWalt made was in the design of the saw itself. No longer do you have to worry about replacing chains or belts in your saw. They created an all-metal drivetrain that makes replacing parts simple while giving the saw longevity.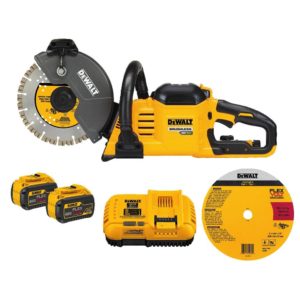 Included with both the kit and the bare tool is one FLEXVOLT Diamond Wheel and one FLEXVOLT Cut-Off Wheel and is Tool Connect Tag Ready (sold separately). With the Tool Connect Tag Ready system, you can track your assets, so you always know where they are on the job site.
Conclusion
This tool not only promotes innovation but safety as well. From its adjustable guard, the secure battery design, and dual-sided water delivery system, this tool will make cutting any tough application a sinch.
Does this tool have you excited? You can pre-order now at acmetools.com and then check out the rest of the DeWalt line of tools.