The revolutionary tool is from DeWalt's revolutionary tool line, FLEXVOLT. It has a brushless motor that eliminates several moving parts for an extended operational life with less maintenance and makes up to 339 cuts on a single charge, making it more the capable of delivering the power you need to cut through the toughest wood.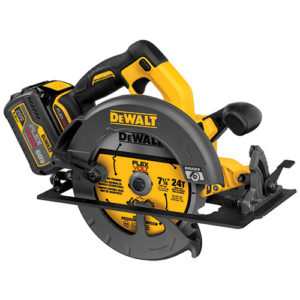 This 60V MAX* 7-1/4-inch (184mm) Circular Saw with Brake (1 Battery and Fast Charger) Kit comes with everything you need to get started, including a blade, charger, battery and blade wrench. The FLEXVOLT circular saw runs at a maximum speed of 5,800 rpm for fast operation. Its electronic brake stops the blade quickly after you release the trigger so you can safely set it down.
You can use the battery in all of your 20V MAX* tools, where its genius design automatically detects the change in voltage and adjusts to give you up to four times the run time of previous models. You can also swap out the DeWalt cordless saw's battery into any other FLEXVOLT tool to get the job done using one power source. Combining this kit and another, such as the reciprocating saw, miter saw or grinder, lets you snap two of the batteries together to run 120V DeWalt power tools for even faster, more heavy-duty performance.
This 60V MAX* saw comes with a three-year limited warranty that includes a year of free service and a 90-day money back guarantee to give you peace of mind and confidence in your investment. Add the FLEXVOLT circular saw to your workshop and get started on upgrading your entire collection to the next level of power and performance.