This DeWalt portable table saw uses powerful FLEXVOLT battery technology to bring versatile cutting power to almost any job site.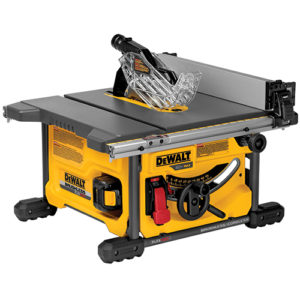 Cutting sheet materials, such as OSB and plywood, and ripping stock are familiar tasks to any DIY enthusiast or construction professional, and the DeWalt 60V MAX* 8-1/4-inch Table Saw Kit handles these jobs almost anywhere. It weighs just 48 pounds and is about 13 inches tall and 23 inches long, so one person can move the tool to where it's needed. The cordless table saw also has a sturdy and durable metal roll cage base. It provides stable support while you work and withstands challenging outdoor work site conditions.
This portable table saw combines the reliable performance you expect from DeWalt tools with the advanced power capabilities of FLEXVOLT technology. These batteries automatically adjust their output voltage to match the requirements of the equipment they're powering. They meet the demanding energy requirements of DeWalt 60V MAX* tools and extend the run time of 20V MAX* drills and grinders. You can also use a pair of FLEXVOLT batteries to power 120V equipment, such as miter saws.
Featuring an 8-1/4-inch blade that makes 90-degree cuts in material up to 2-1/2 inches thick, this FLEXVOLT table saw also handles rip cuts up to 24 inches wide. Its telescoping, rack-and-pinion fence rails are simple to adjust and provide accurate cutting width control. The portable table saw has a low-friction coating on the table surface that ensures stock moves smoothly past the blade. Its Site-Pro modular guarding system makes blade guard adjustments easy and requires no tools, enhancing worker safety. The cordless table saw also has a power-loss reset system that prevents accidental restarts if the power goes out while the tool is running. Expand your shop or job site capabilities with FLEXVOLT technology and this powerful saw.