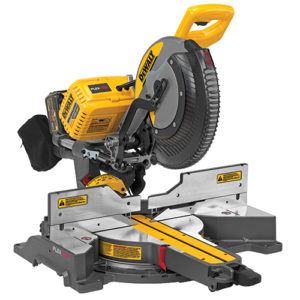 Tackle challenging miter joinery and make bevel cuts in thick stock with this DeWalt compound miter saw, which uses powerful FLEXVOLT battery technology. Performing accurate angled cuts is an important part of any woodworking project, and the FLEXVOLT 12-inch 120V MAX* Double Bevel Compound Miter Saw makes it easy to handle these jobs in your home workshop or on a remote job site. This saw reflects DeWalt's long-term commitment to creating tools for construction professionals and DIY homeowners. It has a 12-inch blade that handles thick stock and a 15-Amp motor that provides the power needed to handle tough hardwoods. The FLEXVOLT miter saw makes cross cuts in lumber up to 10 inches thick and 45-degree bevel cuts in 2-inch by 10-inch stock when using a back fence.
You can use this tool with a standard 120-volt power cord or as a cordless miter saw. It uses FLEXVOLT rechargeable battery technology, which automatically switches voltages to match the device's power requirements. You can use a single lithium-ion battery pack to power a 20 or 60-volt tool system or double them up to provide current to 120-volt equipment like this cordless saw. FLEXVOLT provides the long-lasting power needed to take on big woodworking tasks. The saw can make up to 310 cuts on a single charge. It comes with a dual-port fast charger that gets you back to work quickly.
This compound miter saw also includes features that make it simple to use. The top-mounted handle provides complete control over blade movement, and an integrated trigger switch leaves your other hand free to guide the material you're cutting. The CUTLINE™ blade positioning system ensures accuracy, and an integrated dust collector keeps your work area clean. Explore the DeWalt FLEXVOLT miter saw's features to see how they can expand your workshop's woodworking capabilities.