DeWalt announces their new FLEXVOLT 60V MAX Dust Extractor (DCV585). This tool will help any job site stay OSHA Table 1 compliant no matter what the job. From grinding, drilling, and cutting, this dust extractor intends to limit worker's exposure to hazardous crystalline silica.
Making the Job Easy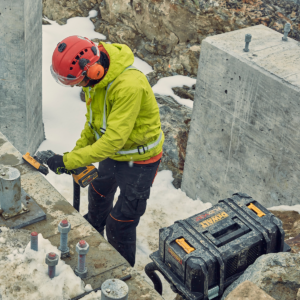 The DeWalt DCV585 runs on the DeWalt FLEXVOLT battery line and is efficient as it is portable. Making this device easy to carry around from job to job. While also knowing that you'll have power no matter where you're working. Not to forget that this tool also features Wireless Tool Control, giving the user the option to activate the extractor from a few feet away using the included remote. Now you don't have to walk back to turn the tool on. But with a simple flip of a switch, you can start sucking in all the dust from your work area.
Another additional feature the 60V MAX Dust Extractor offers is an automatic filter cleaning system. A handy feature saving you time, and your health, from silica dust that won't have the chance to stock up and clog the filter. Silica dust is a small hazard that you can't see easily with the naked eye, but the DeWalt Extractor will take that problem away. That way you can focus on getting that project done on time.
Who Can Use It?
Well from drilling into rock, cutting into concrete, or grinding into granite, this tool can be used by anyone and attached to any of the more than 120 Table 1 Compliant Solutions. All part of the DEWALT PERFORM & PROTECT line of tools that are designed to provide a high level of work. Covering at least one or more of the following: tool control, dust containment, or low vibration, protecting users without sacrificing performance.
But just because it runs on efficient batteries doesn't mean that this tool lacks any power. For example, when used in concrete drilling and grinding/ cutting up to 5-inch wheels, the extractor achieves 125 CFM. This information, along with the other impressive specs, the DCV585 60V MAX Dust Extractor can keep up with most jobs and tools.
When Can I Get It?
This tool will be an incredible New Year's gift as it will be available January 2019. You can either get it as a kit or a bare tool. The kit (DCV585T2) will include the extractor, two HEPA filters, and two batteries for $549 MSRP. The bare tool (DCV585B) will only comprise of the 60V MAX Dust Extractor and will retail at $349 MSRP.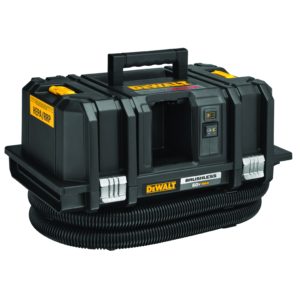 ---
Final Thoughts
Silica dust is a hazard to anyone on the job site so, having a tool that can do away with that fear is phenomenal. Along with its fantastic use, the DeWalt name assures that it can take some rough sites, hard work, and keep going. Safety and health on the job site should be a priority and is just as important as getting the job done right. The DeWalt Dust Extractor will meet those requirements and will put OSHA at ease.