DeWalt tools help you stay in compliance with OSHA Table 1 by protecting workers from respirable silica dust and other workplace hazards. The heart of silica dust protection for DeWalt is their dust extractor, but when combined with industry leading tool and dust extractor accessory performance, they have multiple compliant solutions for every task on today's jobsites.
DeWalt Dust Extractors Are Setting the Pace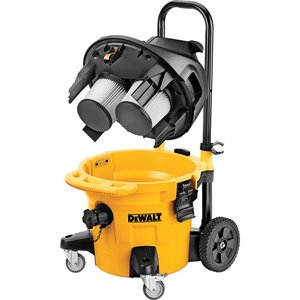 The DeWalt DWV012 10 gallon HEPA Dust Extractor and DWV010 8 gallon HEPA Dust Extractor are the heart of DeWalt's solution to being compliant to OSHA Table 1.  The DWV012 has dual HEPA filters to keep you protected while one filter is being automatically cleaned.  This allows it to have a constant 155 CFM while the same system allows the DWV010 to operate at 150 CFM.  The large wheels and casters give you the mobility needed to get into all areas of the jobsite. The patented Air Lock hose works with all DeWalt dustless tool attachments and gives you a secure connection point if moving the extractor by using the hose.
Flexibility and Protection



Many business owners are concerned that new safety regulations will make their current tools obsolete.  DeWalt has taken extreme consideration into this issue and has designed attachments that will not require new tools to be purchased to complete a current task. It will also allow the user to be fully protected against the hazards of silica dust.  Dust attachments range from the DWH050K Large hammer Dust Extraction / Hole Cleaning Kit, the DWH053K Large Hammer Dust Extraction Chiseling Kit, and the smaller D25301D Dust Extractor Telescoping Attachment for SDS Plus Rotary Hammers.  If you have invested in the DeWalt 20V Max* cordless tool platform you will also be covered.  The DWH303DH is receiving a new self cleaning HEPA filter that will make your rotary hammer, dust extraction attachment a fully contained Table 1 solution.
Drill Bits That Help Remove Silica Dust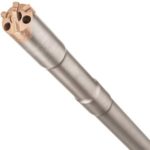 If you have ever drilled into concrete you are fully aware of the dust this task creates.  The new DeWalt Hollow Shaft drill bits are designed to collect the silica dust at the source, the drill bit face, and channel it through the bit to the extractor.  This advanced design allows the user to drill a fast clean hole.  Many cases the holes are clean enough to forgo the cleaning steps when using a 2-part epoxy.  When this time saving is added to the increased speed of drilling the hole, you can actually see savings by using the DeWalt drilling system.
Surface Grinding and Tuckpointing
When working with concrete the dustiest jobs are surface grinding and tuckpointing.  These tasks expose the operator to massive amounts of silica dust and without the proper protection could lead to numerous lung issues or death.  DeWalt has included these tasks into their Perform and Protect lineup.  The new surface grinders and tuckpoint grinders have integrated shrouds built in to wrangle the dust and specially designed the motors and gears to last longer in this demanding setting. As with other tool segments, if you already own a grinder that is being used for these tasks don't throw it away, DeWalt has developed new shrouds that will allow you to use your existing tools and still be protected.