Hitachi's Game Changing Air Compressor
The NEW EC28M portable one-gallon ultra-quiet air compressor from Hitachi is a brand new addition to the Hitachi portable air compressor line. We took a sneak peek at it, and we can't lie, we're impressed. Here's our take on this new air compressor…
An Ultra Quiet Air Compressor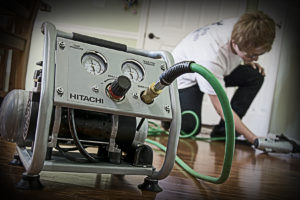 With operation noise levels rating at 59 dBs, the EC28M is the quietest air compressor from Hitachi. At 59 dBs, this air compression is a about as quiet as a normal conversation which is rated at 60 dBs. At this decimal rating, it's also clear to use without ear protection, according to OSHA. It's so quiet, that your neighbors and co-workers won't mind you operating this air compressor.
A Truly Portable Air Compressor
This Hitachi air compressor is a 1 gallon air compressor that weighs only 25.2 pounds and measures in at 14 in. x 14 in. x 13.5 in. Despite its small footprint, this Hitachi air compressor does not disappoint in the power department either. With 1/2 HP, it had enough power reach up to 125 PSI which is more than enough to help you get the job done. All that power packed into such a small package, even we admit, that's pretty darn impressive.
A Durable Air Compressor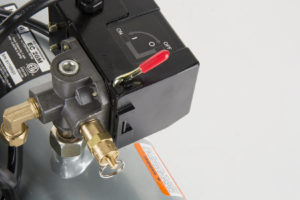 Now that you've heard how small this air compressor is, we bet you're wondering if it will hold up. The answer is yes. It's also the only Hitachi air compressor to feature a roll cage, meaning this bad boy is designed to handle use and abuse (within reason of course). Also impressive is its highly durable oil-free pump, which means it's nearly maintenance free. Can you believe it? Neither could we.
Other Features We Dig About the Hitachi EC28M Air Compressor
Motor overload protection
Industrial quick coupler
Shock absorbing rubber feet
Stainless steel braided discharge hose
Easy PSI adjustments
Industrial regulator and gauges
Hitachi EC28M Air Compressor Specifications
Power supply: 120V/60Hz
Rated Amps 2.8 Amps
Motor Type: Induction
Running HP: 0.5 HP
Tank type: Hotdog
Tank capacity: 1 gallon
Max pressure: 125 PSI
Air delivery @ 40 PSI: 1.3 CFM
Air deliver @ 90 PSI: 0.8 CFM
Weight: 25.2 pounds
Dimensions: 14 in. x 14 in. x 13.5 in
Coupling socket: ¼" x 1"
Gauges: regulated pressure gauge and tank pressure gauge
The Final Ruling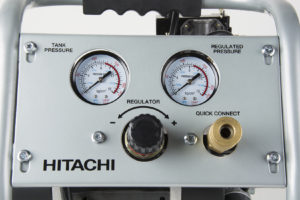 We're quite impressed with the Hitachi EC28M air compressor. Its small footprint, PSI potential, durability, and quiet performance make it a portable air compressor an ideal choice for homeowners, DIY-ers, trim carpenters, and contractors. Well done, Hitachi. Well done.
Where To Buy the Hitachi EC28M Portable Air Compressor
The Hitachi EC28M portable air compressor is available for a Pre-Order purchase now at acmetools.com.