In 1998 Honda revolutionized the portable generator market with the EU1000 Quiet Series Inverter Generator.  Shortly after, they released the EU2000i and due to its reliability, durability, and low noise level it has been the benchmark for all others to be compared against.  We are proud to announce the Honda EU2200i which continues the tradition of reliable, durable, and quiet portable power.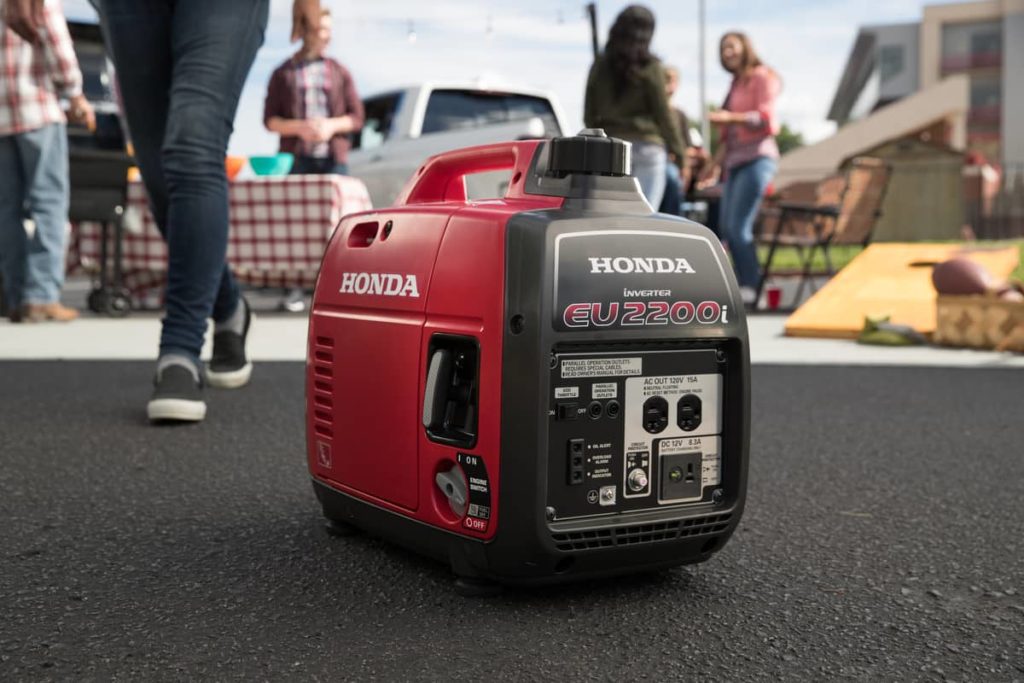 The Honda EU2200i lineup is the perfect portable generator for Work, Home, or Play. By replacing the top-selling EU2000i, the EU2200i delivers all you expect from a Honda but adds more of it, 10% more to be exact. The addition in power does not come with a drawback, it has virtually no change in weight or cost. Michael Rudolph, Honda Power Equipment Vice President stated, "With a larger engine, easy start-up process and easier maintenance, we think the all-new Honda EU2200i is the most versatile and reliable portable generator on the market".
EU2200i advantages and design features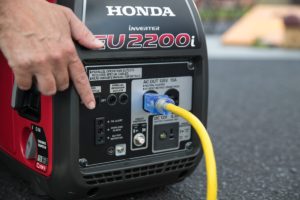 Honda Super Quiet Series generators are inverter-equipped models that feature a totally enclosed body and are designed for the ultimate in quality, portability, and convenience. They will feature a maximum AC output of 120 Volts (V), 2200 Watts (W). 18.3 Amps (A) and have a rated output of 120V, 1800 W, and 15A. Their runtime is equally impressive as their power stats.  A single 0.95-gallon tank will run up to 8.1 hours on a single fill. At full power the entire time a tank of gas will run 3.2 hours, but don't worry, Honda has incorporated their exclusive Eco Throttle® into the unit so when full power is not needed the generator will automatically idle down to increase your fuel economy. All of this is done while being one of the quietest generators on the market, 53 dB at 25% load and 62 dB at 100% load.
Other new features of the Honda EU2200i include:
Operational contact points are color-coded in Gray to assist new users
Larger oil filler opening
Larger oil spout
Larger oil drain gutter
Fuel shutoff valve
Stamped metal recoil rope insert
Increased ventilation
Improved stator/rotor configuration
New design and styling
Parallel Connections
Honda EU2200i line-up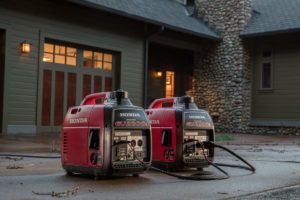 In addition to the updated EU2200i Honda will also be releasing updated versions of their complete EU2000i line-up.  The EU2200i-Camo features a Realtree APG® full body wrap which will replace the traditional Honda Red color. The EU2200i-Companion will allow you to parallel to either another Honda EU2200i or the existing Honda EU2000i generators.  This will allow current owners to have the flexibility they wanted when they purchased the original EU2000i Companion. The industrial user will also be included in the upgrade with the release of the EB2200i. This unit also meets LA-ETA and OSHA requirements. The EB2200i will drop the 20A 125V Duplex Outlet, DC Charging, and Parallel Outlets that are included on the EU2200i for a 20A 125V GFCI Duplex Outlet that is neutrally bonded.
EU2200i Technical Specifications
| Model | EU2200i |
| --- | --- |
|  Engine |  Honda GXR120 |
|  Displacement |  121cc |
|  Compression Ratio |  8.5:1 |
|  Engine Speed |  4000rpm – 4500rpm (with Eco Throttle® off) |
|  Cooling System |  Forced Air |
|  AC Output (Max) |  120V/2200V/18.3A |
|  AC Output (Rated) |  120V/1800W/15A |
|  Receptacles |  20A 120V Duplex |
|  DC Output |  12V/100W/8.3A |
|  Starting System |  Recoil |
|  Fuel Tank Capacity |  0.95 US gal / 3.6 L |
|  Engine Oil Capacity |  14 oz. / 0.44 L |
|  Run Time / Tank |  3.2 hr @ rated load; 8.1 hr @ 1/4 load |
|  Dimensions (LxWxH) |  20″x11.4″x16.7″ / 509mm x 290mm x 425mm |
|  Noise Level |  62dB @ rated load; 53dB at 1/4 load |
|  Dry Mass |  46.5 lb / 21.1 kg |
|  Wet Weight |  53.6 lb / 24.04 kg |
|  Oil Alert® |  Yes |
|  Ignition System |  Full Transistor |
|  Eco Throttle® |  Yes |
|  Residential Warranty |  3 Years |
|  Commercial Warranty |  3 Years |



---