Spring will be here again before you know it and with it the joys of maintaining landscaping and gardens. Whether you make your living in the yard or just love to keep your own slice of outdoors pristine, Honda outdoor power equipment makes a huge difference in how easily you get through your work. Find the best Honda lawnmower for your unique setup and specialty tools like a Honda tiller or trimmer to plant and tame spring's new growth.
Lawn Mowers: The Foundation for an Excellent Yard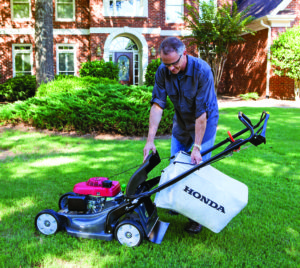 A quality push mower is the linchpin of your landscaping maintenance plan. Even if you're taking care of a huge property, you still need a walk-behind mower to handle tricky spots close to culverts or delicate landscaping features that you can't run close enough to on a bulky riding mower. The best Honda lawn mowers help you navigate such areas and make quick work of general mowing for small- to medium-size lawns, too.
When you're choosing a push mower, a few key features matter most. First, know what kind of power source you want. Electric mowers can be budget-friendly choices, considering fluctuating gas prices, and they skip the need to manage a choke start. Gas-powered ones, on the other hand, are convenient for mowing hills because they have more power behind them than electric models do. Some Honda mowers, like the HRXs, use an electric start on a gas-powered engine for the best of both worlds.
Of course, cutting and clean-up are vital, too. Honda's quadra-cut mowers with distinctive MicroCut® technology use two blades at once to cut grass fast. They leave behind fine trimmings that mulch well and take up less space in your clippings bag. Speaking of clippings, Honda offers options for handling them that range from the simple side expulsion on HRS models to bagging and even mulching. Commercial friendly HRCs come with built-in bags, while HRR models use Clip Director® for mulching, bagging and discharging. The Versamow® proprietary system on HRX models lets you mulch, discharge, bag and cut up leaves (or any combination of shredding and bagging).
Keep Edges Neat with a Trimmer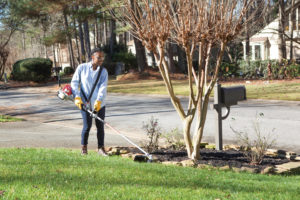 Once you've mowed the lawn and cleaned up stray clippings, chances are you still need to do some touch-up work around driveways, hedges and anywhere else your mower can't reach. That's where a trimmer comes in handy.
Honda trimmers come in two basic varieties: classic string trimmers and multi-functional tools that accept trimming attachments. All of them run on straight unleaded gas, so you don't have to do any mixing to get optimal power out of them. The string trimmer motors range from 25 ccs to 35 ccs, which spin the 17-inch line with good torque. Honda offers a brush-blade trimmer for combo use as a brush cutter as well.
The UMC models take this multi-tool concept a step further. They're base tools that power a number of attachments, including a trimmer, edger, pruner, blower, hedge trimmer and even a cultivator that breaks up dirt well in small garden patches.
Honda Tillers: Get Ready to Grow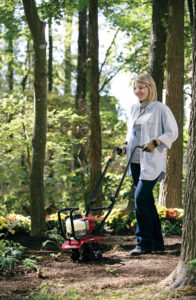 If you have a bigger space that you intend to turn into a garden or otherwise replant for spring, a Honda tiller is more your speed. For a small flower garden, for example, a mini tiller offers just-right, nine-inch-wide cultivating digging that maneuvers on the edges of existing foliage to add annuals or new greenery. Mid-tine versions are versatile and powerful in both residential and commercial options, and rear-tine ones tip the scales on power and digging width for the largest commercial jobs, including construction.
Having the right lawn and garden tools can save you hours of labor. When you're ready to take on spring landscaping, find the best Honda lawn mower, tillers and trimmers to ease your efforts so you can spend time enjoying the great outdoors.