While most industry people know Milwaukee carries heated jackets, they may not know that Milwaukee also carries non-heated gear. Milwaukee's non-heated gear is a great way to stay warm, and its impressive line includes GRIDIRON jackets and bib overalls to keep you both safe and warm, NO DAYS OFF sweatshirts for added layers of warmth, and WORKSKIN base layers that keep you cool and dry.
GRIDIRON Jackets, Bib Overalls, and Sweatshirts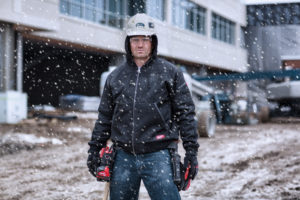 GRIDIRON products aren't just your average cold gear; they are designed to be worn by contractors, tradesmen, and outdoorsmen who won't let anything, not even the cold, slow them down. The GRIDIRON apparel line is specially designed to survive the wear and tear of a jobsite and outlast the all while keeping you comfortable and warm, even in the coldest weather.
Ripstop Polyester: More Strength and Less Bulk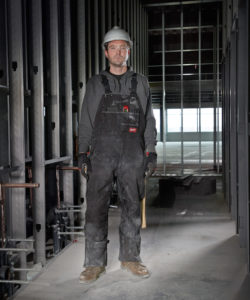 GRIDIRON apparel is highly durable thanks to Ripstop polyester, a unique material that allows GRIDIRON jackets and bib overalls to be three times more resistant to abrasion and tearing than 12oz duck cotton. You read that right, three times more likely! If that didn't impress you this will- GRIDIRON garments also have reinforced high-wear areas that will help reduce the wear and tear of high-wear areas. You won't have to worry about these jackets and bib overalls wearing out!
While Milwaukee GRIDIRON jackets and bib overalls are heavy duty, they are not heavy weight. GRIDIRON garments reduce bulk by 25% so you can keep warm without sacrificing mobility.
FREEFLEX Fit: More Mobility
Milwaukee GRIDIRON jackets and bib overalls feature FREEFLEX stretch panels in the inner legs of the bib overalls as well as the back, sides, and elbows of the jackets. These stretch panels maximize mobility, reduce the overall weight of the garment, and maximize comfort.
NO DAYS OFF: Keeps You Warm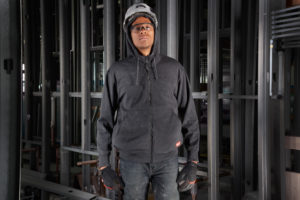 This Milwaukee trademarked technology gives GRIDIRON garments wind and water resistance, keeping you safe from the most extreme element. This warming technology is available in the NO DAYS OFF sweatshirt, which is a great sweatshirt for keeping you warm in the cooler months and can also be used as an extra layer of warmth in the extreme cold months. NO DAYS OFF: because Milwaukee knows you're still working even when it's cold.
Other Features We Love About Milwaukee GRIDIRON Apparel
Overall bibs zip-to-thigh
Tarnish resistant, metal zippers
Metal buckles
Interior pockets for electronic device storage
Large front utility pockets with reinforced edges
100g high-loft insulation
Available in sizes S-3Xshort, regular, and tall lengths
Available in short, regular, and tall lengths
WORKSKIN: Stay Cool and Dry
WORKSKIN Performance Shirts are ideal for wearing during warm summer months, or just if you'd like to keep cool and dry throughout the year. Designed with patented COOLCORE fabrics, WORKSKIN shirts stay up to 30% cooler while also quickly wicking away moisture from your body. Extra Fast Wicking Sweat Zones are placed under the arms and down the back that help to speed up the drying process to be sure you stay cool and comfortable in the heat and while you're working hard.
The Bottom Line
Overall, Milwaukee's new GRIDIRON jackets and bib overalls are an ideal garment for tradesmen, contractors, and outdoors men who are seeking a warm, comfortable, and durable garment made to survive wear and tear. Order Milwaukee GRIDIRON and WORKSKIN apparel at acmetools.com.