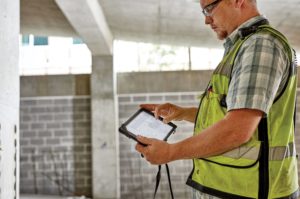 Over the coming months, DeWalt will launch a fully connected system, including WiFi mesh network and, later, an Internet of Things (IoT) platform, to enhance productivity, profitability, and safety on the jobsite. After extensive research, DeWalt identified that, due to the increase in digital dependency in the construction field, there is an unmet need for reliable connectivity and asset management across the jobsite. Sharing data has become more necessary for contractors, yet limited connectivity options exist, until now, the DeWalt DCT100 is here to bridge the gap.
DeWalt's patented WiFi mesh technology provides a key solution with its ruggedized access points built to withstand the harsh and variable conditions of a construction jobsite. DeWalt WiFi enables general and trade contractors to collaborate in real-time across large-scale jobsites and to easily access critical site information such as prints, schedules, budgets and RFIs.
DeWalt and Mortenson Construction A Case Study of Efficiency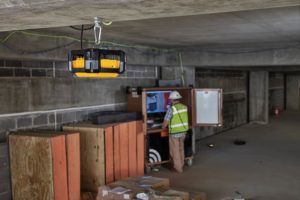 If you're on the fence or questioning why you need DeWalt 'snew Wifi capabilities, we've included a case study from Mortenson Construction to help you understand the benefits of DeWalt's WiFi Jobsite WiFi.
"DeWalt understands how vital the building and construction industries are to local and global economies," said Tony Nicolaidis, Vice President of Marketing for Connected Systems. "Leveraging technology, our goal is to provide solutions for gathering in-depth jobsite data for better decision-making by general contractors and trade contractors, thus enhancing productivity and safety."
"Entering the connectivity space is a great move for DeWalt and a promising opportunity for the industry. They bring a wealth of expertise to the industry as the first company to truly focus on creating a platform to support the Internet of Things. In tackling connectivity, we see huge potential and opportunity for DeWalt and the wider construction community," said Taylor Cupp, Technologist for Mortenson Construction. He adds, " The real savings were in the reduction of worker movement around the project site. That's pretty important because when you look at labor costs of a project, that can be upwards of 40% or 50% of the total project cost, so it can have a big impact pretty quick." During one $22.5M project, 5 DeWalt DCT100 Jobsite WiFi Access Points were used to cover 64,000 Square Feet for 13 months.  The impact revealed to all was that workers were saved 10 minutes per day not having to walk to the jobsite trailer, this is broken down to a 2% savings in labor costs or $175,000. They noticed an increase in digital collaboration and a reduction of risk in rework by syncing critical apps.
Specifications of the DeWalt DCT100 Jobsite WiFi Access Point



RADIOS
Two internal 802.11a/b/g/n radios
Max data rate: 300 Mbit/s
Combined max data rate: 570 Mbit/s. 270 Mbit/s for the 2.4 GHz, 300 Mbit/s for the 5 GHz
2.4 GHz 23 dBm max average transmit power
5 GHz 20 dBm max average transmit power
Max transmit power is decreased for certain geographies
to comply with local regulatory requirements
SECURITY
WPA2 encryption with SSL interfaces
Device offline notifications
Frame allows cable lock security (sold separately)
REGULATORY COMPLIANCE
FCC (US)
IC (Canada)
SGS (US), RoHS compliant
INTERFACES
Two Gigabit Ethernet (RJ-45) Ports
One 12-24VDC In Jack, 2.1mm Center Pin Barrel Jack
One 12-24VDC Out Jack, 2.5mm Center Pin Barrel Jack
ENVIRONMENT
IP67 rated to protect against dust and water submersion
Operating temperature: -4°F to 122°F (-20°C to 50°C)
POWER
AC Power: 120V AC
Power consumption: AC Current: 0.6A / 120V AC
12-24V Output power port: 0.4A Max, 2.5mm Center Pin Barrel Jack
12-24V Input power port: 1.2A Min, 2.1mm Center Pin Barrel Jack
8′ AC cord included
LED INDICATORS
Connectivity
Power/Booting/Firmware Upgrade Status
Error Codes
MOUNTING
Mount 10' away from obstructions by carabiner or anchor for optimal performance
1/4″-20, 5/8″-11 Tripod or bolt anchor points
Swivel wire anchor point
PHYSICAL DIMENSIONS
10.5″ x 10.5″ x 6″ (267 mm x 267 mm x 152 mm)
Weight: 5.75 lbs (2.61 Kg)
Together, these solutions from DeWalt will connect the jobsite in a revolutionary way, allowing contractors to improve efficiency, profitability and safety through unparalleled connectivity, insights and asset optimization. For more information or to purchase the DeWalt Jobsite WIFI Access Point check out AcmeTools.com.