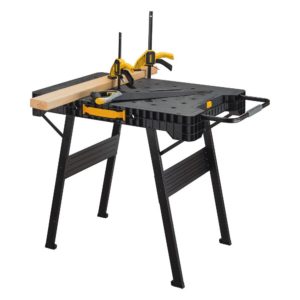 The Express Folding Workbench (DWST11556) from DeWalt is a portable plastic folding workbench with a large bench size and full clamping coverage, making it a more practical and useful version of a sawhorse. Weighing in at less than 23 pounds, this lightweight workbench that is easy to move around your shop, pack in a vehicle, and take with you from job to job.
The Best Features Of The Express Folding Workbench
Quick Fold: true to its name, it has a quick and easy set up and folding time of about three seconds. Yep, you read that right- 3 seconds!
Good size working surface area: it's large surface area allows you to work on and with with nearly anything.
Clamping abilities: this workbench is the ultimate upgrade from a sawhorse because this it has tons of peg holes and the "X" factor whichgives you full clamping coverage allowing you can clamp in any position. What will you do with unlimited clamping potential?
Large load capacity: metal legs allow this work bench to hold up to 1000 lbs! Not bad for a portable workbench, huh?
Easy to store: its opening handle doubles as a hanger, so you can easily store this workbench when you're not using it.
Compact fold: when folded, this workbench is quite small so you can store it nearly anywhere- in your garage, in your vehicle, on a shelf…literally anywhere!

The Express Folding Workbench from DeWalt is a great addition to your shop or garage because it provides a nice sized workbench as well as sawhorse capabilities, making it a practical and efficient purchase. Bottom line, we think you're going to love it!