No noise. No fumes. No gas. Just pure portable power!
The battery-powered DEWALT Portable Power Station brings a whopping 1800 watts to remote locations. We found that the unit is perfect for providing AC power to most corded tools at the jobsite, particularly when there are noise restrictions.  And without the need for gas to run, besides being quiet, we liked that there are no fumes or carbon monoxide emitted from the unit.
Portable Power on the Jobsite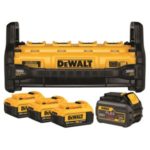 Not only can the DEWALT FLEXVOLT Power Station power corded tools remotely, it also becomes an efficient multi-port parallel charger for up to four DEWALT 20V Max Batteries when plugged into an outlet via extension cord (sold separately).
It runs on four DEWALT 20V MAX batteries. And, for high power applications, you can use can use 3.0Ah batteries or higher amp-hour batteries. It provides 1800 Watts (15 amps) continuous power and 3600 Watts peak power. The Portable Power Station weighs just 18 pounds (without batteries).
In our test, it worked equally well with standard and electronically controlled variable speed tools such as circular saws, miter saws, routers, reciprocating saws, hammer drills and other construction orientated tools.
With an integrated temperature-controlled cooling fan and heavy-duty roll cage, the Portable Power Station is a durable and convenient power solution for a huge range of uses.
Portable Power Not Just for Work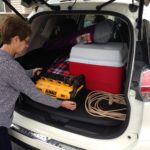 We also discovered that there's a fun side to the DEWALT FLEXVOLT Power Station, too. When the job is done, you can take the compact power station along on camping trips, tailgate parties, etc. By being clean and lightweight, it's easy to pack and tote around.  The power produced by the DeWalt FLEXVOLT Portable Power Station is delivered as a Modified Sine Wave so running delicate electronics with it may not be the best application but it will be safe to run standard kitchen appliances .  Now you can bring your blender camping and tailgating.
The DEWALT Portable Power Station is offered in two kits: DCB1800B Bare Power Station without Batteries , DCB1800M3T1 with three 20V 4.0Ah batteries and one 60V/20V FLEXVOLT  battery.