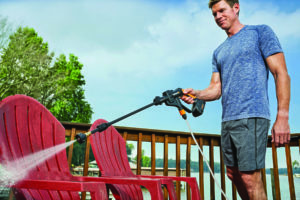 The Hydroshot (WG629) from Worx is the first power cleaner of its kind- 20V cordless, extremely lightweight, compact, and a truly portable power washer. Its ability to draw water from any fresh water source like a bucket, lake, and spigot, make it a highly versatile and portable power cleaner, allowing you to get rid of your clunky hoses and bulky power washers. The Hydroshot is an easy-to-control, high quality power washer that makes power washing convenient, quick, and effortless.
Our Favorite WORX Hydroshot Features
Cordless: lightweight, cordless power washer powered by a 20V lithium-ion battery that shares the same platform as multiple other 20V WORX cordless tools.
Dual System Design: allows you to lightly water and power clean using the same tool.
5-in-1 Pressure Nozzle:

4 settings used for high powered cleaning and target spraying (0 degrees, 15 degrees, 25 degrees, and 40 degrees).
1 setting that is used for lightly spraying and watering plants, remote areas, and more.

2 Speed Control: saves on battery, extending the Hydroshot's runtime.
Efficient: uses ½ gallon of water per minute- way more efficient than a typical power cleaner.
Remote Capabilities:the Hydroshot can draw water (using its 20 ft hose) from any fresh water source including a lake, stream, spigot, bucket, and more. Its lightweight makes it super easy to take with you when you're on the go, even remote areas, making the possibilities endless.
Lightweight:Did we mention that the Hydroshot is lightweight? At only 3.7 pounds, you can literally take the Hydroshot with you wherever you go.
The Bottom Line
Worx's Hydroshot power washer is defiantly worthy of all the hype. It gets the job done and it's portable and versatile. The Worx Hydroshot an impressive and practical addition to your garage, shop, or jobsite.