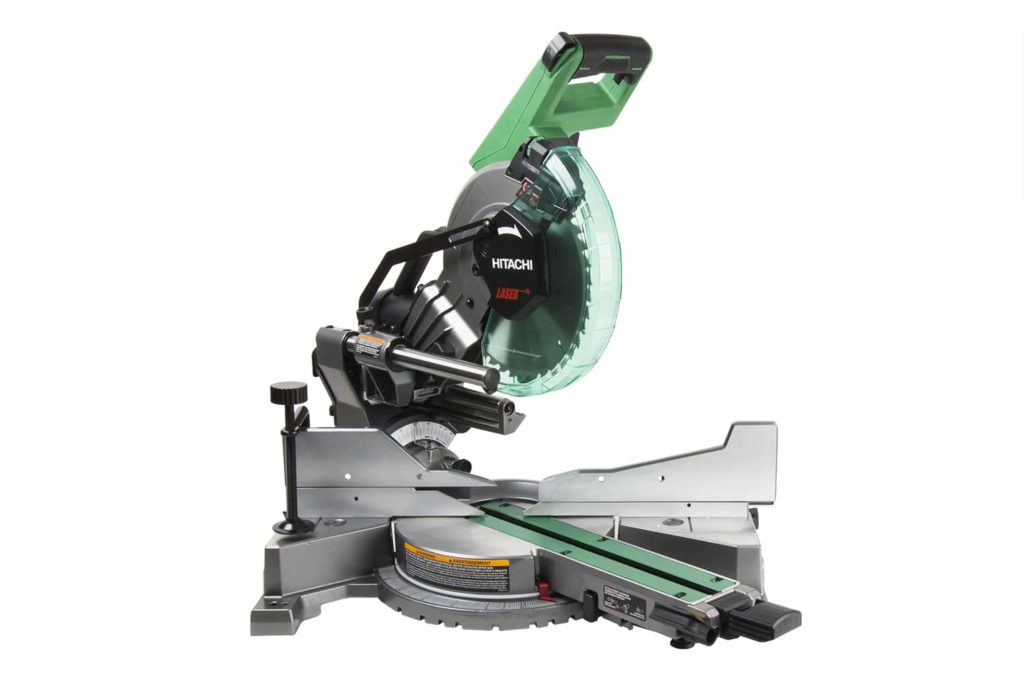 Hitachi Power Tools (Hitachi Koki USA, Ltd.) today announced its new 10" sliding dual compound miter saw with laser, the C10FSHC. It utilizes Hitachi's NEW and Innovative compact slide system that requires zero rear clearance allowing the saw to sit nearly flush on a benchtop without compromising the range of movement. Equipped with an adjustable laser marker and LED light, this saw is ideal for small shops or jobsite locations, and delivers perfectly accurate cuts.
Power and Performance
The C10FSHC is powered by a 15 Amp direct drive motor to smoothly cut through hardwoods, saving time and blade wear. It features soft start to reduce noise and recoil at start up, and an electric brake to halt the rotation of the blade within seconds preventing unintended cuts. The dual aluminum fence stands tall to allow crown molding to be cut vertically for convenience. The sliding fences are also removable, which eliminates the chances of accidental contact when making extreme bevel and miter cuts.
Laser Accuracy
The integrated laser marker accurately indicates where the blade will cut on the material and can be adjusted to the right or left of the cut, depending on the user's preference, using the dials located on the saw blade cover.
Miter and Bevel Capacity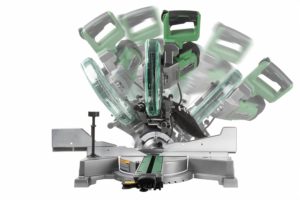 This saw delivers miter ranges from 0-60 degrees to the right and 0-55 degrees to the left for increased flexibility. Miter angles can be quickly adjusted using the onboard thumb actuated positive stops. However, the C10FSHC features a positive stop override system whereby the user can elect to smoothly pass by all miter detent stops and dial into precise angles faster.
The bevel ranges 0-48 degrees both to the right and left which allows the user to quickly flip the saw blade and leave the work material in place for a broader range of cuts. This saw is Hitachi's first to offer up-front bevel lock for convenience. No longer does a user need to reach around to the back to adjust the bevel. The control resides at the front of the saw for quick and easy adjustments.
All Day Comfort and Ergonomics
An elastomer grip covers the saw's horizontal handle reducing vibration, while adding comfort and preventing slippage. An externally accessible carbon brush makes for quick and easy changes. The included dust bag attaches at the rear to minimize debris, or the port can be connected to a shop vac for convenience.
The Hitachi C10FSHC comes complete with a 10" 40-tooth TCT Saw blade, dust bag, vice assembly and 13mm box wrench. It is an ideal 10" sliding dual compound miter saw for use at the jobsite or in a tight shop with limited benchtop space, designed to appeal to the needs of trim carpenters, framers and woodworkers.