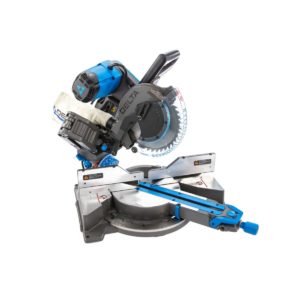 Delta's new patented 10in Cruzer miter saw (26-2240) and 12in Cruzer sliding miter saws (26-2250) are fast, accurate, and tough as nails- everything you'd expect from a Delta power tools product. So far, the Delta Cruzer miter saw seems like a no brainer for us.
Unstoppable Power
Cruzer miter saws are available in 12 in. (47˚ dual bevel) and 10 in. (45˚ dual bevel) blade sizes. Delta's new miter saw has a 50° left miter and 60° right miter capacity and a powerful 15 A motor that produces speeds up to 4,000 RPM allowing you to easily make fast and accurate cuts though 5.5 in. – 6.5 in. thicknesses.
Easy-To-Use
The Cruzer is very easy-to-use thanks to its 7 positive stops, one-handed front miter controls, molded handle that allows for right and left handed users, and an easily adjustable sliding tension.
Industrial Strength
Another impressive feature is the Cruzer's industrial strength. Its base table is heavy duty and features a wide sliding fence. The Cruzer's frame and load arm support bracket are constructed from military-grade aluminum which make this miter saw smooth, accurate, and seriously tough! And while the Cruzer is tough, it's space saving design make it easy for you to store and transport.
Other Cruzer Miter Saw Specs That Impress Us:
5 year Delta warranty
Adjustable cutting depth
1.5 in. dust port for vacuum connection and dust collection
Clear retractable blade guard for full view of cutting area during alignment and cutting
Image
Part Number
Blade Size (Inches)
Max MiterLeft/Right 
Bevel Left/Right
Size (Inches) 
Weight (Pounds)
Buy Now
12″
50 Left
60 Right
 47 Left
47 Right
30″ D
21.5″  H
25.5″ W
57 lbs
26-2240
10″
50 Left
60 Right
 45 Left
45 Right
29.5″  D
20″ H
22.5″ W
55 lbs