Milwaukee Tools has released the newest tool to their acclaimed M18 line up.  The 2733-20 (Bare Tool) and 2733-21 (Single Battery) 7-1/4″ Dual Bevel Sliding Compound Miter Saw will be shipping to Acme Tools in September of 2017.
Extending the Limits on Run Time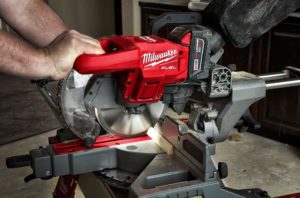 When anyone talks about the features they want in a new tool the conversation always leads to run-time.  The Milwaukee 2733-21 will give you over 600 cuts in 3-1/4″ Base and up to 300 cuts in nominal 2×4 material.  This increased performance gives this Miter Saw an advantage over some competitors saws by more than 100 cuts. And these numbers are based off of the Milwaukee M18 REDLITHIUM XC 5.0Ah Battery, can you imagine what a High Demand 9.0Ah battery will do.
Performance, Performance, Performance
Run time is great but the performance the M18 Miter Saw offers is nothing short of exceptional.  The POWERSTATE Brushless motor delivers sustained torque to complete demanding cuts and operates the blade at 5,000 RPM.  The high speed delivers a smooth, clean cut and the increased torque reduces the chance that the blade will bog down as the blade interacts with hard materials.
Accuracy, Accuracy, Accuracy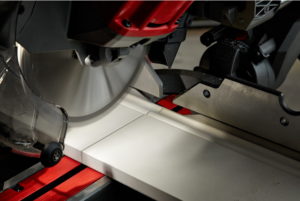 No matter what anyone says, it all boils down to accuracy.  The Milwaukee 7-1/4″ Miter Saw features a LED Shadow Cut Line so the operator knows where the blade will touch and does not have to worry about the inaccuracy of a laser or having to recalibrate it after taking it out of the back of their truck. The Cam locking Miter System gives the saw stability when cutting miters and the adjustable stainless steel miter scale allows the user to fine tune the unit and not to rely 100% on the factory set the detents.
Why A Dual Bevel Model On A 7-1/4″ Miter Saw?
Some my say that having the dual bevel feature on a 7-1/4″ miter saw is overkill, however, the dual bevel feature on the smaller diameter miter saws should be looked at as a must.  The limited vertical capacity of the smaller diameter miter saws mean that you will have to lay the material down flat more often and by giving you the dual bevel feature you will not have to align your work piece when common compound miter cuts are needed to be made.  This feature also allows the user to make common angled cuts faster and spend less time laying out complex cuts. The M18 FUEL Miter Saw has bevel and miter capacities of 48° Left and 48° Right and a Horizontal capacity that will tackle a nominal 2×8.