How Many DeWalt Products Are Made in the USA?
At the time of writing this blog post DeWalt is making 32 different hand tools, 48 power tools, and 562 types of accessories in the United States with domestic and global materials.  The most popular power tool made in the USA is the 20V MAX Lithium Ion Compact Drill Driver Kit, DCD780C2, along with so many more powerful tools.
What Does "Global Materials" Mean and Where Are They Coming From?
Global Materials are parts/assemblies that are manufactured in one location then shipped to facilities around the world for final assembly. DeWalt is a global manufacturer of power tools, hand tools, and accessories. They manufacture their tools in the following countries: United States, Mexico, Brazil, China, Italy, United Kingdom, and the Czech Republic. By having manufacturing facilities in these countries they feel they are able to best serve all of their customers.
How Do You Choose Which Products To Be Made In A Certain Country?
The decision to make a tool in a specific country is very difficult but DeWalt is taking into consideration where the demand for that tool is the highest. For example, cordless products represent a large growth opportunity for professional contractors in the United States. By manufacturing those types of tools in the United States they are able to provide a faster response to their customers needs.
Where Are The DeWalt Manufacturing Facilities In The United States?
DeWalt currently has manufacturing plants in Maryland, North Carolina, South Carolina, Tennessee, Kentucky, and Connecticut.
Does Making Products In the United States Change the Price For the Tool?
No! DeWalt continues to manufacturer quality tools at the same end price for professionals, regardless of the manufacturing location.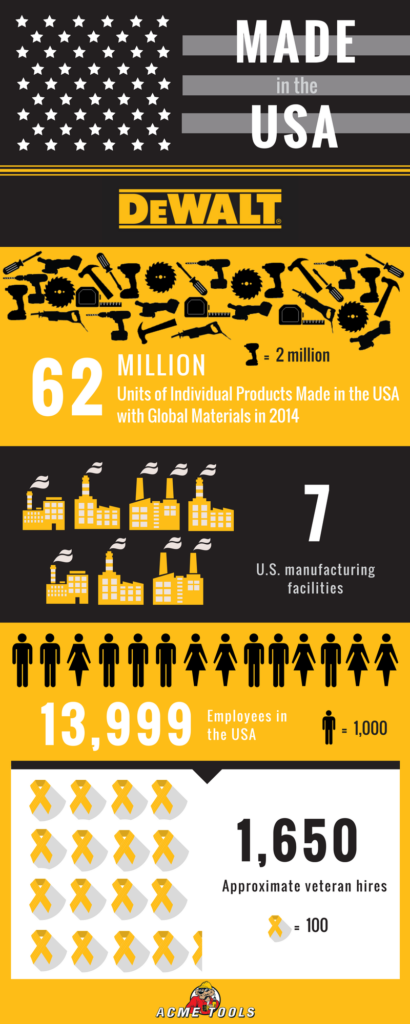 Shop DeWalt tools at an Acme Tools near you or visit our online store at www.acmetools.com.