The Best DeWalt Tools By Trade
As old man winter loosens the grasp on the majority of the country, March is a great time to evaluate your tool needs for the upcoming building season. DeWalt is making this a little easier this year by offering a record number of deals and promotions so we have scoured all of them to find out what we think is the best deal and/or promotion for the following trades.
---
DeWalt Woodworking Tools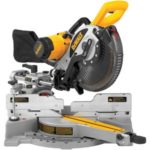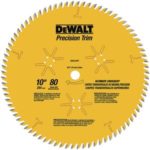 The DeWalt DW717 is a full featured 10In Double-Bevel Sliding Compound Miter Saw.  It features 11 miter detents and 7 bevel detents so you can make those difficult crown molding cuts easily.  It has a vertical capacity of 6-1/4In so it can work on some of the largest trim in the industry.  During the month of March, 2017 it comes with a FREE DW3218PT 10In 80 Tooth Fine Precision Trim Blade. A $59.99 Value.
---
DeWalt General Contractors Tools
The DeWalt DCK592L2 20V MAX* Premium 5-Tool Combo Kit offers the 1/2In Drill/Driver/Hammerdrill, 1/4In Impact Driver, Circular Saw, Reciprocating Saw, Work Light, 2 Batteries, Charger, and Contractor Bag.  These tools are the foundation to performing your job and to be able to get your project done on time.  During March, 2017 it comes with a FREE DCG412B 4-1/2In Angle Grinder and DCB205 5.0Ah Battery. A $318.00 Value.
---
DeWalt Electrical Tools
The DeWalt DCK299P2 20V MAX* XR Lithium-Ion Brushless Premium Drill/Driver/Hammerdrill and Impact Driver Combo Kit can perform all fastening jobs the career electrician will need to do.  Whether it is drilling through a block wall to install the service panel or assembling cable trays with unistrut this kit will be able to keep up with you all day long.  During March, 2017 it comes with a FREE DCB205-2 2pk 20V MAX* 5.0Ah XR Batteries. A $179.00 Value.
---
DeWalt Concrete Tools
The OSHA Crystalline Silica Regulations will be upon us shortly and the DWV012 10 Gallon HEPA Dust Extractor with Automatic Filter Clean can be at the center of your dust collection system. During March, 2017 it comes with a FREE DWE46153 4-1/2In 11Amp Angle Grinder that includes the Bail Handle, Dust Shroud, and Diamond Turbo Wheel for performing surface grinding while being in compliance.  A $199.99 Value.
---
DeWalt Plumbing Tools
The DeWalt DCS387P1 20V MAX* Compact Reciprocating Saw can perform like any reciprocating saw on the market but its advantages are its size and LED light.  The unit is only 14In in length so it can fit in between studs and the LED light provides clear vision while cutting in dark areas.  The 4 position blade clamp give you the versatility to cut in any direction.  During March, 2017  it comes with a FREE DCB206 20V MAX* Premium 6.0Ah XR Battery Pack. A $139.00 Value.
---
DeWalt HVAC Tools
The DeWalt DCS491M2 20V MAX* 18Ga Shear offers the HVAC professional all of the freedom they require while on the jobsite but will not slow them down.  The 18 ga swivel head shear cuts a 7/32In strip and keeps it out of your way so intricate ventilation assemblies can be put together  while on site. During March, 2017 it comes with a FREE DCF887B 20V MAX* XR Brushless 1/4In 3-Speed Impact Driver (Bare Tool). A $129.00 Value.
---
DeWalt Farming/AG Tools
The DeWalt DCF899P2 20V MAX* XR Brushless High Torque 1/2In Impact Wrench Kit can be used in the shop while doing standard maintenance on your equipment or in the field when breakdowns are threatening the harvest.  It has 700Ft Lb of torque in forward and a nut busting torque of 1200Ft Lb in reverse while only weighing 7.2Lb.  During March, 2017 it comes with a FREE DCB205 20V MAX* 5.0Ah XR Premium Battery Pack. A $129.00 Value.
---
DeWalt Welding/Metal Work Tools
Drilling large diameter holes cannot always be performed in the shop so this is where the DeWalt DWE1622K 2In 2-Speed Magnetic Drill Press comes into play.  The tool free change between the 3/4In Weldon Shank and the 1/2In Keyed Chuck allows you to use your favorite annular cutters or a standard shank drill bit while the magnetic base hold the drill press tight to the work surface. During March, 2017 the DeWalt Mag Drill is $799.99. $50.00 lower than when it was originally released.
---
DeWalt D.I.Y. (Do It Yourself) Tools
The DeWalt DWE6411 1/4 Sheet Palm Grip Sander Kit is comfortable to use for long periods of time but it does not shy away from the work.  It features 14,000 orbits per minute  that will give you fast and smooth results on all of your projects that require sanding.  During March, 2017 the DeWalt Palm Sander Kit is on sale for $29.99. A savings of $20.00.
---
Honorable Mentions
Our Honorable Mentions are by no means a bad deal, some trades just had multiple deals in them and these fell just short from being the hottest around. Here are our Honorable Mentions.
DeWalt HVAC, Plumbing, and Electrical Tools
Mechanical and Plumbing contractors that work with Press fittings can see the value in the DeWalt DCE200M2 and DCE200M2K 20V MAX* Press Tool.  The time savings and the ability to have any of the workers complete the assembly by using the press fittings will pay for the tools in the first few jobs.
Electrical contractors that pull wire on large industrial jobs know how difficult it is to crimp main line lugs on by hand.  The DeWalt DCE300M2 20V MAX* Died Electrical Cable Crimping Tool Kit and the DCE350M2 20V MAX* Dieless Electrical Cable Crimping Tool Kit do that difficult task with the pull of the trigger.
DeWalt Woodworking, General Contractor, and D.I.Y. Tools
An air compressor can be used for multiple tasks.  Why not pair it up with a brad nailer and make them a sure fire way to increase your productivity.  The DeWalt DWC1KIT-B will do just that and at a price that will not break the bank.
---