Winter is among us, and (for most of us) it brings along freezing, cold temperatures. And those cold temperatures can be the cause of many problems including frozen pipes. If frozen pipes aren't fixed, they cause a mess of problems that go off much like a domino effect: leaking water, a waterfall of water, standing water, water damage, and then mold. The key to fixing frozen pipes is to thaw the frozen area ASAP before the pipes burst. While there are many DIY ways to thaw frozen pipes like using warm water, hair dryers, and blow torches, it's best to skip these methods and bring out more effective pipe thawing tools and machines that will thaw your frozen pipes faster and more safely.
Heat Guns
Really? A heat gun? Yes! Technically heat guns aren't used for unthawing pipes, but they are an effective and common tool that you may have on hand. However, the key to using a heat gun to unthaw pipes to be very, very careful. Because heat guns reach such high temperatures, it's highly important to be certain that you don't apply direct heat because doing so could melt or damage the pipe or equipment you're thawing. Rather, keep a safe distance from the pipe and wave the heat gun from side to side to apply an even, non-direct heat. Again, unthawing pipes is not the intended use for a heat gun, but it works in a pinch! Here are a couple of our favorite heat guns:
Milwaukee 2688-21 M18 Compact Heat Gun (Tool only)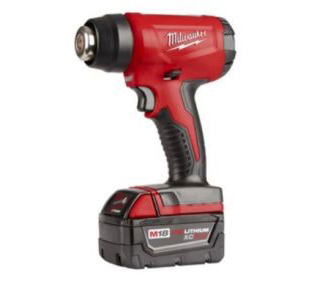 Milwaukee 2688-21 M18 cordless heat gun has a compact size but packs a punch. An 18V REDLITHIUM battery powers this Milwaukee cordless heat gun, so you'll be able to use it without worrying about an electric power supply. Even better, it is compact at only 6.4 in. long and weighs only 3.3 lbs, so you'll be able to reach any frozen pipes or equipment in a small or odd space. Best of all, it reaches operational temperature in less than 7 seconds and has a maximum temperature of 875˚F, which we find quite impressive.
Benefits:
DEWALT 20V MAX Heat Gun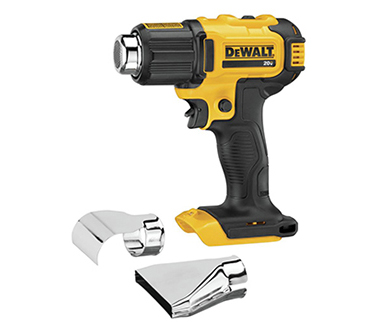 The DEWALT 20V MAX heat gun is one of the lightest and most compact products on the market. At only 6.33 inches tall and weighing only 3.17 pounds with a battery. Its size makes it easy to work in tight spaces. The gun comes with two attachments, a hook and flat nozzle, to help tackle diverse projects. The ability to lock the trigger in an on position makes it perfect for hands-free operation while you work on other problems. With a maximum temperature of 990 ˚F, this tool will have your frozen pipes thawed in no time.
Benefits:
Pipe Thawing Machine
A pipe thawing machine is a portable system that heats a pipe to thaw ice blockages. Plumbers and homeowners like pipe thawing machines because it allows them to quickly thaw pipes indoors or outdoors without having to cut into walls or floors or dig up frozen ground. Pipe thawing machines also offer a safer alternative to blow torches, arc welders, and heating lamps. Here are a couple pipe thawing machines that we like:
Arctic Blaster Arctic Blaster Pipe Thawing System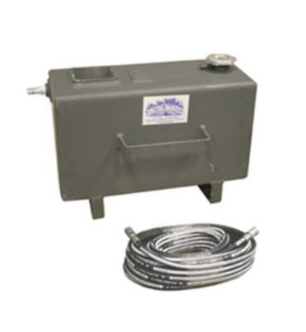 The Arctic Blaster from Arctic Blaster uses a propane torch to heat water in the main box, that when heated, turns into 230˚F of dry steam, all in 8-10 minutes. The use of a propane torch means no external electric power source is needed, which is convenient for powerless jobsites and homes. The main box is a two gallon tank, which generates enough steam to run continuously for 15 minutes for up to 50 ft. The Arctic Blaster unthaws pipes above or below ground, making it an ideal thawing system for sewer lines, culverts, engine blocks, stock tank valves, and any other frozen pipes or equipment.
Benefits:
Ridgid KT-190 Pipe Thawer Kit with Cables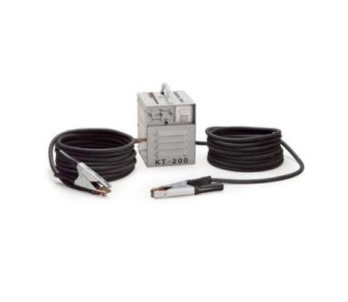 The KT-190 pipe thawing kit from Ridgid thaws frozen pipes by passing low voltage AC current through a conductive pipe. The KT-190 is capable of thawing 15-75 ft of pipe with a ½ in.-1 ½ in. diameter and this pipe thawing kit uses electrical current, so there is no need for cool down, so you can be on your merry way sooner than later and do not have to worry about an open flame. One if its best features is its weight. Weighing in at only 25 lbs, this pipe thawing system is easy to store, transport, and take with you from job to job.
Benefits:
Just Remember…
Heat guns and pipe thawing machines are great tools to use when thawing frozen pipes or equipment because they can help you melt ice faster and more safely than other alternatives like hair dryers or blow torches. However, if you're unsuccessful at thawing ice, you may need to call a professional plumber for help before the pipe bursts.
For more information on frozen pipes, read up on our blog post on how to fix and avoid frozen pipes.