Overview
The 2576-20 and 2576-21 snake from Milwaukee comes with a 6-foot cable that fits into drains between 2 and 4 inches wide for use in most common bathroom fixtures. A retriever bulb allows you to use the drain snake to grab clogs and other items at the end to get out dropped jewelry and other important items. Its protective boot keeps the cable coiled up until you need to extend it for simpler storage and operation. The hand-crank auger is easy to use so you can get the job done quickly.
An innovative design allows you to replace broken cables when they wear out, rather than replacing the entire unit, which provides a significant savings on new equipment. This Milwaukee TRAPSNAKE 2574-20 and 2574-21 are also available with a 4-foot cable for use with urinals. Electronic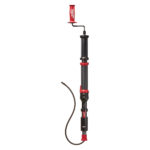 feedback lets you know when you're actively engaged with the clog for more precise, efficient work.
The rubber boot makes it safer to use the drain snake around delicate porcelain fixtures without damage. The flexibility of the cable makes it suitable for use in low-flow toilets, which have tighter corners than traditional models. It's covered by Milwaukee's 5-year limited warranty, so you can use it with confidence in your investment. Grab this Milwaukee TRAPSNAKE to keep up with your facility's needs.
Use the Milwaukee® TRAPSNAKE™ 6-foot toilet auger to keep your urinals and other fixtures free of clogs, plus enjoy the comfort of this ergonomic tool. The portable drain snake is easy to take wherever you need it to go.