What is the History of Fein?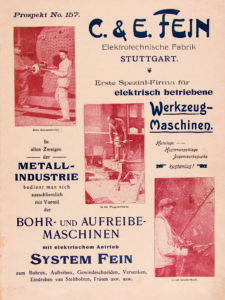 In 1867 Wilhelm Emil Fein founded a company for the manufacture of physical and electrical apparatus where his son, Emil Fein, invented the first electric hand drill in 1895, barely 30 years later. With this invention he laid the foundation for the highly reliable power tools that they continue to manufacture in Germany and for which this tradition-rich company is respected in trade and industry throughout the world.
FEIN has been among the world's leading power tool manufacturers for over 150 years. They are always at the cutting edge of innovation, and place the highest demand on itself to produce the best quality and most durable power tools on the market.
What Was the First product Fein Made?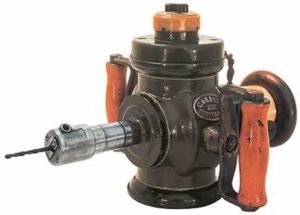 In 1895, we revolutionized the world of work with the invention of the first electric hand drill. Even today, their drills bear the stamp of the innovation: the best of 115 years of experience and always in enduring premium quality, whether rotary drills, or cordless drill/drivers. There are drills for almost any situation, with different sizes and shapes, drilling diameters of up to 1-1/4 in and speeds adapted precisely to the material. These tools are perfectly tailored to the work you do, the standards you need to meet, and your way of working. Ergonomically shaped, lightweight, easy to operate and extremely robust, they are ideal for professional users. The optimized range of accessories and special system components underline the expertise and experience that go into a drill.
What Is the Product That Fein Is Best Known For?
With unique experience gained from over 40 years of oscillation technology the MultiMaster, SuperCut Construction and SuperCut Automotive – a range of oscillating power tools which stand for application-oriented solutions and unbeatable load handling. There is a solution for every need: The SuperCut is the Specialist for glazing, finish carpentry, tile work, building sealant and automotive trades. The MultiMaster universal system for construction and renovation is the right choice for everyone who really values versatility. An extensive selection of accessories makes a wide range of applications possible.
How is the MultiMaster different from others that are also on the market?
Multi-tools have proven themselves in millions of cases worldwide over almost 150 years, and the consistently satisfy the most demanding of requirements. It is equipped with everything needed to make every day tough jobs that little bit easier, safer and better. It also offers superlative quality, load handling and service life. Due to innovative product technology, our tools are smoother running, more powerful and are more reliable than the competition.
Original FEIN, Slugger by FEIN and Grit by FEIN power tools are the professional choice.
What Is Fein's Customer Segment?
FEIN is the specialist, when extremely reliable, professional power tools and special applications solutions are called for in metalworking, interior construction, and automotive industries. As the inventor of the electric hand drill, we have developed innovative and unbeatably efficient, professionally-oriented solutions for over 150 years. In industrial and trade use, they prove themselves under the most rigorous use. Through our excellent relations with dealers and intensive contact with users of our products, we know exactly what matters when it comes to professional tools. The durability, reliability, quality and precision of our tools ensure that our power tools withstand even the toughest continuous use. In addition, there is an extensive range of special accessories that is precisely matched to previously defined applications and guarantees the best possible results in professional hands.
Where Are Fein Tools Made?
Most of the power tools are produced in our main factory located in Germany. We also have most of our magnetic based drills and annular cutters produced in Davenport Iowa at our Slugger by FEIN facility. The Grit by FEIN line of industrial belt sanders are manufactured in Denmark.
What Is the Warranty For A Fein Tool?
The warranty period for all power tools, Slugger belt grinding machines, li-ion batteries and associated chargers purchased from an authorized dealer after 09.01.2013 is 3 years, if the purchaser registers within 6 weeks of the purchase date.  Excluded from the 3 year FEIN PLUS guarantee are: FEIN high-frequency power tools, AccuTec screwdrivers, balancers, pipe processing tools, pneumatic tools, Slugger Metal Cutting Saws, NiCad and NiMH batteries and associated chargers.