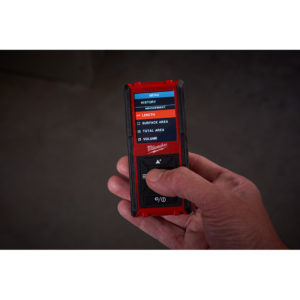 Measure Distance on the jobsite quickly and easily with a Milwaukee® Laser Range Finder. Calculate distance from afar with durable and accurate Milwaukee laser measures featuring backlit and color screens, side-shot buttons and intuitive user interfaces.
Overview
Milwaukee laser distance measures are available in various distance options and are ideal for any user, including professionals such as estimators and engineers. These innovative tools send a pulse of light to a target and calculate the amount of time it takes the reflection of that light to return. The device then quickly converts that information into a formula and gives you an accurate distance reading. Accuracy depends on the range, for example, 65-foot laser measures are accurate to within 1/8th of an inch and the 330-foot option within 1/16th of an inch. Compared to a standard tape measure, the distance finder is faster, much more accurate over long measurements, more convenient and safer. These range finders are also able to calculate distance in obstructed areas where you can't use a traditional tape measure and take vertical height measurements while you stand safely on the ground.
Brilliant Screen Display
Unlike many other laser measures that have black and white analog screens and can be difficult to use, these Milwaukee distance meters feature backlit, color screens with user-friendly scroll menus. They also feature color coded instructions that walk you through complex measurements. Smaller models like the 65-foot device feature a convenient belt clip while larger versions include a metal threaded tripod mount. All have an impact-resistant overmold that protects against tough jobsite conditions and accidental drops.
Other Features We Love
Each of the laser measuring devices has a side-shot button that ensures ergonomic use in any direction. Some also feature auto-detect, that makes taking measurements from corners quick and easy. Check out this new line of laser distance measures and other Milwaukee instruments to see how they can help improve efficiency and productivity on your jobsite.



We would love to see your laser distance meter in action.  Share your pictures on Facebook, Instagram, or Twitter by tagging Acme Tools with #DoYourBestWork.